There are moments when it feels like we are living in the center of the universe. When everyone who walks by is a star - a Broadway star that is. Thursday was that special day as we hosted the luncheon for the Tony nomination winners of 2010 in the Grand Ballroom.
The event began with a group photo on the public stage of New York's most beloved building - the grand entrance to the Plaza Hotel, where history has been made over and over again.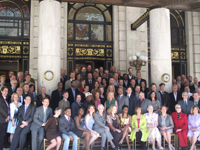 A group of close to 100 nominees posed for the media on a picture perfect spring day. After the photo, it was up to the Grand Ballroom for a very private luncheon where each nominee was awarded a certificate commemorating his or her honor.
Just a few famous faces and great performances to call out -
Valerie Harper--Looped
Liev Schreiber--A View from the Bridge


Scarlett Johansson--A View from the Bridge
Angela Lansbury--A Little Night Music
Sean Hayes--Promises, Promises


Kate Finneran--Promises, Promises
Kelsey Grammer--La Cage aux Folles
Rosemary Harris--The Royal Family
Linda Lavin--Collected Stories
Denzel Washington--Fences


Viola Davis--Fences
Alfred Molina--Red
Christopher Walken--A Behanding in Spokane
David Alan Grier--Race
Where else in NY could one gather this amazing group of actors in a room of equal gravitas? The blend of Broadway and Hollywood infused the festivities with an additional layer of glamour. It was a thrill to see so many faces - each representing dozens of personae we have come to know and love in several mediums. As Scarlett Johansson walked by, all I could think about was her role in Ironman 2, rendering a dozen tough bad guys into putty. So genteel, yet so ruthlessly efficient - which was it? (And of course, her exquisite performance on Broadway in A View from the Bridge was truly evocative.)
Looking at Liev Schreiber, I kept thinking about those retractable claws from Wolverine, or his struggle to survive hidden from the Nazis in Defiance or his inhumane greed in Repo Men. To say that I was transported when I saw him is an understatement!
There was Fraser and Rhoda Morgenstern - what were they doing here? And wait - Jack McFarland also joined this eclectic congregation of stars and constellations; our best friends who have been there for us countless nights, their faces as familiar as a spouse or loved one.
Seeing our stars in their Tony settings cast a glow over their multiple, and at times conflicting, personas. Christopher Walken, Denzel Washington....you know, legendary men who have brought drama, action, passion and pain into our lives for years, assembled together with their co-nominees for a civilized and delicious lunch.

As guardians of the Grand Ballroom, along with a team of incredibly dedicated event professionals, and a legendary service staff, we often see the world from a very different perspective. We welcome the smartest, most accomplished, bravest, most successful, beautiful and talented through our doors. It is a heady sensation, especially in the busy season when night after day after night is hosted by not for profit organizations, fund raising for a worthy cause in front of an audience of sophisticated of New Yorkers - socialites, captains of industry, politicians, media stars, entertainment superstars, rockstars - even a few fallen stars. It is impossible not to get swept up in glamour of it all.

Indeed, it felt that the rest of the world faded away and the only thing of significance was unfolding before our eyes. It was delightful. I was uncharacteristically, speechless. The actors gathered, the doors closed so they could dine privately. I left the building, found my MetroCard and headed back to work.