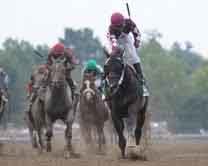 Tizway winning the 2011 Whitney Handicap
Photo used with permission of NYRA, Adam Coglianese
Fields for the 2011 Breeders' Cup, at Churchill Downs on November 4th and 5th, are starting to fill. Thus far, 35 horses have qualified by winning races in the Breeders' Cup Challenge Series. Tizway, owned by WIlliam L. Clifton Jr., and trained by H. James Bond, has dual-qualified for the Dirt Mile and the Classic by winning, respectively, the Metropolitan Handicap (G1) and the Whitney Handicap (G1).
Thirty-two races are left in the Breeders' Cup Challenge, including the Natalma Stakes, Summer Stakes presented by TVG, and the Ricoh Woodbine Mile at Woodbine Racetrack, Toronto, Canada.
The Breeders' Cup Challenge has selected 68 races worldwide to participate in the program. Nearly every division of the Championships is represented.
A Challenge winner that has been nominated to the Breeders' Cup receives fully paid pre-entry and entry fees to start in the corresponding Championship race. Challenge winners also receive a travel allowance of $10,000 for North American runners and $20,000 for International runners when they start in the Breeders' Cup World Championships.
As a thank you and incentive to thoroughbred breeders, the nominator for every horse winning a Challenge and running in the Breeders' Cup receives a nominator award of $10,000.
This year, the Breeders' Cup offers 15 Championship divisions and $26 Million in purses and awards, combined with the Challenge benefits, nearly $30 Million in purses and awards are available for Breeders' Cup nominated horses this year.
To help the industry and fans keep up with both potential and actual qualifiers, the BC maintains a leaderboard. Here's how the Breeders' Cup selects race fields:
A maximum of 14 starters are allowed in each of the 15 Breeders' Cup Championships races. Breeders' Cup Limited has adopted a field selection system to select runners in the event fields are oversubscribed. This system ranks horses in order of preference based upon (i) performance in Breeders' Cup Challenge Races, (ii) a point system, and (iii) the judgment of a panel of racing experts. The field selection system will be implemented as necessary following the taking of pre-entries on October 24, 2011, to officially rank the oversubscribed fields. The Racing Directors/Secretaries Panel (the "Panel") will rank all the horses pre-entered in the oversubscribed races as described below. After pre-entry, any vacancies in the fields will be filled by horses in order of panel preference.
The following is a list of Breeders' Cup Challenge races that have been run and the winners. You will find the date the race was run, the race name, grade, length and surface, correlating championship race, location of race, winner of race and lifetime earnings of the winner.
04/09/11 Darley T.J. Smith Stakes GI 6 Furlongs (T) 3 YO & UP Turf Sprint Australia =Black Caviar (AUS) $ 3,461,783
04/16/11 Emirates Doncaster Mile GI 1 Mile (T) 3 YO & UP Mile Australia =Sacred Choice (AUS) $2,082,256
05/30/11 Metropolitan Handicap GI 1 Mile 3 YO & UP Dirt Mile New York Tizway $1,359,274
06/20/11 Clasico Belgrano GII 1 1/2 Miles 3 YO & UP Marathon Argentina =Mr.Nedawi (BRZ) $416,349
06/25/11 Stobart Ireland Pretty Polly Stakes I 1 1/4 Miles (T) 3 YO & UP Filly & Mare Turf Ireland =Misty For Me (IRE) $926,364
06/26/11 Grand Prix de Saint-Cloud GI 1 1/2 Miles (T) 4 YO & UP Turf France =Sarafina (FR) $2,061,282
06/26/11 Takarazuka Kinen GI 1 3/8 Mile (T) 3 YO & UP Turf Japan =Earnestly (JPN) $ 5,919,547
07/02/11 United Nations Stakes G I 1 3/8 Mile (T) 3 YO & UP Turf New Jersey Teaks North $1,001,964
07/02/11 Shoemaker Mile GI 1 Mile (T) 3 YO & UP Mile California Courageous Cat $961,300
07/09/11 Smile Sprint Handicap GII 6 Furlongs 3 YO & UP Sprint Florida Giant Ryan $416,841
07/09/11 Hollywood Gold Cup GI 1 1/4 Miles (AWT) 3 YO & UP Classic California First Dude $1,442,140
07/16/11 Delaware Handicap GII 1 1/4 Miles 3 YO & UP Ladies' Classic Delaware Blind Luck $3,279,520
07/16/11 A Gleam Invitational Handicap GII 7 Furlongs (AWT) 3 YO & UP Filly & Mare Sprint California Irish Gypsy $386,420
07/16/11 Greenwood Cup Handicap 1 1/2 Miles 3 YO & UP Marathon Pennsylvania A. U. Miner $471,396
07/23/11 King George VI & Queen Elizabeth Stakes Sponsored by Betfair GI 1 1/2 Miles (T) 3 YO & UP Turf United Kingdom =Nathaniel (IRE) $1,164,038
07/29/11 Cougar II Handicap GIII 1 1/2 Miles (AWT) 3 YO & UP Marathon California Bourbon Bay $724,424
07/30/11 San Diego Handicap GII 1 1/16 Miles (AWT) 3 YO & UP Dirt Mile California Tres Borrachos $760,257
07/31/11 Ruffian Handicap GI 1 1/8 Miles 3 YO & UP Ladies' Classic New York Ask the Moon $713,640
07/31/11 Haskell Invitational Handicap GI 1 1/8 Miles 3 YO Classic New Jersey Coil $752,560
08/06/11 Whitney Handicap GI 1 1/8 Miles 3 YO & UP Classic New York Tizway $1,359,274
08/06/11 Clement L. Hirsch Handicap GI 1 1/16 Miles 3 YO & UP Ladies' Classic California Ultra Blend $845,646
08/13/11 Beverly D. Stakes GI 1 3/16 Miles (T) 3 YO & UP Filly & Mare Turf Illinois Stacelita (FR) $2,071,241
08/13/11 Arlington Million GI 1 1/4 Miles (T) 3 YO & UP Turf Illinois Cape Blanco (IRE) $3,555,665
08/15/11 Prix Haras de Fresnay-Le-Buffard Jacques le Marois GI 1 Mile (T) 3 YO & UP Mile France =Immortal Verse (IRE) $873,057
08/19/11 Coolmore Nunthorpe Stakes GI 5 Furlongs (T) 2 YO & UP Turf Sprint United Kingdom =Margot Did (IRE) $425,664
08/27/11 Ballerina Stakes GI 7 Furlongs 3 YO & UP Filly & Mare Sprint New York Hilda's Passion $739,493
08/28/11 Del Mar Handicap GII 1 3/8 Mile (T) 3 YO & UP Turf California Celtic New Year $294,422
08/28/11 Moyglare Stud Stakes GI 7 Furlongs (T) 2 YO Juvenile Fillies Turf Ireland =Maybe (IRE) $381,969
08/28/11 TVG Pacific Classic GI 1 1/4 Miles (AWT) 3 YO & UP Classic California Acclamation $1,538,048
09/01/11 With Anticipation Stakes GII 1 1/16 Miles (T) 2 YO Juvenile Turf New York State of Play $120,000
09/03/11 Red Mills Irish Champion Stakes GI 1 1/4 Miles (T) 3 YO & UP Turf Ireland =So You Think (NZ) $6,839,475
09/05/11 Turf Monster Handicap GIII 5 Furlongs (T) 3 YO & UP Turf Sprint Pennsylvania Ben's Cat $676,230
09/05/11 Three Chimneys Hopeful Stakes GI 7 Furlongs 2 YO Juvenile New York Currency Swap $180,000
09/07/11 Del Mar Futurity GI 7 Furlongs (AWT) 2 YO Juvenile California Drill $188,150
09/10/11 Goffs National Stakes GI 7 Furlongs (T) 2 YO Juvenile Turf Ireland =Power (GB) $350,529
09/11/11 Qatar Prix Niel GII 1 1/2 Miles (T) 3 YO Turf France =Reliable Man (GB) $1,494,308