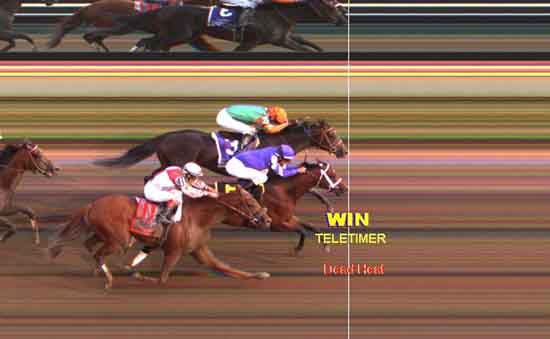 Alpha, white bridle, and Golden Ticket dead-heating in the 2012 Travers Stakes
Photo Courtesy of NYRA
According to the New York Racing Association, last Saturday's dead-heat between Alpha and Golden Ticket in the 143rd running of the Travers Stakes is the first since Attila and Acrobat dead-heated in the 1874 Travers. Unlike this year where the dead-heat is being treated as a tie with the combined first and second place purses of $800,000 shared between the two horses, in 1874 there was a run-off that Attila won and was declared the Travers winner.
Jumping out of the gate, Speightscity took and maintained the lead to the far turn, when jockey David Cohen and Golden Ticket took advantage and snuck up on the inside. Farther off the rail, Alpha was making a move at the same time, but Golden Ticket took the lead by a length. As rider Ramon Dominguez urged, Alpha dug in inside the last furlong, making up ground with each leap. Alpha's and Golden Ticket's heads were bobbing asynchronously making a naked-eye determination of the winner impossible.
After reviewing the Teletimer, a dead-heat was officially declared. Nick Zito's runner Fast Falcon was a driving third, having trailed the field early-on in the race. Atigun came in fourth, followed by Nonios, Neck 'n Neck, Stealcase, Speightscity, Liaison, Five Sixteen and Street Life.

Alpha is trained by Kiaran McLaughlin and is owned by Godolphin Racing. Sired by Bernardini, Alpha is out of the Nijinsky II mare, Munnaya. Bernardini won the Travers in 2006, and he sired the 2011 Travers winner Stay Thirsty as well. Like Bernardini and Stay Thirsty, Alpha entered the Travers following a win in the Jim Dandy Stakes (Gr.2). To this date, Alpha has won $1,260,000.
Golden Ticket is trained by Kenny McPeek and is owned by Magic City Thoroughbred Partners. Golden Ticket's sire is the champion Speightstown and he is out of Deputy Minister mare Business Plan. Golden Ticket entered the Travers after placing in an allowance at Churchill Downs, Louisville, Kentucky in May. His current career earnings are $536,035.
Perks of recognition for winning the Travers include having the canoe that floats on the infield lake painted in the winner's racing colors. There will be two canoes. By Sunday, the NYRA crew had already custom-painted in the winners' colors and placed two Travers Stakes lawn jockeys in the paddock.
Of note is the filly Questing(GB) raced by Godolphin and trained Kiaran McLaughlin won the Alabama Stakes (Gr.1) on the same race course, at the same distance, a week earlier on August 18. What's interesting is that Questing(GB) won going away in a faster time, 2:01.29, than the Travers colts' tie at 2:02.74.