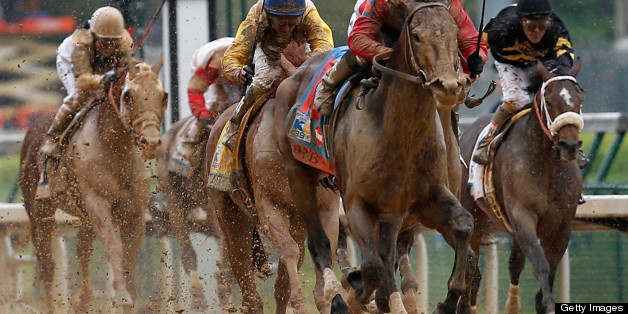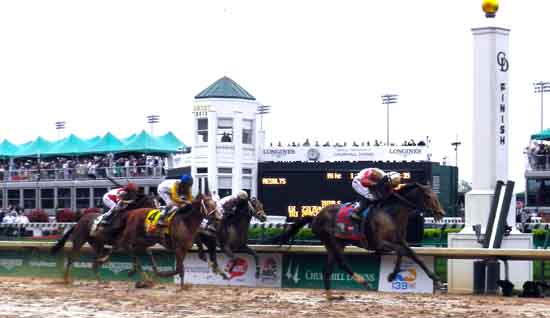 Orb winning the 2013 Kentucky Derby with Joel Rosario onboard
Photo © Penelope Miller/ABR
It can happen to you, if you are Shug McGaughey, Dinny Phipps, Stuart Janney III and Joel Rosario, and your horse is Orb. The fairy tale? Why the Triple Crown, of course.
With 2013 Kentucky Derby winner Orb, Hall of Fame trainer Claude "Shug" McGaughey has produced an athlete who has the goods to break the 35-year Triple Crown drought that has plagued racing since Affirmed battled Alydar, race by race by race, to win the title in 1978.
Orb's breeders and owners are Stuart Janney III and Phipps Family Racing. In fact, the Janneys have nurtured Orb's family since Stuart Janney II bred Bold Irish to Native Dancer in 1962 to produce Shenanigans. While Shenanigans was an OK race mare, she was a stupendous producer, named Kentucky Broodmare of the Year in 1975. Her outstanding offspring included the fillies Ruffian and Laughter, and the colts Buckfinder and Icecapade.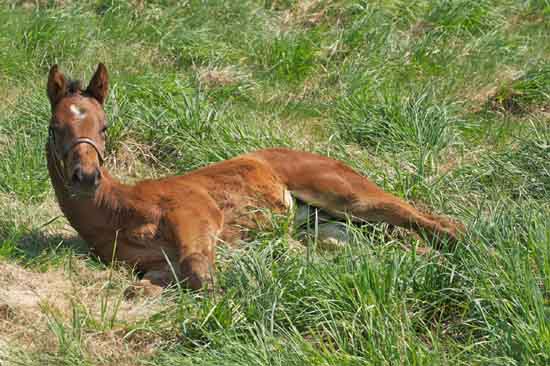 Orb as a foal, waking up from a snooze in a lush pasture at Claiborne Farm, KY
Photo © Dell Hancock

Shenanigans' female line continues through Laughter, after the heartbreaking loss of Ruffian following surgery. Laughter was a strong producer for the Janneys. Orb's dam (mother), Lady Liberty, is out of Mesabi Maiden, whose dam Steel Maiden was a daughter of Laughter.
Malibu Moon, Orb's sire (father), was injured when young, but carries the blood of Belmont Stakes and Breeders' Cup Classic winner A.P. Indy, 1977 Triple Crown winner Seattle Slew and British Triple Crown winner Nijinsky II; all are close enough to count as pedigree influences. Malibu Moon has emerged as a powerful sire of quality race horses.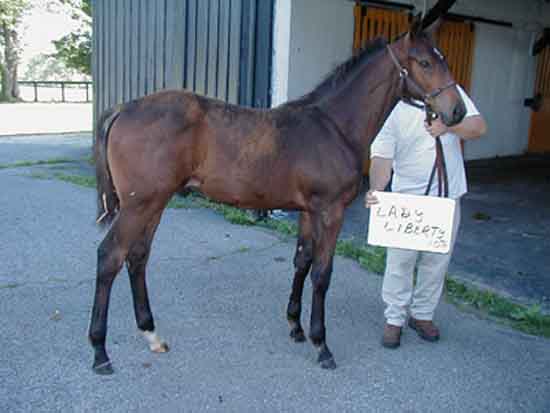 Jockey Club foal registration photo for Lady Liberty '10, later known as Orb
Photo © James Sturdivant
Orb has a pedigree that likes the distances asked for in the Triple Crown races. He has something else, too. He's all race horse. His running style is to settle in the back of the field, then close strongly, picking off all contenders in his path. It's one thing to run that kind of race in good weather on a dry, fast track. That Orb ran his race in the Churchill Downs slop on Kentucky Derby day and that he came from behind ignoring the tsunami of mud being kicked up by the field in front of him, attests to his class.

Orb's not the only one on his team with a good racing pedigree. Stuart Janney III and Ogden Mills "Dinny" Phipps, scion of Phipps Family Racing, are cousins whose respective families have been in horse racing for decades. Indeed, grandmére Gladys Mills Phipps bred both Seabiscuit and Bold Ruler, a leading sire and sire of Secretariat. Janney's family bred and raced Ruffian and Private Terms. Coincidentally, television program West Wing actor Allison Janney is also part of the brood.
Orb's Kentucky Derby victory was Shug McGaughey's first. There was a close call in 1989 when the McGaughey trained Easy Goer could not hold off Sunday Silence for the Derby win. Although up until now Derby-free, McGaughey's career has been extraordinary with a dozen Breeders' Cup wins, scores of graded stakes and a stable of horses that included the likes of Personal Ensign, Easy Goer, Heavenly Prize, Lure, Storm Flag Flying, and on and on.
Within racing circles, McGaughey's outfit is well-respected and associated with him taking his time with a youngster, doing things right and doing them well. In a post-Derby news conference, he explained how he works with his longtime clients, "The Janneys and the Phippses have been around this for years. I think that they understand that we've got to be patient with these horses and try to make them last. They don't get in the way and that makes it easy for me to be patient and do what I've got to do to get the best of out of them that I possibly can."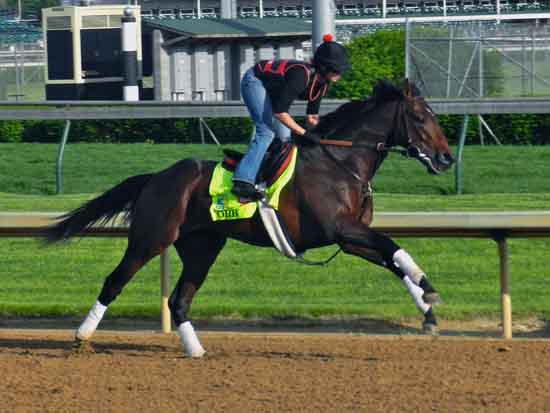 Orb showing his strength and stride prepping for the Kentucky Derby
Photo © Penelope Miller/ABR
A few days after the Derby, McGaughey reflected, "I try to conduct myself in the right way and try to run my stable in the best possible way. I try to surround myself with good people, who played a role in this. I think that people have appreciated that. I had no idea that a horse race could bring that out."
Under Joel Rosario's cool hand, Orb negotiated the crowded Derby field and ran a textbook-perfect race. Winning the Kentucky Derby on Orb a few weeks after winning the $10 million Dubai World Cup riding Animal Kingdom has vaulted Rosario to the top earning jockey spot for 2013 with his mounts earnings in excess of $7.5 million so far this year. Rosario and Orb will reunite for the Preakness Stakes.
After the Derby, Orb flew to New York and was vanned over to Belmont Park where he has been out on the track each morning. It's expected Orb and his team will move their tack to Pimlico Race Course, Baltimore, Maryland, May 16, for the Preakness Stakes, May 18. And a bid for the Triple Crown continues.