August in Saratoga means the highest caliber horse racing and seven-figure yearling sales. If you're following the races, there are any number of offerings available from the complimentary listings at Equibase to the many products both print and online from the Daily Racing Form.
The Saratoga yearling sales are auctions of keenly curated bloodstock representing the best bloodlines (pedigrees) and physicals (conformation and athleticism). In late winter and early spring, the Fasig-Tipton auction house sent out teams of advisors to thoroughbred farms across the country to evaluate potential sales' candidates. Like the Marines, many apply and (relatively) few are chosen.
There are two separate yearling sales in August in Saratoga. The first is the "select" sale where the bloodstock is chosen from all quarters - Kentucky, Florida, Ireland, Ontario, etc. The second sale is for New York breds, horses born in New York; drawing from a smaller sampling, the pedigree aspect of these horses may not equal those in the select sale, but the NYbreds are usually close in physical qualities, and, are eligible for the lucrative New York incentive program.
Yearlings accepted and entered into the sales are listed online and in print catalogs. Each horse's entry is called its "page" and offers a complete snapshot of its blood lines, success of close members of its female family (the dam's portion of the pedigree) and eligibilities and nominations to races and jurisdictions.
Deciphering a Sales Page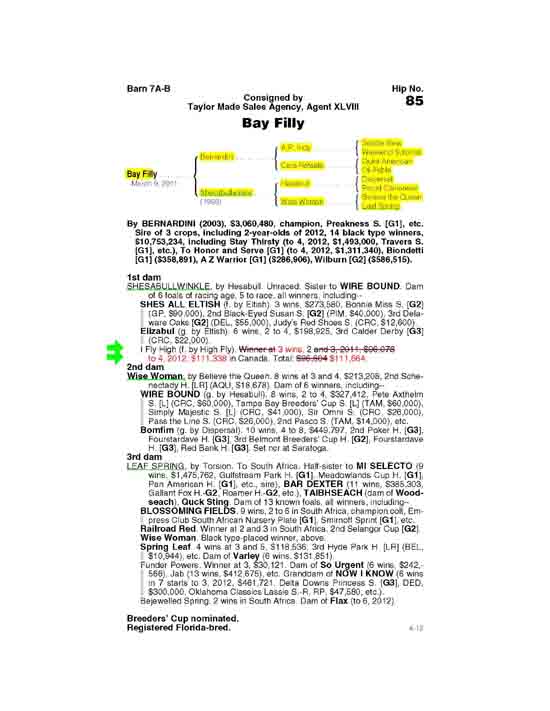 Image of online sales page from 2012 Fasig-Tipton Saratoga Sale
Barn 7A-B – location on Fasig-Tipton sales grounds
Hip no. 85 - ID number
Consigned by - either the owner or sales agent for the owner
Bay Filly - color and gender
Pedigree - Filly's color and date of birth, and three generations are highlighted in yellow. Bernardini is the sire (father) and Shesabullwinkle is the dam (mother). A.P.Indy is her grandsire, Wise Woman is her grand-dam, also known as the second-dam. Bernardini - A.P. Indy - Seattle Slew is the sire line. Shesabullsinkle - Wise Woman - Leaf Spring is the dam line (underlined in green), their offspring are called the female family.
Sire Paragraph - Who the sire is - Bernardini, his race record and graded black type or divisional honors; the number of crops of foal born (3), black type winners from his foals, gross earnings of his offspring, names and abbreviated records of leading offspring.
Female Family - Race and produce records of the descending females in the family; includes individual's details of money won, abbreviated race and produce records of direct offspring.
Nominations and eligibility - Race and race series nominations (Breeders' Cup) and state-bred registrations and eligibilities (Florida-bred)
Updates
Because the members of this filly's female family are active and racing, her pedigree is updated in real-time online and updates will be announced as she enters the sales ring. On this page, the green arrows and red type signal updates to the pedigree.
Virtual Inspections
Some owners and consignors elect to video their sales prospect and have it online, enabling potential bidders to evaluate the filly before she is available for inspection on the sales' grounds.