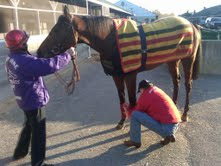 Goldikova prepping for exercise last week at Churchill Downs, KY
Photo used with permission of Andrea Branchini
After placing third in last Saturday's Breeders' Cup Mile, some racing analysts are bemoaning that Goldikova lost her shot at immortality. Excuse me? I don't think so.
Goldikova went to the top of the list last year when she won her third Breeders' Cup Mile in a row. That's a record that is unequalled and is unlikely to be met or exceeded. Merriam-Webster defines immortal as exempt from oblivion: imperishable. Three Breeders' Cup victories, over a dozen Grade 1 stakes wins, year-in, year-out Goldikova was sent out against all-comers. She was tested, battle-hardened and showed up sound, on the muscle and full of run. Every time. In 27 starts she was out of the money only once.
Freddy Head, Goldikova's trainer for her entire career sums up Goldikova's legacy best:
Well, I think winning fourteen Grade 1 races and competing against the best in every generation for four years and winning in England and America... is something exceptional, winning three Breeders' Cups. I think they will say in history she has a place like one of the great horses of this past century.
Why limit her legacy to this century? Goldikova is immortal.