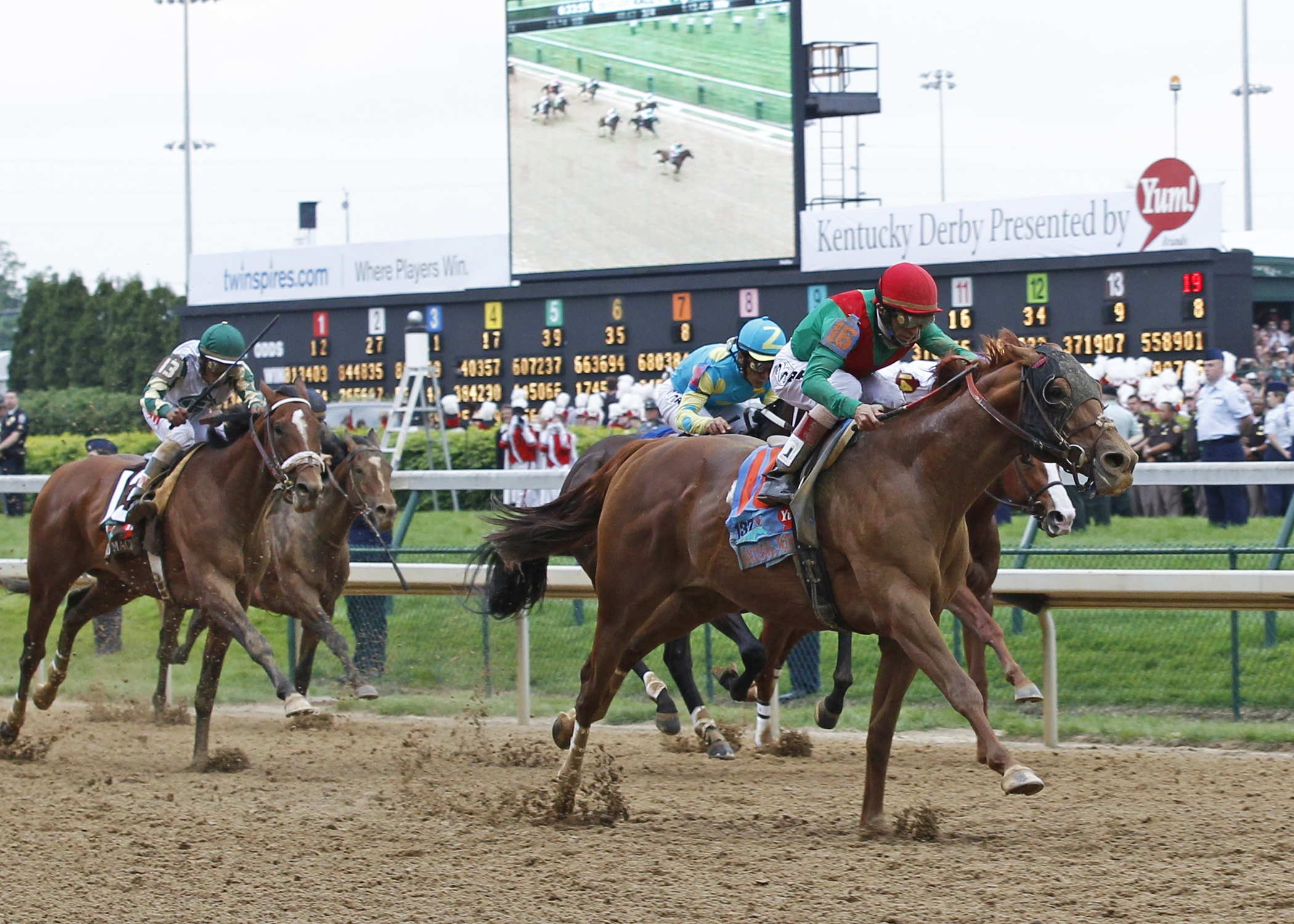 Animal Kingdom and jockey John Velazquez pull away from 18 rivals on their way to victory in the Kentucky Derby Presented by Yum! Brands.
CREDIT: Reed Palmer Photography, Churchill Downs
Roaring down Churchill Downs' home stretch to win by 2 ½ lengths, Animal Kingdom was crowned victor of the 137th running of the Kentucky Derby late Saturday afternoon . The handsome three year old colt was given a brilliant, tactical ride by jockey John Velasquez for owner Team Valor International.
Animal Kingdom is a Kentucky homebred for Team Valor; by the Brazilian stallion Leroidesanimaux (translates as King of the Animals) out of the German graded stakes winning mare Dalicia. Team Valor's managing partner Barry Irwin bought Dalicia in Germany as a broodmare prospect. He believes the German zero medication rule for broodmares results in hardier and sound horses. Original plans were to breed her to Kingmambo. When the time came to sent Dalicia to the shed, Kingmambo was out of commission and the decision was made to send her to "Leroy".
Hailing from a seemingly all grass pedigree and running for the first time on a dirt surface, his previous four outings were on turf(1) and synthetic(3), the lightly campaigned Animal Kingdom confounded conventional touting wisdom. Adding to the mix, his scheduled rider Robby Albarado was kicked in the face and had his nose broken, so Barry Irwin and trainer Graham Motion gave the ride to John Velasquez. Johnny V had been slated to ride Uncle Mo, who was withdrawn. Also, Animal Kingdom was coming off a six week layoff since his last race. These factors combined were on the minds of turf writers and punters alike.
Motion was confident of Animal Kingdom's adapting to running on dirt after a strong work on the dirt at Churchill Downs on Saturday, April 30. He worked six furlongs in 1:13 and galloped out seven furlongs in 1:26 2/5.
A major factor in Animal Kingdom winning the Derby was his great trip. Given a masterful ride by Velasquez, the colt was in the right spot throughout the race. According to Irwin, Velasquez can read a field and place his horse where it needs to be, all while right in the fray of the race. To be able to do that, the horse needs to be ratable and have a good mind.
Indeed with the horse's mind on his mind, Irwin decided to back of off his colt once it won its maiden at second asking last October at Keeneland. "Conventional wisdom would have had us pointing him towards a stakes race. I didn't want to get too much speed in him. A horseman who'd had Derby success told me years ago, 'You want them intense for the Derby, not idiotic.' So we backed off of him. I sent him down to Florida to Randy Bradshaw.
"He was a big, skinny two year old. Immature. Over the winter he blossomed and filled out. He's about 16.2 now and powerfully built. Animal Kingdom is really impressive now," Irwin said.
Animal Kingdom returned March 3 in a mile optional claimer on the turf at Gulfstream Park, FL. He was second. Then he was back on synthetic to win the Spiral Stakes (Gr. 3) on March 26 over 1 1/8 miles at Turfway Park, KY. Then he had a six week lay-off before starting in the Derby.
It looks like the careful and spare campaign worked because Animal Kingdom won the Kentucky Derby and came out of it well. He has shipped to the Team Valor barn at the Fair Hill Training Center, Elkton, MD, where he will prep for the second leg of the Triple Crown, the Preakness Stakes (Gr. 1) on May 21 at Pimlico Race Course, MD.
Irwin feels that moving Animal Kingdom to the Fair Hill facility is a unique advantage for the colt. He'll be working towards the Preakness, like all of the other entrants, however the resilient nature of Fair Hill's Tapeta synthetic surface will place less stress and concussion on his colt. With the long lay-off, prior to the Derby, a good trip in the Derby and the low stress Fair Hill environment, Irwin believes his horse will be as fresh as any to start in the Preakness.
"When looking at how the Preakness will probably shape up, there will be more speed, which suits my horse just fine," Irwin said. Looking further down the road at the third leg of the Triple Crown, the Belmont Stakes on June 11, at Belmont Park, NY, Irwin says, "Animal Kingdom will relish the mile and a half distance."