It could have turned out differently for Luck My Way. Far worse.
If she hadn't been spotted and her purchase from a kill pen arranged by a good Samaritan at an end-of-the-line New Holland (Pa.) horse auction, the thoroughbred mare Luck My Way would still be anonymous Hip 90, loaded in a trailer with dozens of her doomed peers and on her way to a slaughterhouse.
Instead, Luck is on a Pennsylvania farm with her also-rescued longtime pal, Kinesthesia (Hip 89), munching hay, both oblivious to their close call.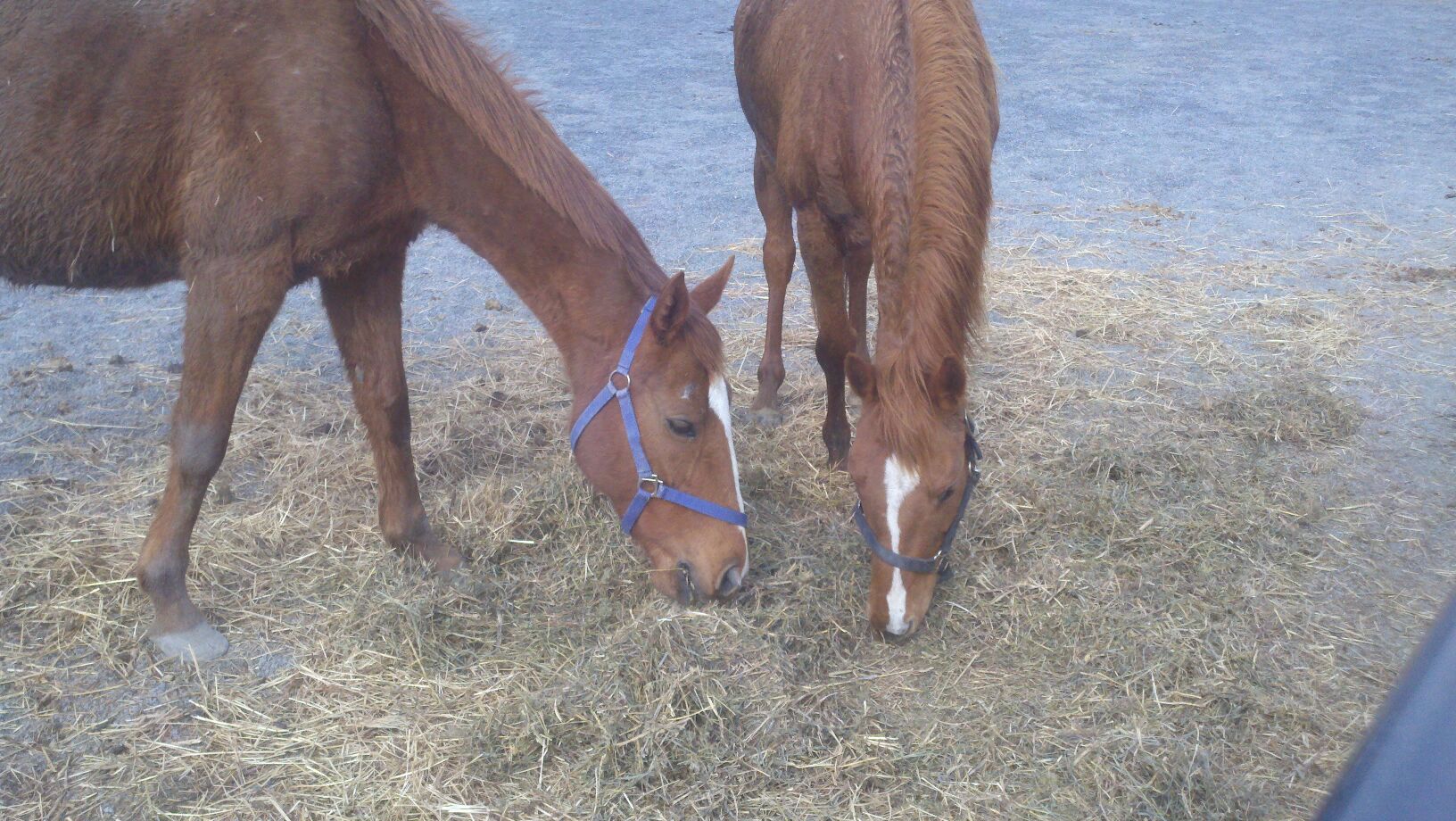 Luck My Way and Kinesthesia turned out together in Grantville, PA.
Photo courtesy of Kristy Haugh.
The last owners of Luck and Kinesthesia are not known yet. But the missing hair on their rumps leads to speculation that the pair were in an auction prior to New Holland. The timing would be right for the mares' horse auction/slaughter-pipeline entry at Sugarcreek in Ohio, where they then would be shipped to New Holland, where there are many buyers looking to fill up their trailers going to the slaughterhouses.
Older thoroughbred broodmares show up regularly at livestock auctions/kill-buyer sales. If they haven't produced a winner or failed to get back in foal, owners and farm managers with a "Hey this is business what do you want me to do?" attitude take the easy way out and send their mares to a livestock sale. It may be easy for the owners -- they won't have to pay the bills on the mares or "waste" their time placing the mares responsibly -- but it certainly isn't easy on the mares. According to a dealer who acts as a middleman to conceal owners' identities at the livestock sales, there are days when over 80 percent of the horses are purchased by kill-buyers under contract to slaughterhouses.
Once they enter the slaughter-pipeline at a sale, horses are subjected to marginal and inhumane treatment, from being jammed into kill pens -- where there are frequent fights and injuries -- to possible vivisection at the slaughterhouse.
Early on a Tuesday morning Kelly Smith, from Omega Horse Rescue, was combing through the pens of horses waiting to be sold at New Holland. She was looking for thoroughbreds. She found two: Hips 89 and 90. The two chestnut mares were obviously bonded. Indeed, when they were separated and Hip 89 went through the sales ring, her friend Hip 90 was distraught -- screaming, panicking and breaking though the holding pen to reach her companion.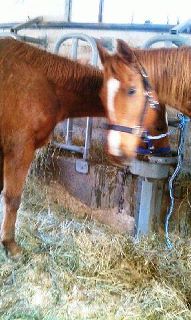 Luck My Way and Kinesthesia tethered in the New Holland kill-pen.
Photo courtesy of Kelly Smith.
Thanks to Smith's keen eye and the kindness and generosity of some race track horsemen in Pennsylvania, Luck My Way (No. 90) and Kinesthesia (No. 89) will never be forcibly separated again. When Smith first saw the mares she took their photos, read their lip tattoos and sent all to Deborah Jones, a thoroughbred identification protection and advocacy specialist in California. With less than an hour before the mares were to sell, Jones looked up their tattoos on the Jockey Club's website, identified them and sent out an alert via Facebook.
Maria Vorhauer of Dana Point Farm, quickly responded and donated the money to purchase the mares. Kathleen Parker, a Pennsylvania thoroughbred race horse owner, donated the necessary accommodations for the transportation of the mares to their safe haven at a private farm in Grantville, Pa.
While the mares are in quarantine for 30 days -- the kill pens harbor potentially contagious diseases -- their rescuers will be puzzling out how the mares got into such a perilous situation. By reaching out to the mares' breeders and last racing owners of record, a chain of ownership and responsibility will be established. Kinesthesia's Kentucky breeder responded promptly to Jones' outreach. Luck's New York breeder has yet to return the call from messages left. Incidentally, outward appearance indicates that Kinesthesia is in foal, which could be confirmed by a veterinarian this week.
Once the mares' last owners are identified, they will be contacted and asked to contribute to their former horses' responsible retirement. Some owners are appalled at what happened to their horses and make financial donations to support the animals. Other owners turn away refusing to participate and let others take over their responsibility.
It's too early to know which way it will go with the former owner of Luck My Way and Kinesthesia. Whether or not the rescue funds are recouped will not impact the safety of the mares. They are out of harm's way. However, if the funds expended can be recouped, that money can go towards rescuing a thoroughbred next week or next month.
Until Congress passes and the President signs the American Horse Slaughter Prevention Act, which will prohibit the sale and/or transport of horses to slaughter for human consumption, there will be thoroughbreds in peril at the livestock auctions. And there will be rescuers looking to divert them from slaughter and into a safety net.