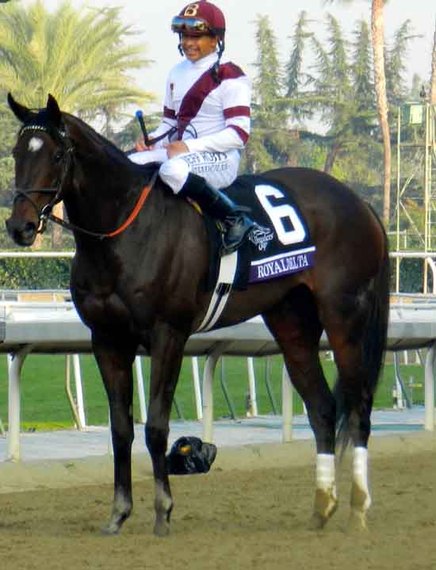 Royal Delta and Mike Smith, winners of the 2012 Breeders' Cup Distaff
Photo courtesy of Penelope Miller/America's Best Racing
Mike Smith has a way with the fillies.
And mares. On Friday, he takes 5-year-old champion Royal Delta to the starting gate at Santa Anita Park for the 30th running of the Breeders' Cup Distaff. This will be her third time running in the race and Smith is looking to ride Royal Delta to her third Distaff triumph.
There's another 2012 Breeders' Cup winner in Smith's harem this year, Mizdirection. During the year she runs against fillies, mostly in turf sprints. Out of 16 career starts, she's been on the board 15 times. On Breeder' Cup Day, Mizdirection and Smith take their game to the boys. Last year they won the 6.5 furlong Turf Sprint and will be looking for a reprise Saturday. To round out his Breeders' Cup weekend, Smith will be aboard a total of 13 horses including early Classic favorite, Game on Dude, as well as Little Mike who is in for a repeat of his 2012 Turf victory. (FYI: Mizdirection is owned by sports broadcast personality Jim Rome)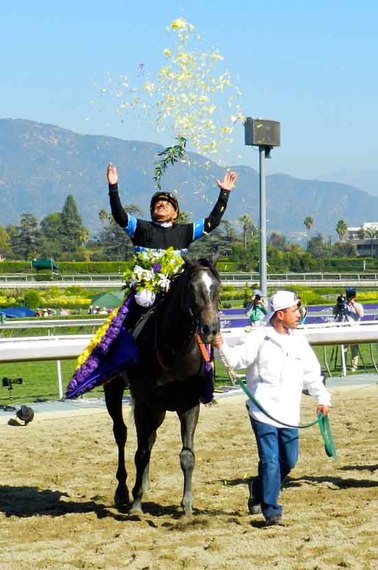 Mike Smith celebrating Mizdirection's 2012 Breeders' Cup Turf Sprint
Photo courtesy of Penelope Miller/America's Best Racing
Smith is no stranger to Breeders' Cup victories. He partnered the colossus Zenyatta to two Breeders' Cup wins in the Distaff(2008) and the Classic (2009). In fact, on his way to becoming the leading Breeders' Cup jockey in terms of both races won and earnings, he has ridden starters in 88 Breeders' Cup races, winning 17, for $23,639,260 in purses total.
When asked about having the pick-of-the litter for some of the Breeders' Cup races, Smith responds, "All the horses are very competitive. In each race, even the ones that I might be favored in, there are several horses in there that are very capable. It's supposed to be incredible. It's the Breeders' Cup!"
It's not always been like this for Smith. When he was 11, he got his start riding Quarter Horses at bush tracks around Roswell, N.M. "Then I went to the racetrack when I was about 14, galloping horses for my uncle, Tomas Vallejos. I got my license in '82 and started riding. My uncle was training horses, so I used to work for him a lot. He's still training," remembers Smith.
At 48, Smith travels the world to ride in races. "I love traveling abroad to ride. Even with different countries and different styles of racing there's a bond. Race track people, from one country to another, are kind of like family in a way ... long distance cousins."
Like his frame, Smith's operation is lean. Brad Pegram, Smith's jockey agent, and Smith handle the calls to ride. "Each horse I ride has a crew behind it. As long as I'm riding for them and on that horse, we are all each other's crew, we're a team. It takes more than a rider to get it done. A horse has to be trained, taken care of, groomed, hotwalked. They aren't part of my team, I'm part of their's."
Early mornings spent scratching around on the backside, looking for rides are long-gone for Smith, "I still go out and work horses in the mornings, not as much as I used to. If a trainer needs me on a horse in the morning, I'll get the time and show up, it's usually between 6 and 10. After that I do personal training for myself from about 10-11. After that I get ready to start the day to start riding."
"Royal Delta is a dream to ride," Smith says. "Any rider would like to have the opportunity to ride a mare like her. She's incredibly talented, she speaks for herself, really." On the similarities between Royal Delta, Smith is clear, "They are extremely different, other than their size -- they are both big, physically strong, powerful horses. They don't have the same style, at all, they are totally different. One comes from last (Zenyatta). The other goes to the lead (Royal Delta), like night and day."
It's hard to find a flaw in Smith's resume. He's won Eclipse awards, leading rider titles and is a member of the National Thoroughbred Racing Hall of Fame. As of Oct. 31, Smith has won 5113 races. While there may be a few races he hasn't won, there are many he has won multiple times - the Breeders' Cup Classic, Belmont Stakes, Travers Stakes, the Coaching Club Oaks, the Alabama Stakes. Smith maintains that he likes to go back and win races he's already won before, "Every time you run in a race, it's different. Even though it might be named the same, the horses, the connections are all different."
With his 88 rides and 17 Breeders' Cup wins, Smith thinks the races showcase the best in racing. "The horses are amazing, look at the athletes that they are. There are great stories around Breeders' Cup -- with each horse there's a story through the owners, trainers, grooms and hotwalkers. It's more than just about the horse races. The time between each race is when the great stories are being told, there's not a boring part about the Breeders' Cup."