Credit: Robinson Greig Photography
After lazy summer days, before the hibernation of winter, there is something about the fall that calls for outside activity. For many, going apple or pumpkin picking fulfills that yen, with benefits lasting for weeks until the last apple is crunched or the final pumpkin carved.
Pick your own, or U-pick farms proliferate around metropolitan areas and way out in the country. Indeed, U-pick farms are a mainstay of agritourism.
Depending on the farm, at any one time there may be a dozen varieties of apples, sugar and Jack-O-Lantern pumpkins and berries, including luscious red raspberries. A couple of hours in the orchard yield a larder full of produce at substantial savings over markets and farm stands. Not to mention the satisfaction of quelling the primal need to gather food for the winter.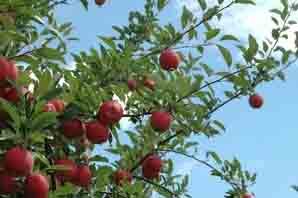 Credit: Robinson Greig Photography
Norman Greig, manager at Greig Farm in Red Hook, NY, recommends the following guidelines for a fun and productive U-pick excursion:
Dress in layers, dress warmly. "We can have very cool mornings, where jackets and gloves are needed. A couple of hours later, between the sun and temperatures rising, it can feel like August. So having layers to remove, makes sense," advises Greig.
Wear comfortable, appropriate shoes. "Even though the orchards and berry patches are mowed and tended, flat shoes and boots work best out in the field. Wear shoes that are comfortable for tromping about," says Greig.
Bring snacks, a drink and hand wipes. "Our customers sample the fruit as they pick. After an hour or so of picking, a bottle of water and something more substantial to munch on makes the picking more enjoyable. If they want to bring a picnic, that is great."
Wear sunblock, bring a hat and bring a camera.
If you are unsure about what is ripe, ask. "Our staff is trained to identify ripe fruit and will show any customer in need of help. It really helps to show children what to pick, they get the hang quickly and are fast pickers!" says Greig.
When you are on the farm, remember that the orchards and patches are the farmer's livelihood and treat them with respect. Don't step on plants. Take any trash off the farm with you.
Very often a U-pick farm has agriculture related activities, like hayrides or a corn maze. Customers may be welcome to feed and pet a herd of goats or sheep. Or they might throw fish kibble out into a Koi pond and watch the feeding frenzy. Petting the fish is not much fun, nor is it an option...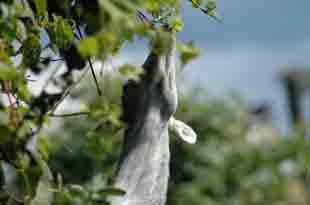 Credit: Robinson Greig Photography