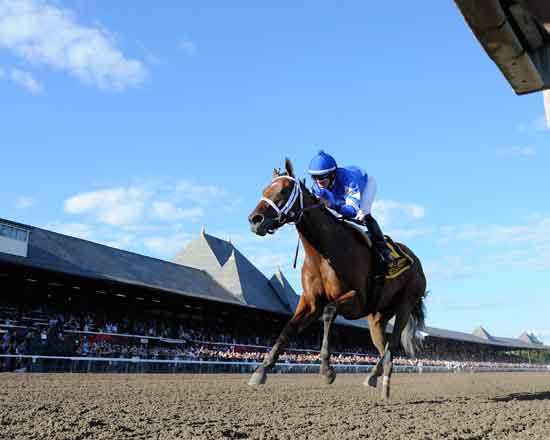 Questing winning the 2012 Alabama Stakes at Saratoga Race Course
Photo © A. Coglianese/NYRA
With her commanding win of Saratoga's $600,000 Alabama Stakes (G1) on August 18, the Hard Spun filly Questing(GB) has raised the bar for the 2012 crop of three-year olds, colts and fillies. Within a score of strides after breaking from the sixth position, Questing emerged from the field on the lead. She prevailed the entire, trip culminating in an ascendant eight length triumph.
Last Saturday afternoon, the dirt track at Saratoga was classified as fast and Questing(GB) traveled the 1¼ mile Alabama in a time of 2:01.29. Saratoga's race-caller Tom Durkin pronounced it, "A spectacular, exhilarating performance." In comparison, the slower times of recent classic races at 1 ¼ miles are:
2012 Kentucky Derby won by I'll Have Another in 2:01.83
2011 Breeders' Cup Classic won by Drosselmayer in 2:04.27
2011 Jockey Club Gold Cup won by Flat Out in 2:03.17
2011 Travers Stakes won by Stay Thirsty in 2:03.30
2011 Kentucky Derby won by Animal Kingdom in 2:02.04
Questing (GB) came into the Alabama off a win in the Coaching Club American Oaks (G1) on July 21, the first Saturday of the Saratoga meet. Foaled, trained and initially raced on the turf in Great Britain, Questing (GB) ventured west to run in the 2011 Breeders' Cup Juvenile Fillies at Churchill Downs, Louisville, Kentucky. She ran fifth, her first time on dirt, going in the opposite direction she ran in Europe.
Bred by Sheikh Mohammed bin Rashid Al Maktoum's Darley, out of the Seeking the Gold stakes mare Chercheuse, Questing(GB) runs in the colors of the Maktoum family's Godolphin Racing. The Godolphin string of race horses is to Darley's, what a Bentley is to a Rolls-Royce. All are great, but the Godolphin horses like their Bentley counterparts have a bit of a performance edge over their closely associated cohorts.
In a post race press conference Questing's trainer Kiaran McLaughlin said:
"I was thinking [the pace] was too fast, but I liked the way she was doing it. I looked behind her, and a lot of them were riding hard to keep up. I was nervous about the fractions, but she was doing it the right way.

"She's a special filly. I'm glad we have her on dirt here in North America and that we tried her on it. She could have won today going a mile and a half.

On whether Questing is the top 3-year-old filly in the U.S.: "It appears that way right now. She's definitely the best 3-year-old filly in America on the dirt."
The upcoming Travers Stakes will give the colts the opportunity to equal or better Questing's Alabama trip ... don't hold your breath.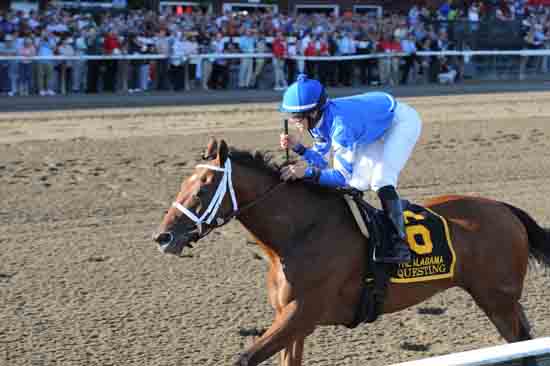 Questing(GB) and jockey Irad Ortiz, Jr. as they win the Alabama Stakes
Photo © A. Coglianese/NYRA
(Note: race times from Equibase; McLaughlin quote from NYRA press conference notes)