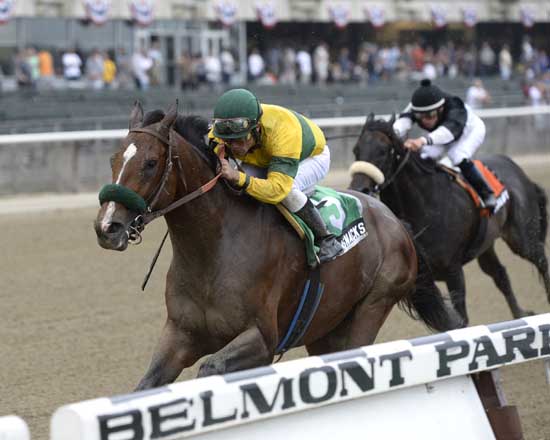 Saratoga Snacks winning the Shy Groom Stakes, Joel Rosario up. In the upcoming Morrissey, owner Bill Parcells and trainer Gary Sciacca will be looking to reprise Saratoga Snacks' win over Saginaw the last time they met.
Photo courtesy of NYRA/Joe Labozetta
It's a small field, most have run against each other, often swapping placings. So be ready for a rumble when five battle-tested New York-breds run in the $100,000 John Morrissey Stakes at Saratoga Race Course, Thursday, August 1.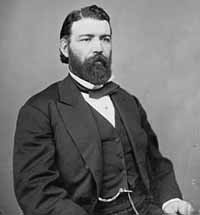 You couldn't have a group of horses that are more evocative of the man for whom the race is named. John Morrissey's vision and perseverance resulted in the first thoroughbred race meet held on a Saratoga Springs, N.Y. trotting track in 1863. Prior to his racing venture, Irish-born Morrissey was a street-fighter and the national bare knuckles boxing champion. Whatever the challenge, Morrissey was in it all the way to win -- just like Saginaw, Night Maneuver, Saratoga Snacks, B Shanny and Mine Over Matter - the line up for Thursday's John Morrissey Stakes.
Photo, above right: John Morrissey, taken by portraitist and Civil War photographer Mathew Brady between 1867 and 1871. Courtesy of the Brady-Handy Collection at the Library of Congress Prints and Photographs Division.
There's a horse for everyone to root for in this race. At seven, Saginaw is the grand old man on a four race winning streak. If he is first across the wire Thursday, he'll have made just over $1million in 40 starts. Saratoga Snacks, 4, is the most recent horse to best Saginaw in the Alex M. Robb Stakes last December. Snacks is the lightest raced of the group with six wins from eight starts and $304,600 in earnings. For football fans, two-time Super Bowl-winning coach Bill Parcells owns Saratoga Snacks and races him as August Dawn Farm.
Mine Over Matter, one of two Michael Hushion entries, was second to Saratoga Snacks in the Shy Groom Stakes, their last outing in June. Six-year-old Mine of Matter has won $485,934 in 41 starts for his breeder-owners Mary and Chester Broman.
Hushion's second entry is B Shanny, a 4-year-old Street Cry (IRE) gelding bred and raced by Barry Schwartz's Stonewall Farm; Schwartz is a member of the Jockey Club, a former chairman of NYRA's board of directors and was Calvin Klein's business partner. B Shanny was third to his stablemate and Saratoga Snacks in last month's Shy Groom. Previously, B Shanny ran in allowance and allowance-optional company, totaling $189,405 in 10 starts overall.
Four-year old Night Maneuver was claimed by trainer Gary Contessa for $62,500 on June 22. A month later, July 20, he won an allowance-optional claiming on the Saratoga dirt track. He earned his new owners $51,000, bringing his lifetime earnings to $283,614 in 14 starts. As a precocious 2-year-old, Night Maneuver won the prestigious Bertram F. Bongard Stakes for NY-breds, at Belmont Park.
The post positions for the John Morrissey Stakes, Saratoga Race 6, August 1 are:
Night Maneuver
Saratoga Snacks
Saginaw
Mine Over Matter
B Shanny
Note: Race/horse/owner information is from Equibase.com