In "I Had a Boyhood, Once," New York Times contributing Op-Ed writer Jennifer Finney Boylan reminisces on summers spent fishing, shooting model rockets and learning swear words. She paints a compelling picture of what it's like to experience an American boyhood. A transgender female who transitioned in adulthood, Boylan writes,"I'm not sure I would have traded my boyhood for a girlhood, if given the chance."
If given the chance, I wouldn't have traded my boyhood for a girlhood, either.

I wouldn't have traded my boyhood for anything, actually. Because of all the things I'm grateful for, my boyhood ranks right near the top.

When you enter the world with two X chromosomes, you get placed quickly into a box. The Girl Box. Here, acceptable hair and clothing preferences are assumed; color and toy preferences are dictated.

In some far corner of the Girl Box sits a gift, wrapped neatly in a pink bow, waiting to be unwrapped sometime around your fourth or fifth birthday. The gift of Girlhood. It looks a lot like dolls, dress-up outfits and perfect pigtails.

To me, the expectations of girlhood seemed more like a punishment than a present. I hated frills and bows and pink. I cut the hair off my Barbies and kept them naked to spare them the torture of sparkly mini-skirts. I cried in my saddle shoes, threw fits in my dresses.

I was instinctively drawn to all things boy.

I spent my youth practicing lay ups in the driveway, shirtless, wearing only my Air Jordans and a pair of Umbro's. I climbed trees, built forts and rode a green BMX bike. I scooped frogs from the pond, worms from the mud and peed in the woods. I had a pet iguana named Dan. My first grade best friend, Nick Scott, taught me how to make a slingshot and ride a skateboard.

I lived in my Shaquille O'Neal jersey and insisted on boy's underwear. (University of Michigan boxers were my go-to. I wore them under my Nike basketball pants, which I low-rided so the maize and blue waistband would show. Hail to the Victors!)

When I turned 7, I cut all my hair off.

"Parted straight down the middle. Buzzed on the back and the sides" were the instructions I gave to Vicky, the woman who had been cutting me and my sister's hair since we were toddlers. Twenty some inches of long blonde hair pooled under the salon chair.
I thought I looked awesome, just like Devon Sawa. I loved how exposed the buzzed back looked when I wore a sweatband at my soccer games. I loved never worrying about tangles.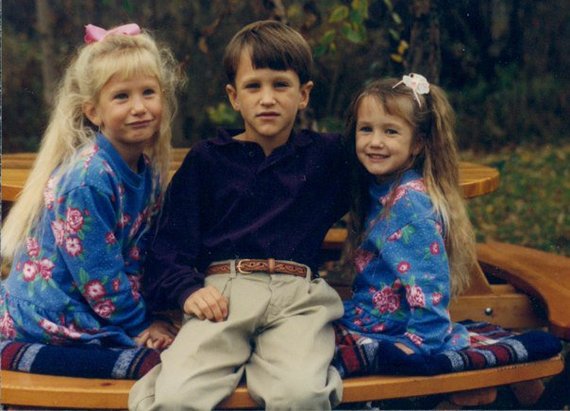 Family Christmas card outtake. I'm on the left, age 5. Last time I ever wore a pink bow or a flowered dress.
Strangers would say to my parents, "your daughter is so beautiful!" (daughter always singular, in reference to my sister) and "you have such handsome sons" (sons always plural, in reference to my brother and me). I used the Men's bathroom because no one in there would question me like they did in the Women's. As a girl rejecting girlhood, these were moments of great victory.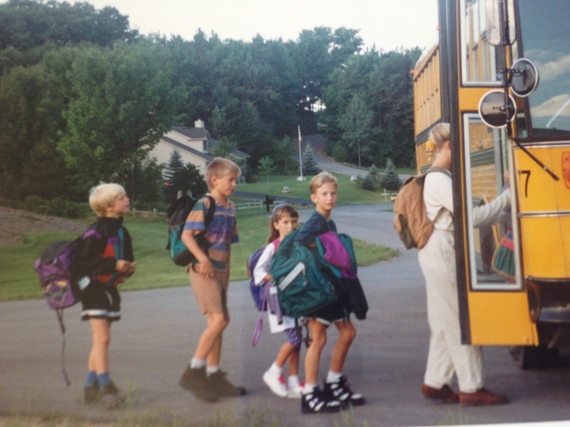 First day of fourth grade. I'm the one with the green backpack and Umbro's. My sister, Sarah, is right behind me.
When the house we grew up in was under construction, my parents let my siblings and me choose exactly how we wanted our rooms. I remember sitting down at the table with my mom, choosing green carpet and striped wallpaper from a big book of swatches. I picked a teal and orange Miami Dolphins blanket for my bed, a Michael Jordan poster for my wall. And just like when I told her I wanted to cut my hair off, she never once questioned my decisions.
So as much as my boyhood was instinctive, it was also enabled. By parents who gave me the freedom to choose for myself what I liked and didn't like. Parents who allowed me to march to my own boyish beat, without regard for what anyone else thought. Not only did they not hold me to traditional gender stereotypes, but (and I think this is just as important) they didn't make a big deal about the fact that I was breaking them. They let me be me. And in doing that, gave me the enormous gift of letting me become exactly the person I needed to become.
"The world is full of souls who struggle to find the younger person they once were within the body of the older person they have become," writes Boylan. She continues, "Struggling to make that connection is not the unique territory of the transgender person." And while I can understand that struggle, I can't relate. Because I never really grew out of my boyhood. It stayed with me. It shaped me.
Today, my younger boy self lives easily within my feminine adult self. My hair is long, almost to my waist like it was before I had Vicky chop it all off. A lot of time it's up in a ponytail, out of my face while I run. Some days, I wear mascara. I live in jeans and a T-shirt. I wear high heels to work, string bikinis to the beach. Most days, I feel strong and beautiful and feminine. I feel just as sexy in a short black dress as I do in a sports bra and shorts. I'm emotional and sensitive. I'm also confident and active. You'd be hard pressed to find a single trace of pink anywhere in my apartment. No one has ever described me as gentle. I love flowers and babies.
Some quick searching brings up a bunch of examples of girls with boyhoods. Many are transgender. But many, like me, are not. Lindsay's story is beautiful and opens up bigger conversation on early childhood gender associations. And based on pictures alone, it seems that January Jones had a boyhood once, too.
Although she didn't have one herself, Allison P. Davis wistfully describes boyhood as the "undisturbed time and freedom to explore and be fearless." Beautiful, right?
Boyhood, afterall, has very little to do with the sex we're assigned at birth. Instead, it has everything to do with the way in which we've culturally set expectations for gender preferences and experiences in youth.
And as long as it looks like it currently does -- things that shoot and fly and bounce; permission to build and break stuff; encouragement to scrape your knees, get dirty, and pick yourself up when you fall; license to laugh at burp and fart jokes; clothes that give you the freedom to run and jump and climb trees without having to worry about your underwear showing -- I think a little more boyhood might do us all a lot of good.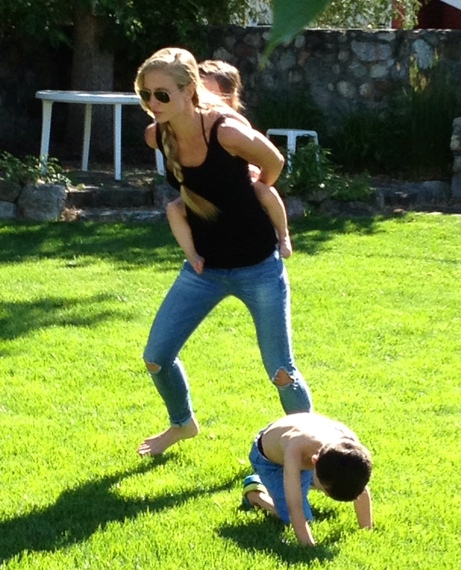 With my niece and nephew, playing backyard soccer.