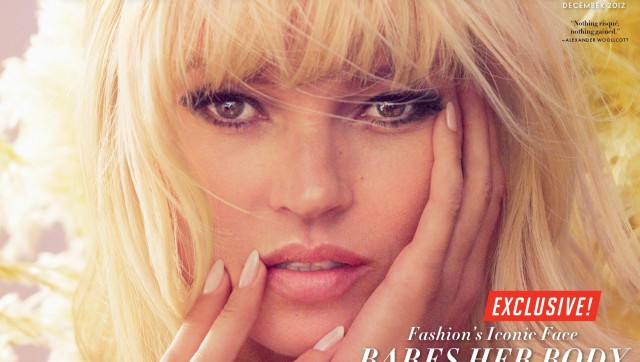 "DOES IT make a difference? You're dead."
So says popular author Elmore Leonard in response to the Vanity Fair query "How would you like to die?"
SPEAKING OF this month's magazine, I've already told you about the Kate Moss interview. What I failed to mention was the rather startling, casual semi-nudity of the model/actress. She bares her breasts in two shots. I was surprised. I never recalled VF exposing a celebrity in such a manner, maybe Madonna back in the day. (But, you know -- that's Madonna.) The shots of Moss looked right out of Playboy, circa 1966. She's lovely, but I wonder if this is the beginning of a trend for Graydon Carter's great, groundbreaking magazine?
HONORED: Ben Affleck, at the Santa Barbara International Film Festival in January. Ben, riding higher than ever with Argo, will receive the Modern Master Award, the festival's highest honor. Recipients are cited for having "Enriched our culture through multi-faceted accomplishments in the motion picture industry." Ben shares this award with past honorees such as Clint Eastwood, James Cameron and George Clooney.
APPEARING: Liza Minnelli will appear as herself on NBC's Smash series. This is the one about a Broadway musical being launched around the legend Marilyn Monroe. In it, everybody is scheming and dreaming and at each other's throat. It stars two big talents, Debra Messing and Anjelica Huston plus oodles of brilliant Broadway veterans. Miss Minnelli, who was the youngest woman ever to receive a Tony -- for Flora the Red Menace -- will sing an original Marc Shaiman/Scott Whittman song with one of the series' stars, Christian Borle.
OVER: The sky-high stiletto platform heel? That's what Anamaria Wilson says in the new issue of Harper's Bazaar. She thinks women have had enough of teetering perilously. At least she has. Ms. Wilson has switched to "a ladylike pump... fresh and appealing."

Good for her, but nothing on this earth will prevent women from attempting to reach a thinner air pocket, via their shoes. The one great aberration of fashion came with the advent of flatter heels in the '60s. Mini-skirts were said to look trashy with high heels. So everybody who wore a mini, reduced her heel. This looked cute on Twiggy or Jean Shrimpton. Otherwise -- not so much. By the early 1970s, a great nostalgia wave emerged and 1940s-style platform heels returned. Women were thrilled to have height again -- and a great line to their legs. Slowly, the platforms shrank back to good old spike heels. Barring a global apocalypse, the high treacherous heel is here to stay.

P.S. Two pages after this article in Bazaar, model Candela Novembre was pictured in a pair of five-inch killers. She hadn't gotten the "ladylike pump" message.
WITHERING: Matthew McConaughey, for his role as an AIDS-stricken man in the movie, The Dallas Buyers Club. Obviously, Matt couldn't look as he did as the aging stripper in Magic Mike, but I can't help feeling this is just too much. I felt similarly about Christian Bale's weight loss for The Machinist (and others) and Charlize Theron's gain -- and prosthetic adjustments -- for Monster. Ditto Nicole Kidman's nose for The Hours. (If the point was to make Nicole, as writer Virginia Woolf, plain, one needed only to strip her of makeup and photograph her realistically. She was brilliant in the role, but the nose was unnecessary.) Did this all begin with Elizabeth Taylor, and her famous "weight gain" for Who's Afraid of Virginia Woolf? They plopped a salt and pepper wig on her head and drew a couple of lines under her eyes, too. But the result, as Mad magazine parodied: "Oh, my God, you wouldn't want your wife to look like this. Maybe your girlfriend." Taylor had been running to fat for years, so it was really no big shock to see her so robust. Anyway, I think these extreme abuses of the body are dangerous and frankly, stunt-like. Lose (or gain) a little weight and let the makeup and costume people do their stuff. Then -- act.
"YOU DON'T Own Me." That was one of pop queen Lesley Gore's great hits, and a pre-feminist movement anthem. Gore, who has become a true cult icon, is still active, concertizing. Now she is part of the South Bronx Kids-Helping Kids mentoring program. This specifically targets children who are HIV-positive. She has produced and sings on a new rap single "Pull Your Pants Up." Lesley was aided by Broadway's Joey McKneely. The song (and video) are aimed at encouraging young people to reach higher in life, despite sometimes desperate surroundings. Lesley Gore's most well-remembered song was "It's My Party." Well, it's still Lesley Gore's party. Only now, she's not singing about the boy who left with some other girl. It's real life for her. For more info log onto www.healthpeople.org.
LEN CARIOU was the original leading man, the demon barber of Fleet Street in Sweeney Todd. Now, he's playing a retired policeman grandfather in the hit TV series Blue Bloods, opposite Tom Selleck who portrays his son.

I needn't extol Mr. Cariou's big talents, but you can catch him in the stunning cabaret room 54 Below where such as Penny Fuller, James Rados, Anita Gillette, Lee Roy Reams and other theater vets love to get together.

Len Cariou will be seen here two more Mondays on Nov. 19th and 26th.