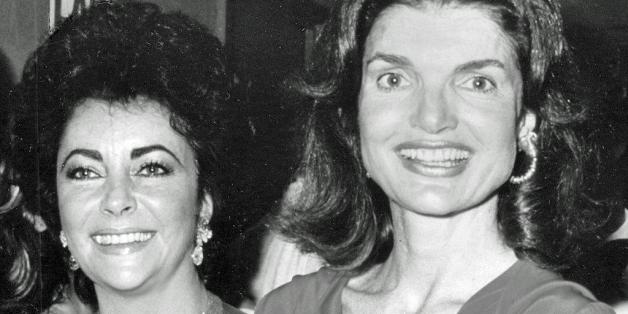 "So, what is Elizabeth Taylor really like?"
When the late Andy Warhol returned from visiting our friend Miss Taylor in Rome, back in 1974, he ran into Jacqueline Kennedy Onassis and these were her first words.
We received a note from one of our readers asking if these two most famous women in the world (back then) had ever met?
Elizabeth had long been close friends with Aristotle Onassis and they were even linked romantically as ET's marriage to Richard began to unravel. Ari would have loved being married to the star of stars. And though La Liz might have enjoyed his money and his gifts as Mrs. Onassis, romantically, he was not for her. (She always married for love, or some lusty facsimile.)
As for Jackie, things hadn't gone so well between Jackie and Ari either after their ill-fated marriage in 1968. He came to cast Jackie as the very devil who had ruined his life from then until his death.
I don't know what Andy Warhol answered in 1974, but he probably just said, "She's great!" (As this was Andy's usual remark--everything and everybody was "just great!")
Anyway, this is the story: Elizabeth and Jackie met only once. It was in New York in 1976, after a ballet. Both women appeared suddenly in a cramped hallway, almost literally bumping into each other. They smiled, posed and exchanged a few banal "How do you do's?" Although the paparazzi went mad, few photos of this tabloid-heaven encounter have surfaced, unfortunately and surprisingly---the two women who dominated and shared so many magazine covers in the 60's, 70's, 80's, and 90's.
• I wonder - in the 72 or so hours that have passed since Sylvester Stallone joyfully tweeted that Bruce Willis was out of "Expendables 3," replaced by Harrison Ford--if cooler heads have prevailed?
Stallone's tweet to the world about Willis being "greedy and lazy" (he wanted $4 million dollars for three days work) - was simply stunning.
This sort of tweeting is expected of, say, Miley Cyrus, or Amanda Bynes, or Geraldo Rivera. But I can't recall a major star like friend Stallone laying out another major actor so surgically.
Sly went on to state that Harrison Ford is more talented than Bruce Willis and "a nicer person." Seems like there's more than "greed" involved here. More like some extreme animus.
Still, $4 million for a few days work does seem rather grandiose. On the other hand, it's Hollywood, for heaven's sake. And most of Bruce's movies make a profit. Even the under-performing "Red 2" will probably return its cost in DVD, international profits and sales to cable.
As for Bruce Willis not being a "nice guy," well, I have to disagree. I've met him numbers of times. He is invariably a doll. And he didn't have to be. Of course, I never worked with him or was required to pay him millions. Maybe Bruce himself wanted out of "Expendables 3" and made sure he'd get out by asking the impossible. Then, again, nothing is impossible in show biz and this tale may not be over.
• WE are bombarded almost daily with another Justin Bieber-out of control item.
Why can't all of you understand? This poor kid lost his shirt about twelve months ago and has been searching for it frantically. I guess last week someone told him it was in the Hamptons of Long Island.
You can't blame a boy for trying to find his clothes. I'm sure he's embarrassed and agitated having to run around half naked with his pants hanging way down. I guess he lost his belt too. Let's just hope nobody steals his underwear.
People are so mean.
• The more books we get on the Kennedys, the more we seem fascinated and more and more details get presented as new facts emerge. I loved over the last year or so, the Bill O'Reilly book "Killing Kennedy: The End of Camelot"...also Secret Service man Clint Hill's final look back at trying to protect Jackie as First lady - this was a heartfelt lovestory if one-sided...now we get Christopher Andersens "These Few Precious Days: The Final Year of Jack with Jackie." It is not a big book but it has things emphasized that I never read before. The opening chapter alone of JFK and Jackie in Parkland Hospital in Dallas is one of the most graphic, searing things I've ever read.
Then there are the super go-into-details and stories of Marilyn Monroe...Jackie's constant cigarette use even when she was pregnant...the emphasis of how exactly Dr. Max Jacobson kept all the Kennedys and cohorts going on drugs through the White House years (and there, quoted, was a real someone who worked for this Dr. Feelgood and eventually denounced him, the late Harvey Mann who I knew well.)
This book, when it isn't telling exactly the names and details of JFK's many love affairs which Jackie both did and didn't put up with - gives excruciating details of JFK's crippled physical condition and his love and delight in his children
It's hard to know what to believe exactly when the author describes a visit from Greta Garbo, her main man George Schlee and the latter's designer wife, Valentina, who is depicted as Garbo's "closest
friend." (I think those of us who knew the George Schlees, know that though they lived in the same building with Garbo -- the actress and designer detested one another and wouldn't even ride in the same elevator at 450 East 57th Street.)
• To the out-pouring of those of you who want to get copies of my left-over antique memoir, "Natural Blonde," I confess I am touched.
I will ask for your mailing address, then, in time, we will send the book via the mail and a small bill for postage and charity and if you want to respond, you can send me back a few bucks.
But there were so surprisingly many of you that all this will take a little time.