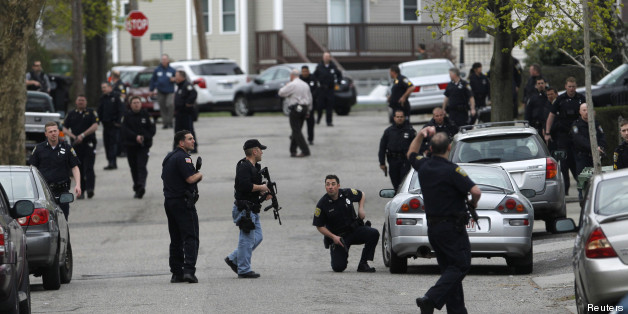 Around 1:00 a.m. early this morning, my roommate and I stared out at a nearly empty Lasell College campus. It was seemingly deserted, no parties to attend, and campus activities had been finished hours before. It was a pink-red sky that stretched hazily over Auburndale, a borough of Newton, MA, located just eight miles from downtown Boston. It had all the aspects of a beautiful spring morning, except for the wailing of police sirens in nearby Watertown, MA. This was just the tip of the iceberg, as the night had started hours before and miles away in Cambridge, where after a robbery, a Massachusetts Institute of Technology campus police officer was shot and killed. Boston Police deemed the men involved suspects in the Boston Marathon bombings earlier this week. Since then, the entire city has been placed on lock down, with residents told to stay exactly where they are and not to go outdoors for any reason, under orders from Governor of Massachusetts Deval Patrick.
Upon these orders, the entire city shut down, Mass. Bay Transportation Authority suspended all train, bus, and commuter rail service until further notice. Taxi service was suspended for a while, it's uncertain whether it's back running or not. Here in Auburndale, the world is a quiet place -- except for the near incessant sirens that can be heard in the distance, and there is not a soul on the streets. Campus police can be seen circling all ends of our small area, with Newton police making its rounds less frequently. While the outside world may be eerily quiet with only the wind for noise, social media is keeping the students both at Lasell and around Boston banded together.
I am from Stamford, CT, a large metropolitan city located just 45 minutes outside of New York, and wanted to come to Boston to experience a new location, as well as new friends that all come from places they hold near and dear as well. I feel a companionship with fellow Stamford friends that came to Boston too, at Lasell as well as Emerson and Boston College. While I do carry my own hometown pride, I have never seen pride the way Boston has it. A lot of people here at Lasell call Boston and its surrounding area home, and they are prepared to fight to keep it a safe and bustling place.
While late afternoon comes settling over the area, and the manhunt valiantly carries on, Lasell College President Michael Alexander, with the aid of administration and the ever dutiful campus police, make their way, building to building, to hand out food and water to the residents; due to the lock down, food service workers were told to stay home, and keep safe today.
No matter where you come from, or where you go, time spent in Boston is something special -- the people, the places -- they take you in as one of their own. On Monday, someone else took three of ours, and mercilessly injured scores of others. After all Boston and Lasell has come to show, most important is this: we are one and we care for each other. We will catch this man, but until then, we will sit and watch with the rest of the nation, breathless and hopeful, strong as ever.