My friend Diane wrote me last week asking for ideas for a side dish to serve with grilled steak for her weekend barbecue. I threw out a few -- a caprese with fresh mozzarella and heirloom tomatoes; two different slaws; potato salad with green beans and dill in a balsamic vinaigrette... None of my suggestions hit the mark, though, and checking my own blog for inspiration turned up exactly nothing. I didn't even have a "Sides" category in the Recipe Index. (I do now.)
I guess my standard side dish is salad, which varies depending on what I have in the fridge and what I'm in the mood for. I also very often steam a green vegetable, sometimes sautéing it with garlic and usually just tossing it lightly with a bit of butter or a flavorful oil and some good sea salt, maybe adding a little lemon or hot red pepper flakes or toasted nuts or seeds... Nothing to write about, really, so I don't.
Diane ended up making mini twice-baked potatoes for her gathering, and I set my sights on recalling some of my favorite sides. At my sister Karen's over the weekend, she turned out a terrific farro dish with ripe tomatoes, black olives, capers and fresh herbs. At home, to go with barbecued chicken, I whipped up a version of a French Lentil Salad my mom used to make in the summers, studded with goat cheese and flecked with chopped parsley.
Diane, I'm sorry I failed you. Maybe these recipes will help for next time.
Karen's Farro Salad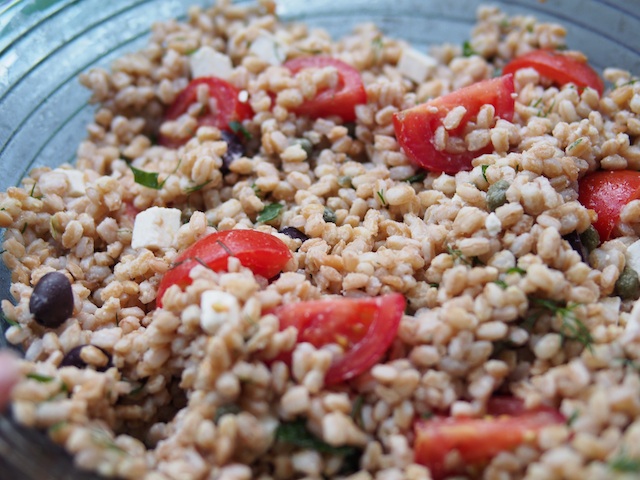 My sister made this over the Memorial Day weekend and everybody loved it. For variety, she says she sometimes adds cucumber and substitutes feta for the ricotta salata and mint for the dill. If you dress the farro while it's still hot, it will absorb all the oil and lemon and you'll have to add more.
Serves 6
12 ounces uncooked farro
10 ounces ripe tomatoes, cut into large chunks (or cherry tomatoes, halved)
2 tablespoons rinsed capers
½ cup pitted calamata or niçoise olives
¼ cup chopped fresh dill
¼ cup chopped fresh parsley
3 ounces ricotta salata, cut into small cubes
¼ cup extravirgin olive oil
¼ cup lemon juice
½ teaspoon salt
Freshly ground black pepper
1. Cook farro according to package instructions, but start tasting 10 minutes early so it doesn't end up mushy. Drain and let cool to room temperature (or as much as you can.)
2. Add capers, olives, herbs and cheese. In a small bowl, combine olive oil, lemon juice, salt and pepper and whisk. Pour over farro and stir. Serve at room temperature. (If you refrigerate it, take it out an hour before serving.)
French Lentil Salad with Chèvre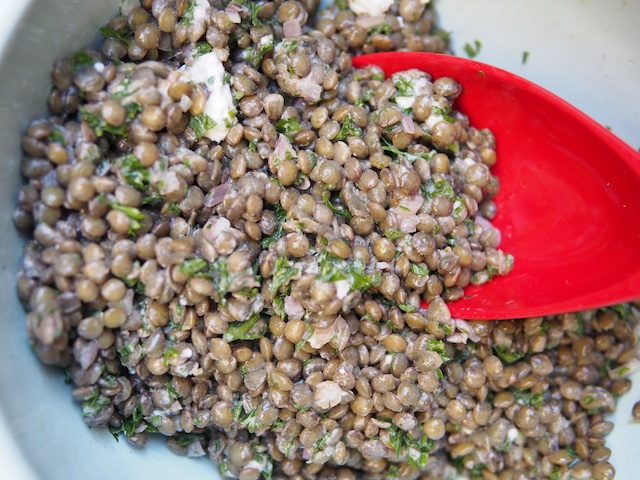 My mother made a similar lentil salad several times a summer, not as a side dish but as an appetizer, served in a big bowl on the porch of our house in Westport, with endive leaves stuck around the perimeter to use as edible spoons. This version melds my recollection of that salad with Madelaine Kamman's Salade de Ponotes a la Crème from her memoir, When French Women Cook.
Serves 6
1 pound lentils de puys or other small green lentils
1 shallot, finely chopped
1 cup curly parsley, finely chopped
3 ounces chèvre (soft goat cheese), crumbled
½ teaspoon salt
3 tablespoons white wine vinegar
2 tablespoons crème frâiche
½ cup walnut oil
Freshly ground black pepper to taste
2 endive, stem ends cut off and leaves separated
Cook the lentils according to the package directions, drain, and cool slightly. Add to a bowl and combine with shallots, parsley, and chèvre.
In a small bowl or a jar, combine salt, vinegar and crème frâiche. Stir, then slowly drizzle in the walnut oil. Pour over lentils, add pepper, and stir gently to combine. Serve at room temperature. Serving tip: Arrange endive leaves around the perimeter of the bowl if you like, for use as edible spoons.
Recipes originally appeared on Life, Death & Dinner.