I promised myself that I would publish one article this summer. That used to mean a research-based article for a peer-reviewed journal, but as I gain more and more distance from my field, I thought I'd write about what I now know, mommyhood and my choice to pursue it.
I was brought up to believe I could become anything I wanted, and lived the privileged life of one who only worries about herself through her twenties. After graduating from college and teaching high school for four years, I thought about how I could make a difference in the world and pursued higher education in Environmental Science and earned a Master's degree. Then, not wanting to stop there, I continued taking the engineering classes where I learned about how renewable energy systems work and then set forth on a six-month voyage from Mexico to Chile and Uruguay researching these systems and the barriers they face. Two hundred and fifty interviews in Spanish in twelve different countries kept me firing on all pistons. I was simultaneously using my language, engineering, traveling and people skills and loving every minute of the adventure. Upon my return, I wrapped up my research into a dissertation and later a published book and earned my Ph.D.
I accepted a job with an international carbon offset company and started developing the types of projects that I investigated in Latin America. Life was exciting and carbon markets were thriving. I traveled to England for work and spent a stint as a visiting professor in Iceland. After two years of working in this field to gain some credibility, I took another leap and applied for tenure-track positions to teach about these markets. After an exciting search that took me from Boston to Alaska and Humboldt County, I accepted a position in Boise, a town that resembled the Boulder, CO I was used to and a place my fiancé had a job opportunity.
The summer of 2010 was a whirlwind of getting married in Colorado, leaving the state I loved for 10 years, moving to Idaho, starting a new job and, faster than I ever expected, gettting pregnant. At the age of 33, I felt I could not wait too long to start a family, yet I knew I had invited too much change into my life all at once. The year sailed by fairly smoothly as I built research connections and developed my courses. However, as my due date in May approached, I realized that I would have to have my baby in daycare full-time in order to succeed in the tenure track laid out before me. Also, my husband was unhappy with his position in Idaho, and longed to be closer to his family in Vermont. Being a professor had been a dream since I started the Ph.D. program in 2004, and the thousands of hours dedicated to writing the 16 peer-reviewed publications, three book chapters and book were primarily meant to get me where I was now. The combination of teaching motivated graduate students, furthering my field with new research by helping develop emerging U.S. carbon markets and having a sabbatical year and summers to refresh myself and satisfy my travel bug had been what I envisioned to be the perfect future. I gave it up. I decided that being with my soon-to-be-born daughter and my husband's happiness was more important than the dream I once wanted.
In the first year after leaving my career, I continued to work on the one lingering publication that I had not yet finished, and felt a small satisfaction when it was published, even though my new biography mentioned that I was a part-time high school teacher in New Hampshire. Then, in the second year after leaving my career, as my daughter migrated into full toddlerhood, I had to give up reading the weekly energy policy bulletins and carbon market news reports that had come to my inbox for nine years and I finished the last consulting contract related to my work in carbon markets. My pipeline is empty -- no remaining articles, or even ideas of articles -- and no more active contacts for work in my field. And, as my publications gather dust, there is little chance that I will ever be considered again for a tenure-track position.
I have discovered that my new field has become kids. Not just my daughter, whose daily changes remind me why I've chosen this path, but also the high school kids I teach. I have moved away from the impersonal world of consulting and research, which involves much email and phone communication, but little human connection, and back into the world of human touch. I now live and work at a boarding school, and so not only do I get the hugs, boogers and slimey kisses of my 2-year-old, but I also get the constant greetings, energy and germs of 105 teenagers. (A bout of the norovirus took out 60% of our school in three days!)
As I sit in my current shoes, seven months pregnant with my second child, I look back over my career path and decisions with satisfaction. Do I miss the excitement of the consulting world, flying from place to place and fighting global warming with projects on the ground? Yes. Do I miss the prestige, conferences full of exciting new developments and colleagues, and motivated students of the collegiate world? Yes. But, am I happy with my day-to-day life, reveling in the joys of first poo-poos on the training potty and dancing in the living room wearing pink tutus. And, if I think back to my original purpose of pursuing an environmental career -- to make a difference in the world -- I know that by spending my time with my daughter, husband and the students at our school, in my own small way, I am.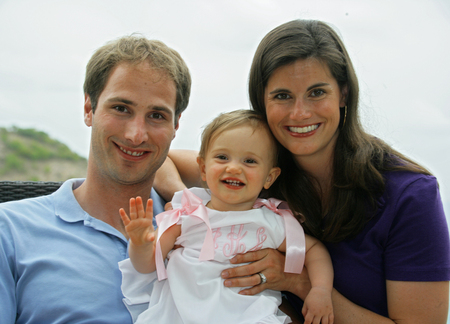 This post is part of a series produced by The Huffington Post in conjunction with our women's conference, "The Third Metric: Redefining Success Beyond Money & Power" which will take place in New York on June 6, 2013. To read all of the posts in the series and learn more about the conference, click here. Join the conversation on Twitter #ThirdMetric.