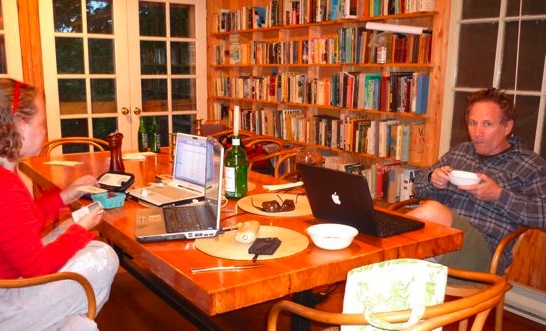 What is wrong with this picture? It is a bucolic scene; one cabin, me and my daughter, -- and three notebook computers. Going off to the country isn't quite what it used to be. Not only that, fewer and fewer Americans are getting out into nature. One fifth-grader told Richard Louv of Orion Magazine: "I like to play indoors better 'cause that's where all the electrical outlets are."
The Nature Conservancy studied the numbers, and found that in general, people are moving away from nature everywhere. They found that park visits, applications to hunt, camp and fish in US National Parks have decreased between 18 and 25% in the last 20 years. Their research indicates that nature is losing out to computers and video games, and note:
"Other research shows that the time children spend in nature -- particularly the activities we looked at in this study -- determines their environmental awareness as adults. We recently wrote a review paper looking at this phenomenon as well as at the effects of videophilia [love of electronic screens] on childhood development. These effects are substantial and include obesity, attentional disorders, lack of socialization and poor academic performance."
But it isn't just electronics. Many kids grew up in a Calvin and Hobbes type environment with some nature nearby; I grew up in downtown Toronto with a natural ravine as a backyard. Then parents became over-protective. Richard Louv writes in Orion Magazine:
"Yes, there are risks outside our homes. But there are also risks in raising children under virtual protective house arrest: threats to their independent judgment and value of place, to their ability to feel awe and wonder, to their sense of stewardship for the Earth."
The Economist weighed in on the subject and claims that it is the fault of the conservationists, for not keeping up with the times.:
"Yosemite is long on staggering views but short on what most people would today regard as entertainment. It contains fewer diversions than it once did. Scott Gediman, the park's spokesman, points out that it used to have a Cadillac dealership and a zoo. Although pretty, Yosemite's hotels are basic compared to most cities (if they were in Las Vegas they would have been dynamited long ago). Camp Curry, a vaguely military cluster of fixed tents and cabins, has hardly changed in a century."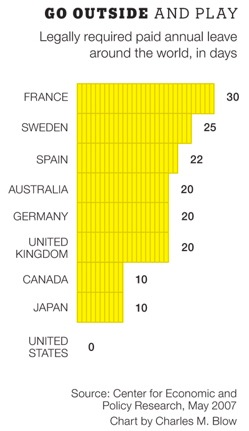 Or perhaps it is that Americans no longer take the time to do such things; Walter Kim wrote in the New York Times that the USA is: "a nation of remarkably productive, often well-paid workers who are becoming increasingly reluctant to pause from their labors and refresh their souls -- a nation whose cash-drenched corporate employers typically don't pay for much time off (less than two weeks annually, on average), a nation whose globe-gripping federal government is the only one in the whole industrialized world not to legally require generous periods of paid kick-back-and-hang time -- is a nation that's socially screwed up, particularly in comparison with European countries like France, which orders its citizens outside to play for the entire month of August and a few other weeks spread through the year."
Whatever the reason, park attendance is dropping, our kids are not getting what Richard Louv called the important "transcendent experience in nature" and my daughter and I are looking at computer screens instead of paddling our canoes. It's time to put them away and go play outside.
Get Outside and Play
More On Playing Outside:
Go Play Outside; Nobody Else is
What Is Killing Camping?
Reconnecting Children and Nature