Ida
A film review by Dr. Lloyd Sederer


This is a film about two paths to liberation. Both paths are exquisitely portrayed in Ida, a black-and-white film from Poland that runs a mere 80 minutes, yet depicts not just the lifetime of its protagonists but the course of history dating back almost 70 years. The film is set in Communist Poland in 1962.
We are introduced in the opening frames to a novice nun, Ida (Agata Trzebuchowska), as she paints a statute of Jesus, feeds the chickens, and then with two other novices carries the lifesize figure through a frozen, snowy field to restore him to his place of guardianship over the convent. The director (Pawel Pawlikowski) then cuts to the community of nuns praying in Gregorian Chant.
Mother Superior then calls Ida, a week away from saying her vows, to her office to tell her she must visit her only living relative, her aunt, before she takes her vows. Ida does not want to go, having lived her life in a convent since orphaned as an infant, but go she must, since obedience is one of the cardinal virtues of a woman of faith.
The scenes of the convent life are like still photographs, austere yet like illuminations. They could be taken by a Hasselblad camera in the hands of an artist. Their stillness sets us up for the action that she, and we, will experience when Ida arrives in the city to meet her aunt.
Wanda (Agata Kulesza), Ida's mother's sister, opens the door to her apartment but is hardly welcoming. She smokes and drinks. She has few words and even less warmth for her only living relative. A man is dressing in the aftermath of a sexual liaison with Wanda and it is not clear whether she is a prostitute. But she is not. In fact, she is a distinguished judge and part of the Communist Party elite.
Ida sits at her aunt's spare kitchen table and is told, mercilessly, that she is Ida Lebenstein, a Jew. So begins a type of road movie where the two women, seemingly a study in contrasts, set out to find the graves of Ida's parents, and Wanda's sister. What we discover later is that they were not the only family victims of the Jewish genocide in Poland before the end came to Hitler and the Nazis.
It is a pilgrimage they go on, since its ultimate purpose (unbeknownst to them at first) is to transform each of their lives, to liberate each of them to find peace. They are quite the odd couple but their affection for each other and their deep filial attachment makes them a perfect pair. They return to the countryside and small village of their former lives and we join them in their search for the relics of their family, and the path for their respective futures. Pawlikowski takes us on this deeply painful journey in a remarkably beautiful and redolent way.
This film has won many awards, and for reasons you will understand if you view it. It may be set in the 60s, in bleak Polish cities, towns and countryside, but it is timeless and universal in its story of people who by no acts of their own are thrown into the suffering and injustice that blackened Europe in the mid-20th century and continues in so many places today. It is a film that portrays how we must enter the past and its agonies in order to emerge more fully alive today, or at least more at peace with what has become our fate.
Ida, played by a novice actor, in fact, has the innocence, strength and courage to enter into what a lifetime in the convent has spared her. She is able to stand up to her powerful, tortured aunt and the horrors of their past to emerge from the chrysalis that has sheltered and limited her. Wanda is a portrait of a woman whose despair builds with excruciating agony yet who is resolute in becoming family to Ida and in confronting her past in a manner that explains what path she must take to freedom.
This is a film destined to become a modern classic. It reaches deep into what makes us human, and inhuman, and has the authority to leave us feeling that there is grace to be found if we can bear it.
---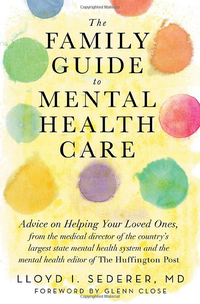 Dr. Sederer's new book for families who have a member with a mental illness is The Family Guide to Mental Health Care (Foreword by Glenn Close).
Dr. Sederer is a psychiatrist and public health physician. The views expressed here are entirely his own. He takes no support from any pharmaceutical or device company.
www.askdrlloyd.comhttp://www.askdrlloyd.com