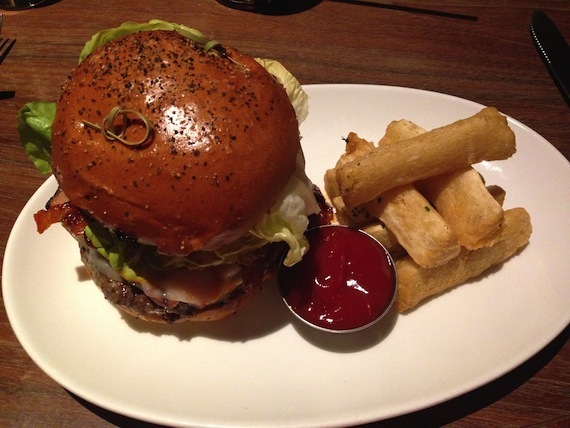 On a recent dinner out at BLVD 16, the trendy restaurant/lounge in the Kimpton Hotel Palomar in Los Angeles, I ordered their signature burger. Yes, despite the fact that I was eating with my husband and daughter, both of whom are vegetarians, I ordered a burger.
When Chef Isaac Basilio came out and asked me if I was sure that's what I wanted, I thought he was chiding me for that. But then he got a little glint in his eye, stared me down and said, "Why don't you try the Monster burger instead?"
Lesson #1: When a chef suggests a specific dish, you'd be a fool not to go for it.
So, after one bite and a lot of ecstatic moaning, I knew I had experienced something special. After I ate a quarter of it, with my husband and daughter shooting daggers at me, I called it quits and had a little chat with my new BFF Chef Isaac to learn more.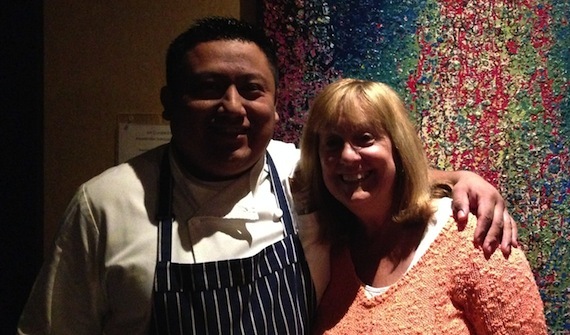 Lois Alter Mark: First of all, that Monster burger may have been the best burger I've ever eaten. There were so many flavors in each bite. Can you tell me what ingredients make up that burger? I'll try not to drool while you list them.
Isaac Basilio: The monster burger consists of an 8-ounce natural beef patty sandwiched between a salt and pepper brioche bun. It's topped with bacon jam, chipotle aioli, grilled ham, crispy onion strings, provolone cheese and sliced tomato.
LAM: Explain bacon jam! What is it and how did you come up with the idea?
IB: It's a savory jam made out of bacon, using a slow cooking process where the bacon is the principal ingredient, along with shallots, vinegar, honey and assorted spices. The bacon jam is a spinoff of a similar recipe - smoked tomato jam - which we served as a condiment on one of our best-selling burgers back in 2008 when BLVD 16 first opened.
LAM: Okay, one piece of ham would have been decadent enough. But then you added another one! Why?
IB: Ha! The goal was to create a burger that everyone would talk about. Executive Chef Richard Hodge and I went back and forth between one slice of ham or two. I wanted to go big so two slices was the answer.
LAM: Tell us the story behind the Monster burger. What inspired you to create it?
IB: One day I was in the kitchen and it was time to create the daily whim, our version of a daily special. I remembered Chef Richard had tasked me with creating the next "BLVD Burger" and I accepted the challenge. After all, if you're going to name something after the restaurant it needs to be big and memorable. The inspiration was to create a burger named after the restaurant.
LAM: What's the best way to actually eat this Monster? You certainly can't be ladylike while eating it, as I believe I made pretty clear.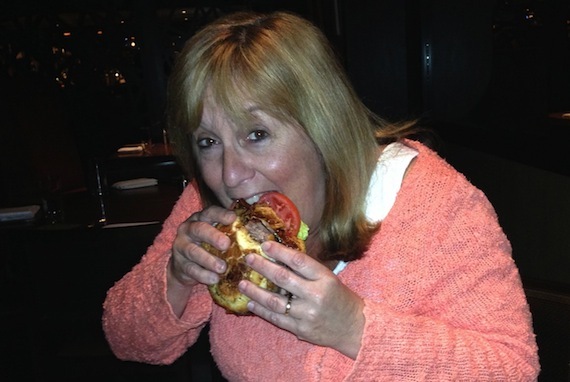 IB: I don't believe in telling people how to "eat something." Our philosophy here at BLVD 16 is that when a guest receives a plate of food, it should taste good no matter how he or she eats it. So with that being said, I will leave it up to the guest to determine the best way to knock it down. However, there will always be a knife and fork on the table.
LAM: Does anyone really finish the whole thing?
IB: Currently the burger is only offered as a special. It's sort of in an R&D phase, if you will. We've had great feedback and so far most guests finish the majority of the burger. I think the mission of designing the next BLVD burger is a success.
LAM: Are there any ingredients you considered adding but then decided against?
IB: Not at the moment. We might try to switch ingredients out from time to time but we are pretty happy with the current end product.
LAM: What are people's reactions when they first take a bite? Does everyone make that same "OMG I'm in heaven" face that I made?
IB: I think there is a moment of shock when the burger is actually set on the table. Then we often see the guests thinking about how they are going to eat it. Some of them spin the plate as if looking for a smaller side or something. It's pretty funny. Once the first bite is taken, then you have the OMG face. At that point we walk away and let them enjoy the moment.
LAM: How will you possibly top the Monster?
IB: For a burger as loaded as this one is, the only thing I can think of is, well, maybe with a pickle spear.