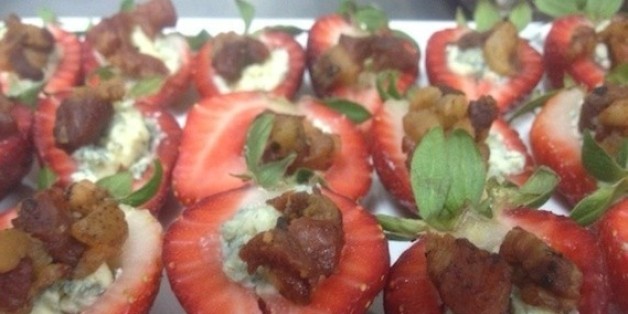 I stayed at the beautiful Chaminade Resort and Spa in Santa Cruz, Calif., last week and was disappointed to discover I was missing the hotel's first Farm to Table Wine Dinner of the season by just one day.
Farm to table has become a popular concept over the past few years, with gourmands filling trendy restaurants to experience innovative dishes made with the freshest foods, all grown and produced locally.
Executive chef Kirsten Ponza started this annual tradition at Chaminade seven years ago, and the monthly dinners sell out quickly from June through October. I couldn't check out of the hotel without talking to her and getting a taste of what was coming.
"This is my favorite time of the season," she admitted. "I feel so lucky to be in California, where we have so many locally-grown options."
She transformed a few of those options into a Caprese salad with goat cheese-filled zucchini blossoms, which I am still drooling over. And she's sharing her recipe below so you can try it yourself even if your own table is far from Chaminade.
LAM: Farm to table has become such a popular concept. What does the term mean to you, and why do you think people have embraced it so deeply?
KP: It's so popular because it's so achievable for so many people. Anyone can decide whether or not to eat local and whether or not to eat fresh. If we can get the government to back this nationwide we could make it infinitely more available to people of all walks of life. Instead of being so dependent on other countries for things, we can become a more self-reliant country for eating. If tomatoes aren't in season, you don't have a tomato -- unless you have canned them yourself or you have a generous neighbor!
LAM: You held your first farm to table dinner of the season last weekend. Can you share the menu and what guests' reactions were like?
KP: Strawberry Hazelnut Gazpacho, Baby Romaine Lettuces with a citrus avocado relish, Baked wild mushroom ravioli w/ Aurora Crème, Chermoula Duck Confit with Mediterranean cous cous and sautéed baby veg, Honey Mousse on a jasmine scented cake w/ edible florals. We have always received a great response from our guests. They like the food adventure and I've even been able to change some minds on flavors, which is the greatest compliment of all!

LAM: Can farm to table be a year-round way of eating or is it really seasonal?
KP: That's tricky. It really depends on where you live and if you have room for a greenhouse. Here, in California, we are spoiled because, yes, we can eat this way year round. There are places like my hometown in Canada where it's very difficult to do this without a lot of planning ahead. So if you can't get everything local just try to keep it in the good ole' US of A!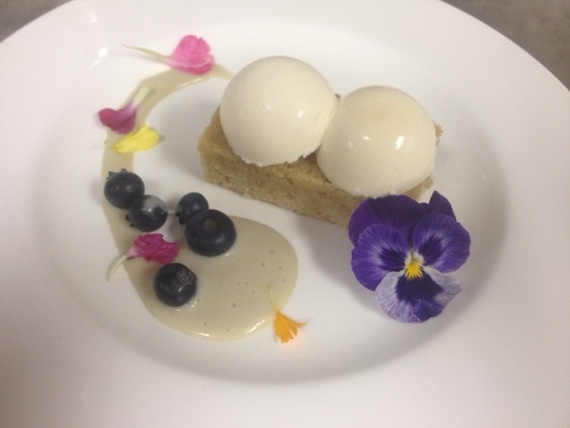 LAM: How can people incorporate the idea of food to table in their own everyday cooking?
KP: Farm stands! Most cities have markets and stands that will give you everything you'll need. There are also ranchers who will at least know where you can get the protein you'd like for the seasons.
LAM: How important is where you live to being able to enjoy farm to table?
KP: Very. It seems that the cost of this style of living is slowly going down, however, being able to grow even just a few things in some pots on your deck/porch/small piece of concrete that is your yard is so helpful to your pocketbook. How great is it to see something grow!
LAM: Give us the last word on the subject.
KP: Even though the concept is old, this way of eating is still so new for so many people. It was once the way everyone had to live because we didn't have the trucks and planes to delivery every week. Everyone can do it if they think about how it will help the local business and ultimately their own health. Your food should not be sitting on a flat bed truck for a week while trying to get to your local giant food store. At the very least, it shouldn't have to travel more than a hundred miles to get to your plate!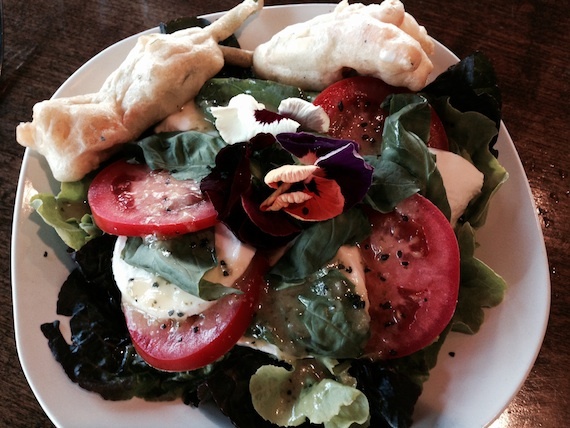 Stuffed Zucchini Blossoms
24 Zucchini Blossoms
Filling:
4oz goat cheese (chevre)
4oz cream cheese
4 oz grated pecorino
6 caramelized shallots
Zest from 2 lemons
½ bunch basil chopped
Fritter Batter:
10 oz cornstarch
8 oz AP flour
1.5 cups whole milk
3 tsp baking powder
1 tbsp salt
½ small bottle of sparkling water
Frying oil
Soften the cheeses in a mixing bowl, then add your basil, onions and zest. Season with salt and pepper. Leave out to keep soft and easy to pipe!
For the Batter mix together the dry ingredients thoroughly, then slowly add the sparkling water whisking the whole time until the batter is slightly thinner than pancake batter.
Heat oil in cast iron pan or similar. Check the temperature by dropping small bits of batter in and if they bubble and turn brown within 1 min, your oil will be ready.
Fill the blossoms with your cheese mixture - using a piping bag is easiest!
Lightly coat the blossom in the batter and float it into the hot oil. Check to be sure it doesn't stick to the bottom of the pan! Flip over after the batter starts browning on one side.
Drain on a towel, then serve warm! Yum!