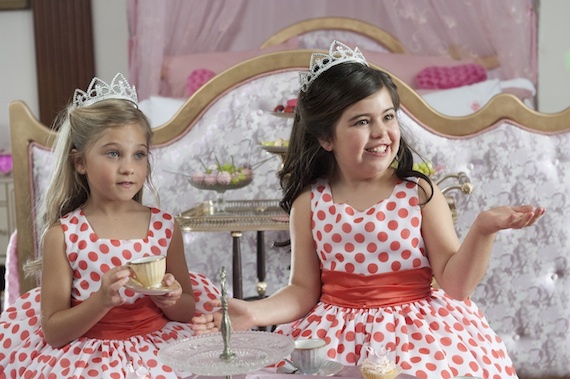 It could be that I miss having little kids. Or that I'm ready for grandchildren. Or that Sophia Grace Brownlee and Rosie McClelland are just plain irresistible.
I've been obsessed with the pair of little Brits ever since I saw their first YouTube video, in which they sang Nicki Minaj's "Super Bass" back in 2011- a video that quickly went viral and has received more than 45 million views.
At the time, Sophia Grace was only eight years old and Rosie was a mere five. Sophia Grace was boisterous, articulate and enthusiastic and Rosie was her thoughtful but silent sidekick.
Over the past three years, the girls have practically become family to Ellen DeGeneres, who has made the young cousins regulars on her show. (I've taped every appearance. Don't judge.) They've covered red carpet events for her, and are now recognized by their own pop idols, including Rihanna, Katy Perry and Taylor Swift.
With their first movie, Sophia Grace & Rosie's Royal Adventure, coming out on DVD, Blu-Ray Combo Pack and Digital HD on May 20, I got a chance to talk to the girls, who are an absolute delight. Note: little Rosie is definitely coming into her own. She's smart and funny, and is going to be a force to be reckoned with.
I've been a big fan of both of you since your YouTube video, and now you're starring in a movie! Congratulations! What was the hardest part about making it?
Rosie: Memorizing all the lines! We had to memorize six pages a day and it was very hard.
Sophia Grace: Every time the director would say, "Let's do it one more time," it really meant, "Let's do it 100 more times." We had to do the same scenes over and over and over again.
Can you share any funny stories that happened while you were filming?
Sophia Grace: Oh, yes! We were supposed to be on a ledge, and a man had to hold us on boxes so it looked like we were really up there. There were all these pigeons ...
Rosie: Then we got the giggles while we were on the ledge, which was very funny but they didn't think it was very funny because we were supposed to be scared.
Sophia Grace: We were laughing so hard.
I bet you get recognized wherever you go now. What are some fun - or weird! - things that have happened with your fans?
Rosie: Once, a lady came running over to us and picked us up like we were babies!
Sophia Grace: One time, a group of girls started screaming and I jumped! We do sign a lot of autographs for people.
So many kids have posters of you on their walls. Who do you have on your walls?
Rosie: I used to have One Direction.
Sophia Grace: Selena Gomez. I like to cut out pictures from magazines.
You've gotten to attend a lot of red carpet events. Who are some of your favorite stars that you've gotten to meet?
Sophia Grace: Kevin Hart, Beyonce, Rihanna.
Rosie: I absolutely love Rihanna.
I bet the stars have been just as excited about meeting you. What were some of their reactions?
Rosie: Rihanna picked us up!
Sophia Grace: Katy Perry always screams and comes over to us.
Ellen DeGeneres must be like part of your family by now! Can you tell us a little about your relationship with her?
Sophia Grace: It's really good. We call her Auntie Ellen.
Rosie: We're almost related.
You go back and forth between England and America a lot. What are some of the differences you find between the two countries?
Rosie: America is hot. England is cold. It's always lovely and sunny here. I sweat a lot.
Sophia Grace: Me and Rosie are totally different. In restaurants, she'll wear her jacket and I'll just wear my vest.
What are your favorite things to do in America?
Sophia Grace: Swimming with dolphins!
Rosie: I love the sea. Not really. I'm scared. I love the big candy stores, like Dylan's Candy Bar.
Your tutus have become your signature look. Do you think you'll always wear them?
Sophia Grace: Well, now that we're getting older, we wear things like pencil skirts.
Rosie: We wear dresses instead. We still like tutus.
And are you still fans of pink?
Sophia Grace: I'll always love pink.
Rosie: We get a lot of pink stuff from people.
You've already accomplished so much. What's on your dream list?
Rosie: I'd like my granddad to come here. If I work hard enough ...
Sophia Grace: Pink Porsches!
Rosie: Oh, yes, pink Porsches!
So I heard the exciting news that you're both going to become big sisters! On The Ellen Show, you mentioned a couple of names you had in mind.
Sophia Grace: Oh, you mean Sparkle or Rainbow? Those are really our Barbies' names!
Rosie: Our moms don't like them.
Have you thought of any boys names yet?
(Silence)
Sophia Grace and Rosie: No.
I'm going to be visiting England on a Downton Abbey tour in July with my friend, Helene, who is also a big fan of yours. We would love to meet you in person!
Sophia Grace: My granddad has a taxi in London. We could take you all over!
Rosie: Ooh, we could take you on the London Eye or to Buckingham Palace.
That would be fantastic! Buckingham Palace! Have you met the Queen?
Sophia Grace: No.
Rosie: Not yet.
Tweet @TheEllenShow to send @LoisAlterMark and @HBludman to meet the Queen with @PrincessSGB and @PrincessRGM!