Dear 20-year-old Lois,
Please go take a cooking class. I know you won't do it, but see that nice flat stomach you have in the picture?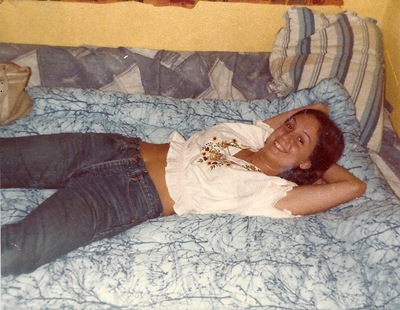 Years of always eating out will turn it into a muffin top (a much cuter name than it deserves, trust me) and result in your children asking what the food man is bringing for dinner every night when you live in Manhattan -- a question that often makes people look at them funny. Yes, you have two amazing kids and you will spend 15 blissful years on the Upper East Side of New York, but we're not talking about that right now. Stay on point.
Take a good look at your hair, too, because years from now, you will have no idea what your original color was. Your constant futzing around with it means that you have to squeeze a couple of hours into your schedule every five or six weeks to avoid looking like you've given up on life.
Let's talk about that Master's Degree in Public Relations for a minute. Really? Is that necessary or is it just a good way to avoid a real job for another year and a half? You will hold three PR jobs before you acknowledge you have no interest in pitching stories. You will decide to become a writer because 1) it's what you've wanted to do since you were 12 years old and won that writing contest in American Girl magazine and 2) you want to stay home with your dog. Yes, your dog.
The fact that you grew up with no pets other than a turtle and goldfish and will end up madly loving, living with and catering to a Chow Chow for 11 years and a Newfoundland for another 12 years should offer a major lesson in being open to change and realizing you can't control everything. (I hate to tell you, but you still haven't fully learned that lesson.)
One of the biggest changes: You will move to San Diego -- don't roll your eyes -- and so will Mom and Dad, and so will Sheila and her family. Sure, you swore you'd never leave New York. Who leaves New York? Who would ever want to live in California? Blah blah blah, but it turns out to be one of the best decisions you ever made.
And your complete disinterest in politics? Well, your Facebook friends (forget it, I can't even begin to explain what Facebook is, but just know that everyone you've ever met in your life will be back in touch with you because of it, not to mention a couple of thousand other people) will laugh about that. Three decades from now, a group of ultra-conservative politicians will wage a war against women's reproductive rights, and you will become a loud, active voice fighting back. And you will win.
The area of your life in which you really win is love and family. You inexplicably knew you would marry Michael the minute you laid eyes on him last year, and you will be as in love with each other 33 years from now as you are today. Your son and daughter, adorable and fun as little kids, will grow into smart, compassionate, generous adults who are your proudest accomplishment -- and people you genuinely love spending time with.
Really, the most important advice I can give you is to just say "thank you."
So, no regrets. Don't worry about your cooking, your hair, the degree you're not using. They all brought you to where they are now. And that's a pretty great place.
Love,
53-year-old Lois
P.S. I'm not sure if this is considered inside trading, but if you really want to make a fortune, invest in Tampax because, 42 years after it first started, YOU WILL STILL HAVE YOUR FREAKING PERIOD!