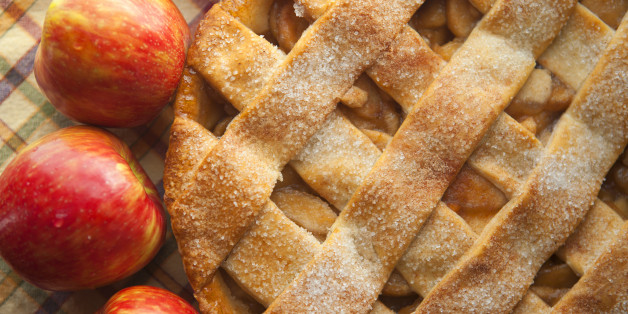 Happy Thanksgiving soon!
Apple pie is one of the most popular fall desserts, and for good reason too. With Thanksgiving rapidly approaching, I was inspired to create an stepped-up apple pie to celebate fall and the last of our local apples. The whole-grain crust is packed with flavor thanks to a combination of rye flour and white whole wheat flour. The beer (!) rounds out the wheat flavor -- and the alcohol evaporates during the baking process, creating an incredibly flaky crust. In the filling, I like to up the apple flavor by using boiled apple cider in addition to fresh apples. Pure apple cider is boiled down to create a sweet syrup. It's a great way to cut down on the added sugar needed, sweetening apples with plain old delicious apples. Try out this pie and we promise it will be the hit of your Thanksgiving dessert table.
Double Dip Apple Pie

Ingredients
Crust:
1 cup rye flour
1 1/2 cups white whole wheat flour
1 tsp. sea salt
3 tbs. unrefined sugar
2 1/2 sticks grass fed butter, unsalted, cold, cubed
1/2 cup beer of your choice (i.e. what's in your fridge)
Filling:
6 apples (use mixed variety for extra flavor combo, like granny smith, macintosh, and gala apples) peeled, cored, chopped into 1-inch chunks
1/4 cup unrefined sugar
6 tbs. arrow root powder
3 tbs. boiled apple cider (you can use regular apple cider or make your own: bring a 1/2 cup cider over medium heat to a boil, then reduce to a simmer, stirring occasionally, and 30 min later the cider will be reduced to a syrup consistency)
1 tbs. freshly squeezed lemon juice
1 tsp. cinnamon
1/4 tsp. cloves
1/2 tsp. freshly grated nutmeg
1/4 tsp. ginger
Crust:
In the bowl of a standing mixer combine rye flour, whole wheat flour, salt, and evaporated cane juice. With the mixer running on low, slowly adding the butter. The mixture should have the consistency of course sand. The dough is ready when there are pea-size clumps of batter. Once the dough gets to this point, add the beer slowly, being careful not to over mix. Stop mixing when the dough is in large clumps sticking to the paddle.
Divide dough in half and wrap into two disks in plastic wrap. Once wrapped in plastic wrap, roll out dough with a rolling pin to make a perfect circular disc. Chill in the refrigerator for at least an hr., overnight is even better.
Filling:
In a medium bowl combine apples, sugar cane, arrow root powder, boiled cider, lemon juice, and spices.
To Finish:
Roll out one disc of dough and fit to crust. Spoon filling into crust. Roll out second crust and place on top of filling. Trim edges and then crimp to secure the pie. Brush pie with egg yolk for a shiny glaze. Bake for 1 hr 15 min. 20 minutes into the baking process, cover pie with aluminum foil to prevent over-browning. Pie is ready when juices are bubbling and a toothpick tested shows the apples are cooked through.
Enjoy. Here's to a sweet and healthy holiday season!