This month my work has brought me to Bali, Indonesia. When I told people that I was coming to this beautiful island, they usually raised an eyebrow and said something along the lines of: "Oh yeah, poor you, going to Bali."
But it is true. I am here at a historic moment, a collaboration between two very important funds worldwide: the Global Greengrants Fund and the International Network of Women's Funds.
The Global Greengrants Fund is a charitable foundation that makes small grants (typically $500 to $5,000) to grassroots environmental causes around the world. These funds are used to support community-based groups outside the United States and Western Europe working on issues of environmental justice, sustainability, and conservation. Since its establishment in 1993, Global Greengrants Fund has made over 5,000 grants in 129 countries, giving a total of over $20 million.
On the other hand, the International Network of Women's Funds (INWF) is a group of women's funds from developing countries in the south and developed countries in the north that are committed to a world of equality and social justice. INWF is part of a global women's movement that, using a gender lens, is redefining the concept and praxis of philanthropy, one in which the most developed countries and the least are working as equals, and one in which the act of giving is not the privilege of just a few but of all.
For four days, more than 100 people from these two funds have been discussing how to bring together the environmental agenda to the women's rights approach under the topic of gender and climate change. Our role representing IUCN's Global Gender Office has been to share our experience in this matter and guide the discussions.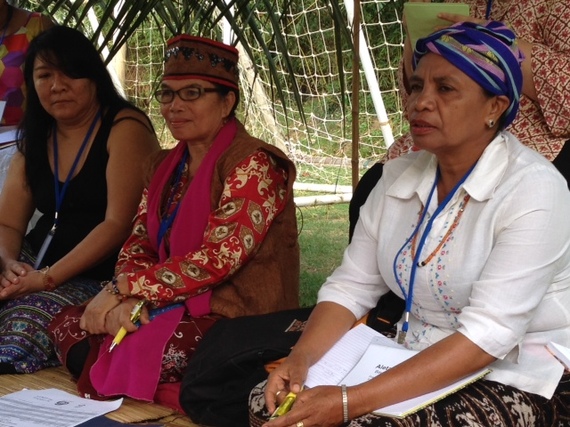 Their commitment to the climate change agenda is very refreshing. When we leave Bali, if there is a green light to move forward, this will change the lives of thousands of women and men in developing countries.
The setting where this historic gathering is taking place has also been a catalyst. We found ourselves in the Green School Bali which was awarded the 2012 "Greenest School on Earth."
The school's buildings are built primarily from renewable resources including bamboo, local grass, and traditional mud walls. The primarily bamboo construction of the campus has been reported as an example of large-scale building potential of bamboo architecture. "The Heart of the School," a 60 meter long stilt-structure constructed with 2500 bamboo poles, has been the site of this important event. The school also utilizes renewable building materials for some of its other needs, and "everything -- even the desks -- are made of bamboo."