My dad has been so many things to me throughout the years -- a teacher, friend, partner in crime, support system and official idea-bouncer-offer.
Dad grew up in New York in a very big, very loud Italian family where family came first, Sundays were spent at Grandma's and food was love.
He prayed for a kid he could share his love of baseball with -- he's the most loyal Yankee fan on the planet besides his sister, my favorite aunt. He coached a softball team back when I was little to try and build my interest in something involving a bat and a ball. Unfortunately, the only thing I was interested in was the cool team jersey and the post-game hot dog.
Looking back, I know I wasn't the easiest girl in the world to raise. Smashed cars (Dad's beloved Mustang convertible), changed report card grades and many a questionable boyfriend would have made any dad's balding hair stand on end.
Dad taught me a lot. For these little lessons along with countless others, I am thankful.
He taught me to love music.
Because my dad loves music so much I love music so much. Dad's passion for doo-wop is legendary and as a kid I soaked up every bow-wop-de-bow-shama-lama-ding-dong bit of it. Thanks to my dad I know the difference between The Chi-Lites and The Shangri-Las and I have an appreciation for The Flamingos, Dion and the Belmonts and Frankie Lymon and the Teenagers. A few years ago when I was visiting him, an infomercial for a Time-Life Doo-Wop collection came on (featuring Bowzer from Sha-Na-Na!) We watched it in its entirety. All two hours of it.
He taught me to love simple things.
Like a slice of plain cheese pizza or a Carvel soft serve.
He taught me about laughter.
My dad is funny. Period. The end. One of the earliest memories I have of him is begging him to play "ticklephone" with me, where he would hold me like a guitar, sing silly, made-up songs and play me like an instrument until I melted into a puddle of laughter on our avocado green carpet. During those awkward pre-teen/teen years when other kids wanted nothing to do with their dads I smiled, laughed and rolled my eyes as my dad entertained my gang of girlfriends in our living room by doing his amateur stand up routine and imitating Mick Jagger.
He taught me about being waaay too cheery in the morning.
Oh my god, my father is a morning person. Up while it's still dark out, before anyone else, even on the weekends, drinking his coffee and reading his newspaper. If he needed to get us up for school, church or to get the ball rollin' on that big family trip he would burst into the room and in full voice sing the worst, made-up song EVER. "I'm a morning person... listen to me sing... I'm a morning person... zing, zing, zing, zing..." Just typing the "zing, zing, zing" part makes me smile and want to bury my head under my blanket.
He taught me about Halloween and horror movies.
Halloween was like Christmas at our house and much of that had to do with Dad. Every year when he took my brother and I trick-or-treating he would dress up too, even if it was just a rubber mask or a hooded robe. He and Mom would throw big costume parties every year, and watching all the grown-ups parade through the front door was like being on some sort of awesome/creepy red carpet. Dad introduced me to Frankenstein, Dracula and the Wolfman. We enjoyed Freddy, Jason and Leatherface. And there were many hours spent on Saturday afternoons watching b-horror movies on Creature Feature featuring Dr. Paul Bearer.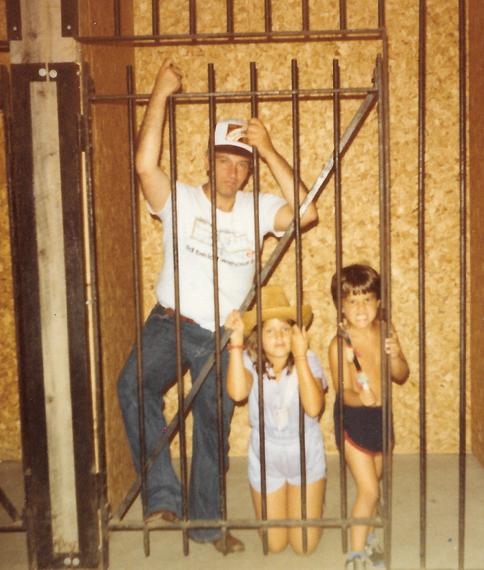 He taught me about hard work and responsibility.
My dad started in the mail room of a copy machine company and worked his way up to the manager of a copy machine company. He worked hard, was loyal and took his job seriously.
He taught me to be a cheerleader.
Not literally, I was as far away from being a cheerleader as you could possibly get. I was in the drama club, in theatre and a proud thespian. When I told my dad I wanted to major in theatre and follow my dream of becoming an actor, rather than tell me that it was a bad idea, I was wrong or that I should consider a double major, he organized bus trips where my folks brought gangs of their friends to the University of Oregon's theatre to watch me perform in shows.
He taught me to be kind to everyone.
My dad is one of those people who has that gift, that something special where he can walk into any room, any situation and make conversation with people, get them laughing and find out everything about them. He doesn't care if you're rich/poor, black/white, young/old -- if you're a nice person he would like to talk to you. And he will make you laugh.
I love my dad -- I love that he continues to be supportive of my dreams even though I'm not a little girl anymore.
He now cracks up his grandsons with his silly jokes, ticklephones and Mick Jagger imitations. For that I am truly grateful.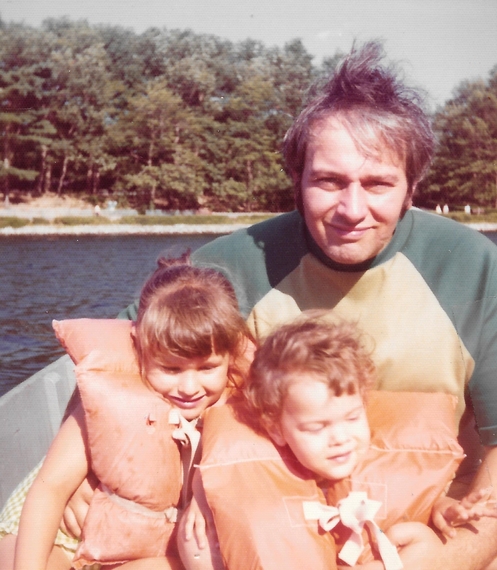 Lori's website, Drawn to the 80's, is where her 5 year old draws the greatest music hits of the 1980's. Her blog, Once Upon a Product, is where she writes about important things like food, beauty products and Mick Jagger.