I always feel inspired by the videos, stories and blog posts that are sent around about women and the true meaning of beauty.
Like recently, the time lapse one of the woman getting heavily Photoshopped before your eyes to look "beautiful" and more like a model.
Or the posts/photos about "plus size" model Robyn Lawley in a swimsuit all curvy and gorgeous, breaking the mold as far as what a model can look like.
And thank God for Jennifer Lawrence with her refreshingly outspoken "it should be illegal to call somebody fat" attitude.
All of these women/three minute videos/posts make me sit up a little taller and feel a little bit better about myself.
For a few minutes or so. For me, as I know it is with millions of other women, it's a daily struggle to feel confident or good about my body.
It made me think back to that great Dove Soap Real Beauty campaign spot with the sketch artist from a few months ago:
Maybe this campaign has completely exhausted you; maybe you haven't seen it yet. But it hit close to home for me.
Like seriously close to home.
Like, in my living room sitting next to me on the couch while I eat my sixteenth Ritz with peanut butter and jelly close to home.
I remember shopping with my friend Laura several years ago, trying on pants that I thought fit me perfectly.
I came out of the dressing room to show Laura and the conversation went something like this:
"They're cute, but they're waaay too big on you Lori, do you want me to get you the next size down?"

"No, this is my size."

"No, it's not. It might be the size you wear, but it sure as hell isn't your size."
This wasn't following some big weight loss where I was still seeing myself a certain way, or a PMS day or the day after Thanksgiving. This was just an average day with me hiding behind some giant pants.
This has been a lifelong struggle and this was how I saw myself.
Now I'm no sketch-artist, but please enjoy a few self-portraits courtesy of my diaries from back in the day:
First self-loathing portrait, age 8.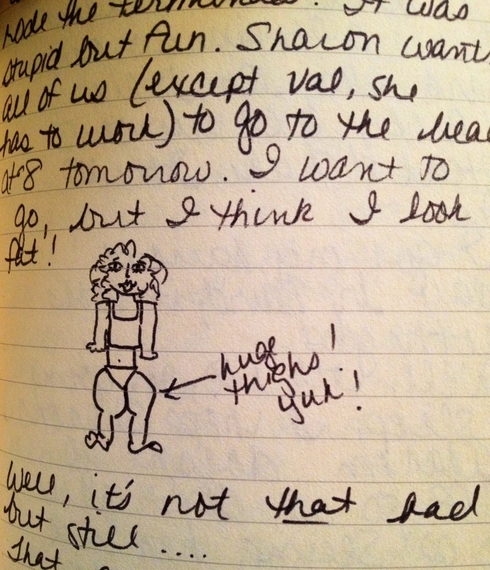 Thigh anxiety, age 16.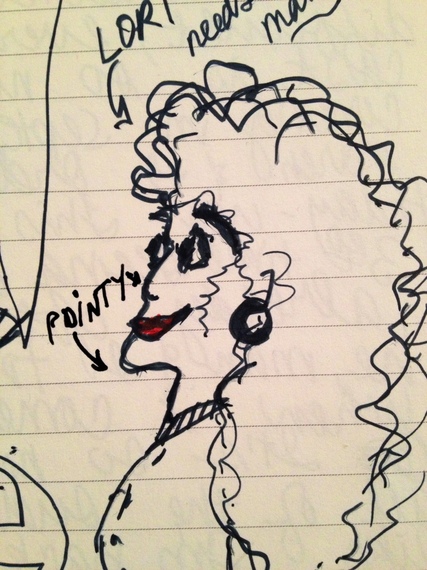 Nose and chin much too pointy, age 18.
And now, this drawing I made of myself at work last week.
Still on my desk, buried under some boring notes, this lovely self-portrait was created first thing in the morning, like at 7:00 a.m.
Before I even had a full cup of coffee, I was happy to have a lively discussion with two female co-workers about things we don't like about our faces and bodies. Seems like a good start to the day. I told them I could better explain if I drew how I see myself: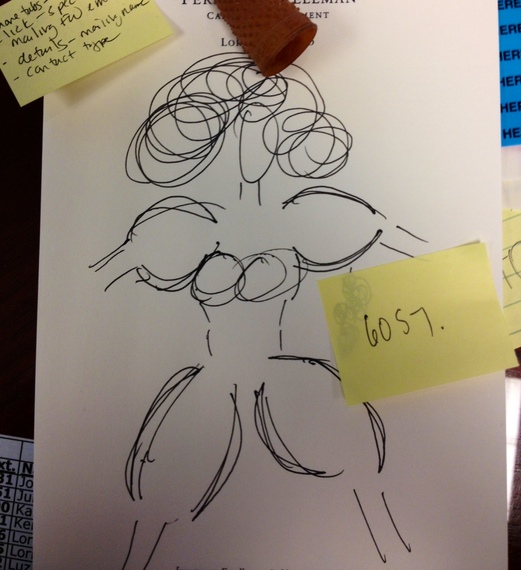 Good hair at least? Age 40-something.
All these years later, and this is pretty much the same picture I drew of myself in high school, the one in the bathing suit with the big thighs.
And yes, I know I probably should work on this.
A lot.
Like everyone else on the planet, in the new year... I really am going to try to.
I have my health, I have my family, I have my friends. I really have a lot to be so thankful for.
In fact, I'm pretty mad/sad/annoyed by the whole thing -- that I'm still drawing that same picture.
This post originally appeared on Lori's blog, Once Upon a Product, where she chronicles her obsessions with food, beauty products, Mick Jagger and other important topics.