It's back-to-school time!
Even if you don't have kids, surely you know this based upon a few things:
The back-to-school aisle has been up at Target since before the 4th of July.
End cap placement in grocery stores of juice boxes.
The bombardment of "First Day!" photos in your Facebook feed.
Growing up I was always so excited for the first day of school -- I planned for it like a bride in preparation of her big day.
In elementary school I loved school and I loved my teachers; I would bring them presents -- little things like cookies or a googly-eyed pom pom with big feet to set on their desks.
I loved getting new things to start the school year off right, like a new Trapper Keeper, a big three-ring denim binder, new pee-chee folders, the perfect lunch box (a school girl's standout accessory) and most importantly, new clothes.
I loved art and reading -- I wasn't so interested in science or math.
I was also super-interested in knee socks, barrettes, and shiny new Mary-Jane's.
A few first day of school outfits are permanently burned into my memory. I can still smell the leather of the shoes and feel the way the brass button slipped into the clasp on my jumper.
The planning of the "first day" outfit was critical in a young girl's life; the night before these ensembles were painstakingly laid out in the shape of a dead body on my bedroom carpet, ready to jump into fashion action early the next morning.
FIRST DAY OF KINDERGARTEN.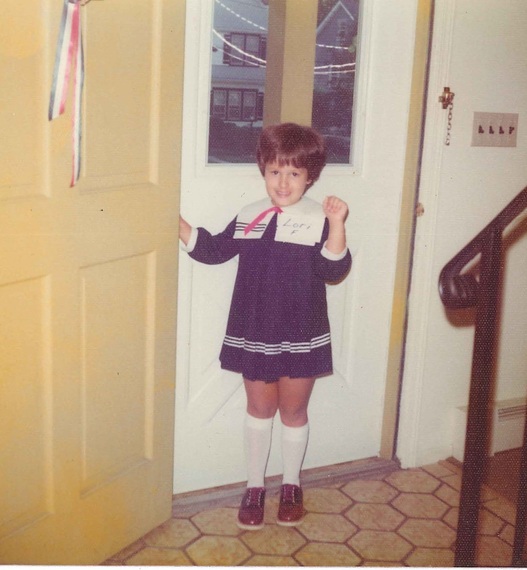 Holy hell, every little girl had a little sailor dress in 1976. I felt very sassy in this number. But what I remember the most about this day was the shoes. Brand new from Buster Brown -- navy and mud brown sturdy-as-hell little lace up shoes. A pre-cursor to my obsession in the '90s with Doc Martens.
FIRST GRADE.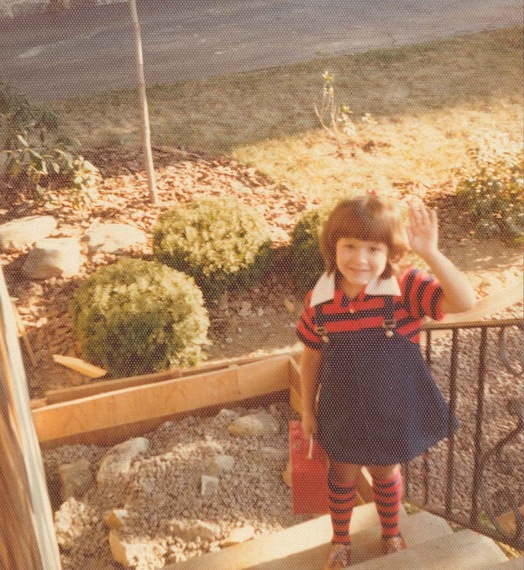 This outfit ruled. I dreamt about getting it and then after I got it I counted down the days on a calendar until I got to put it on. Why? THE SHIRT HAD MATCHING KNEE SOCKS. 'Nuff said.
THIRD GRADE.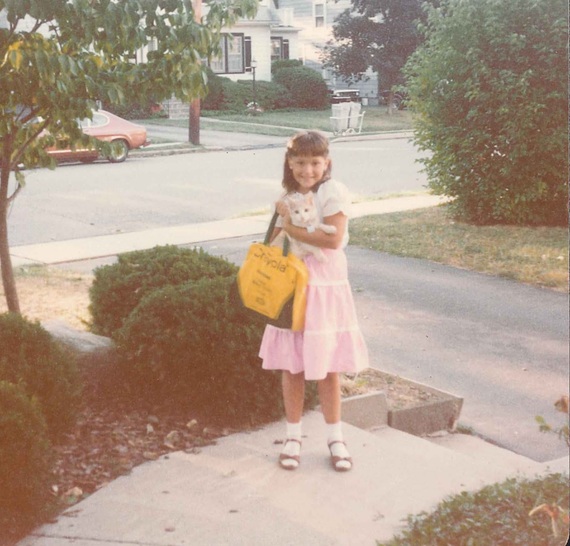 I am mature now. White blouse with puffy sleeves, one of those tiered prairie skirts in a lovely shade of pink, cute open toed sandals and... socks. Yup. Cute Crayola book bag. And my cat Marshmallow, who I tried to take on the bus.
SEVENTH GRADE.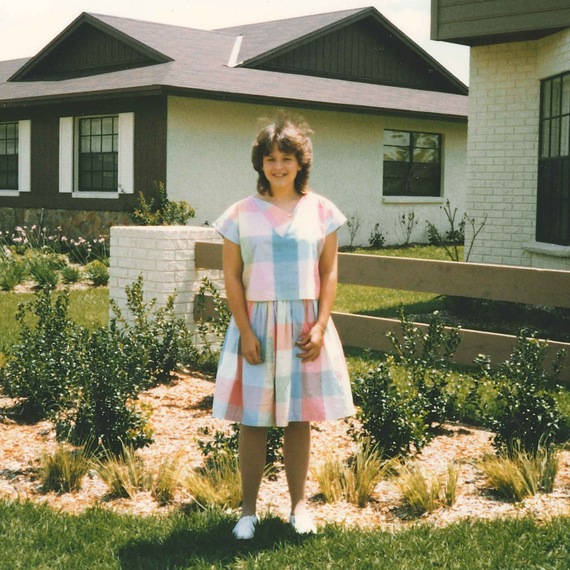 Oh sh*t, this isn't good. We had just moved to Florida from New York. My mom and I picked out this plaid monstrosity at Beall's Department Store in Northdale Plaza. This is not cute. I remember being pretty excited about this outfit and thinking I looked really good. I also remember wearing nylons with Keds sneakers that day. Really not good.
EIGHTH GRADE.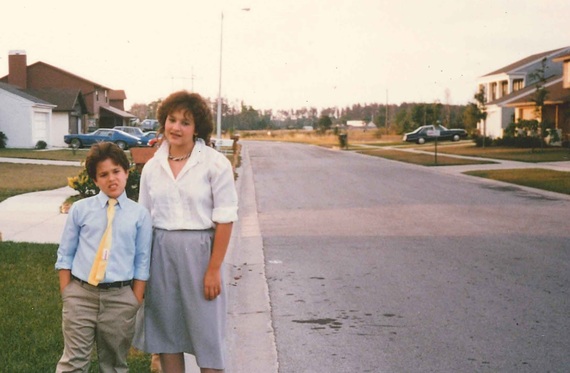 Things are not improving. Mouth full of braces, trashy make up, cheap, white blouse with elephant-gray not flattering old lady skirt. PERFECT! I like how my parents thought "the gutter" was the perfect place to snap a first day pic. At least I didn't have to wear a tie, like my brother -- we look absolutely thrilled.
SENIOR YEAR.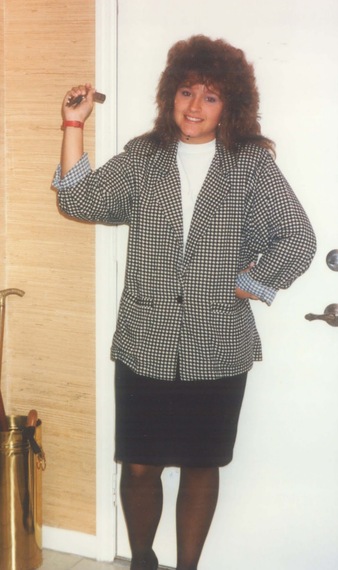 Here I go, car keys in hand, highly annoyed that my picture is being taken and dressed very business-like to go to high school. I'm all St. Elmo's Fire-d out, too cool for school, ready to drive my big brown bitchin' Camaro off into the sunset. A senior -- ready to ruuuule the schoooool.
It's a good thing there was no social media/Facebook back in the day. I would have posted outfit after outfit -- annoying everyone with the endless possibilities that were available to create the perfect look.
The only upside would have been that someone could have intervened and talked me out of the nylons/Keds combination.
Lori's website, Drawn to the 80s, is where her 5 year old draws the greatest music hits of the 1980's. A version of this post originally appeared on Lori's blog, Once Upon a Product.
Do you have an awesome back-to-school photo from your childhood? If so, email it to women@huffingtonpost.com.