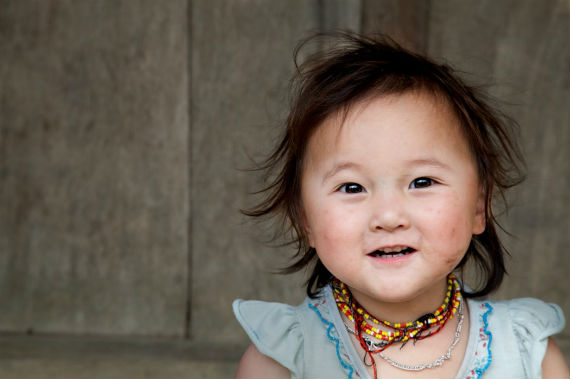 Two year-old Thi Ly participates in Save the Children's early childhood education programming in Vietnam. Photo by Jordan Hay for Save the Children.
Sung Thi Kim is a 29-year old preschool teacher in the Nam Lu Commune, a remote farming village in Vietnam. It's a community where most are without running water or electricity, the school can't provide meals and many children can't afford to bring lunch so teachers like Sung Thi Kim often contribute their money to buy instant noodles for the children. They also buy many of their own teaching materials, a sacrifice given their humble salary.
Sung Thi Kim does too. But she has also found creative ways to help her students learn. She often uses corn, rice, green beans or pumpkin seeds to teach math, the alphabet, and lessons about the environment. She is known for visiting students' houses to encourage them to go to preschool and she also checks that they're doing homework. She uses her mother tongue (Nung) to teach children who are not fluent in Vietnamese and asks children fluent in other languages to translate for those who need help. By going out of her way to make sure her students learn, Sung Thi Kim is clearly helping upgrade the world.
Sung Thi Kim is part of a vast network of people in local communities working hard to fulfill the mission of Save the Children, which delivers aid to 166 million children around the world in more than 120 countries, providing health, education, protection, disaster relief and much more.
Starting July 29, Microsoft is honoring the billions of people, like Sung Thi Kim, who upgrade the world every single day. Building upon our long-time support of the global nonprofit community, we're doing this by launching the Upgrade Your World initiative to celebrate and fuel the efforts of people and organizations who do great things every day to make the world a better place.
As part of the Windows 10 launch, Upgrade Your World will provide a $10 million cash investment in 10 global and 100 local nonprofits to help them do even more good in their communities. Nine of the global nonprofits have been selected -- CARE, Code.org, Keep a Child Alive, Malala Fund, Pencils of Promise, Save the Children, Special Olympics, The Global Poverty Project and The Nature Conservancy -- and we're inviting the world to help us choose the 10th one. Please join us in upgrading the world! Go now to windows.com/upgradeyourworld to vote for your favorite global nonprofit. And, share your stories -- how are you upgrading your world?