While walking home early Sunday morning (a little past 2:00 am), all I could think about was my aching muscles and the throbbing blisters on my feet. I had to force myself to stay awake just a little longer until I reached my apartment and jumped into bed.
Sunday morning was the culmination of my crazy, yet productive weekend. It all began Friday evening at 7 pm. That's when I walked into the Norris University Center at Northwestern University to dance the night -- no, make that the weekend -- away.
Along with about 1,000 other crazy students, I participated in Northwestern University's Dance Marathon (NUDM), one of the largest student-run philanthropies in the nation. By dancing for 30 hours straight, I played a role in helping Team Joseph, a foundation that helps families battling Duchenne Muscular Dystrophy, the most common degenerative genetic muscle disease affecting children.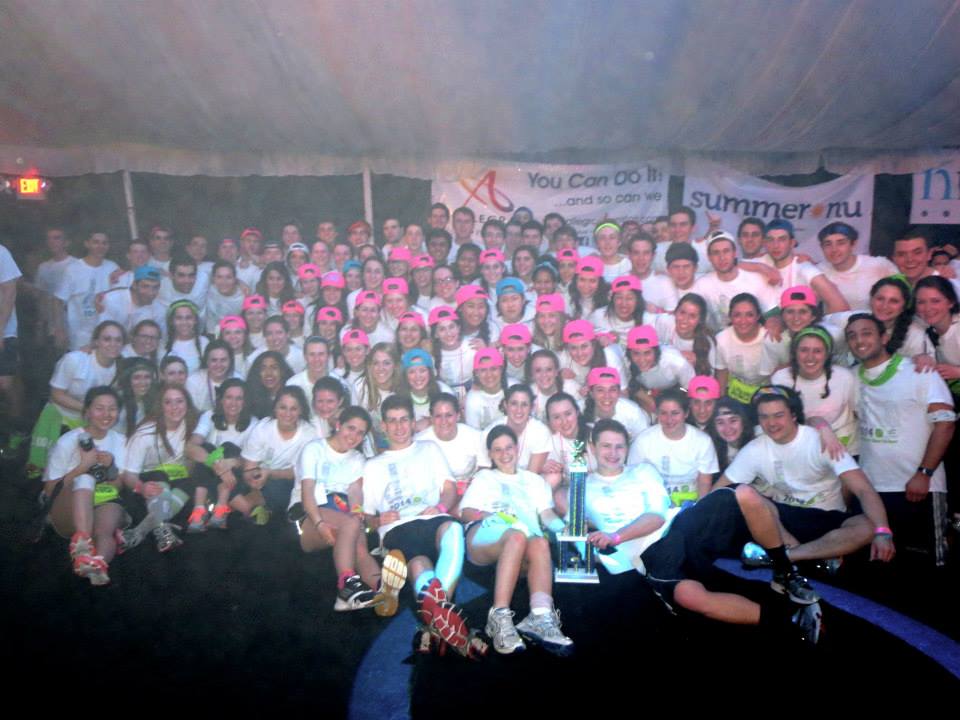 The amazing team I danced with.
This was my second time participating in the annual NUDM. As a result, much of it was familiar. The aching feet, aching muscles and blisters were no surprise. Neither was the constant counting down of the hours, minutes and seconds in anticipation of the end. I even took a couple extra bathroom breaks just to get some needed rest.
In addition to having spent 60 hours of my life on the dance floor over two years, I spent countless more hours fundraising and attending meetings. For the most part, I enjoyed doing these things because I got to spend time with my friends and I got to participate in a 40-year Northwestern tradition. Yet, I have to admit that a critical thought crossed my mind more than a few times. Since I had already raised the money, what good would it do to torture myself by dancing for 30 hours? How does the dancing actually help someone suffering with muscular dystrophy? As you can imagine, the longer I danced, the more I thought about this.
The answer became clear during the last three hours of the event. Marissa Penrod, founder and CEO of Team Joseph and, more importantly, Joseph's mother took the stage. She was nearly in tears when she explained how she began working with NUDM nine months prior. She thanked all of us and said she would be forever grateful that we danced to help her son.
Other parents of young boys who suffer with Duchenne also spoke. They reiterated the sentiment of gratitude and told us how much hope we were giving them.
I signed up to dance because I wanted to be a part of a Northwestern tradition. Although I have finals coming up in a week, not once did I think about that. Nor did I worry about the assignments I still had to complete or the growing number of emails that demanded responses.
Tradition got me to sign up for the dance marathon, but I kept dancing because I saw how much hope it was giving the parents of these young kids. While the actual dancing will not cure Duchenne, the money we raised will fund research that might find a cure. However, the dancing will help with another important part of fighting any disease. I saw how our efforts gave the Penrods and the other families hope and put smiles on their faces. I know it made them feel good to know that so many people were willing to put in this much effort on their behalf.

Yes, I am still exhausted and my feet are still killing me; yet it was all worth the effort. Will I do it again next year? You bet. But not just because of the tradition. I'll do it again because I now understand how dancing for 30 hours can give the families of the kids who suffer with such a terrible disease a small glimmer of hope and a whole weekend of happiness.