Earlier this month, my worlds collided when autism advocacy, Southern politics and NASCAR all came into a room together. I was at an event honoring North Carolina Senator Jerry Tillman, who has been a friend to the autism community in our quest to pass a bill requiring health insurance coverage for autism. And a good friend to Senator Tillman, and one of his constituents, just so happens to be Richard Petty, the King of NASCAR. When I heard that Richard Petty was going to be at the event, I went into my closet and pulled out my classy black NASCAR jacket -- a gift from the NASCAR Foundation to all of the finalists in the Betty Jane France Humanitarian Award competition. When I won the Betty Jane France Humanitarian Award in November 2012, I never thought I would one day wear that jacket to a political event as part of my professional autism advocacy work!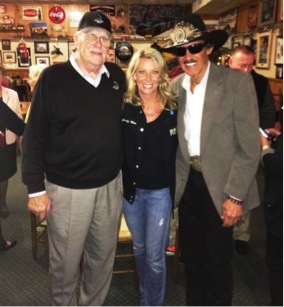 That work began a little over 10 years ago after my firstborn son Ryan was diagnosed with severe autism. I was devastated by the diagnosis but encouraged when I learned that a particular type of therapy -- Applied Behavior Analysis (or ABA therapy) -- could lead to radical improvements in his developmental trajectory, perhaps even leading to a "normal" life. I was devastated once again, though, when I learned that the therapy would be extremely costly and that my health insurance would not pay for one penny of it! I did not understand why, and thus began my quest to change insurance laws to require such coverage. I started in my home state of South Carolina in 2005 -- helping to get a law passed there in 2007, which is now known as "Ryan's Law" after my son -- and continued to work throughout the United States after I had the good fortune to be hired by Autism Speaks in 2008, which now supports my advocacy for similar laws across the country.
As of now, 36 states have passed laws requiring meaningful autism insurance coverage. My travels around the country to work on these legislative initiatives led me to another autism project -- the founding of an ABA treatment center in my home state, the Autism Academy of South Carolina. The Autism Academy of South Carolina is a nonprofit, year-round intensive ABA treatment program that serves some of the most severely affected children in the region.
Because of my legislative advocacy and founding of the Autism Academy, I was lucky enough to be nominated, in mid-2012, for the NASCAR Foundation's Betty Jane France Humanitarian Award. The award recognizes NASCAR fans (you're talking to a former Miss Southern 500 here, but that's a whole 'nother story) who have made significant volunteer contributions to their communities, in particular benefiting children's causes. Following a panel of judges' narrowing of nominees to four finalists, and then a 3-month online voting period, I had the honor of winning the Betty Jane France Humanitarian Award at the NASCAR Sprint Cup Champions Week Awards Ceremony at the fancy Wynn Hotel in Las Vegas. It was a thrill I will never forget -- pretty much like being at the Academy Awards for this good ole Southern girl.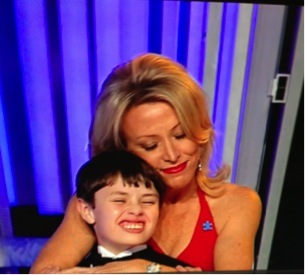 My tuxedo-clad son Ryan stood proudly before a crowd of 2000+ and a national TV audience as the Betty Jane France Award winner was announced.
Most exciting of all, the Betty Jane France Humanitarian Award comes with a generous $100,000 donation to the charity of the winner's choice! I directed my donation to the Autism Academy of South Carolina. You can be sure that the month after the award was announced was the highest balance the fledging Autism Academy has ever had in its little bank account! Those of you who have ever started or run a small non-profit can appreciate what a donation of that magnitude does for an organization. For the Autism Academy, it allowed us to hire a business manager, to move into a large building in downtown Columbia, South Carolina, and to serve more kids! Here we are on April 2 -- World Autism Awareness Day -- at our new home in Columbia and at the South Carolina state capitol, where we began our day-long "Light It Up Blue" celebration and our month-long recognition of Autism Awareness Month.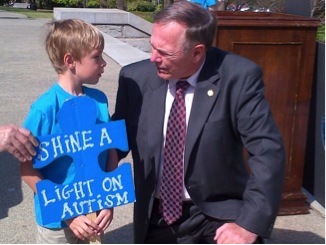 Autism sibling Jonathan Unumb chats with South Carolina Senator Ray Cleary on World Autism Awareness Day.
But the benefits haven't been limited to just the Academy. I am grateful for the amazing national platform that the Betty Jane France Award has provided, particularly in a state like North Carolina. North Carolina -- a bastion of NASCAR -- is not one of the 36 states that require meaningful autism insurance coverage. Along with my team at Autism Speaks and other local autism organizations, I'm working every day to change that through North Carolina House Bill 498. So that's why I ended up at Senator Tillman's event, wearing my cool black NASCAR jacket and posing with The King. And that's how my worlds collided.
Nominations are open for this year's Betty Jane France Humanitarian Award through May 16. If you know someone who has made a difference in his or her community, nominate them! It is truly a life-changing experience, not to mention a heck of a lot of fun.