More than 18 million people across West and Central Africa are facing a food crisis. This is a fact.
18 million people are hungry and, along with aid organizations and their governments, are looking for solutions to feed themselves. This is the equivalent to the population of the state of Florida or the combined population of Alabama, Colorado and Tennessee. 18 million people.
Oxfam is gearing up its response: we hope to reach 1.8 million people across Burkina Faso, Chad, Mali, Mauritania, Niger, Senegal, and Gambia with humanitarian aid.
But we need to raise more money in order to do so. This week Oxfam received the support from a group of African activists, singers, writers and performers to raise awareness around the continuing food crisis that is now affecting the region.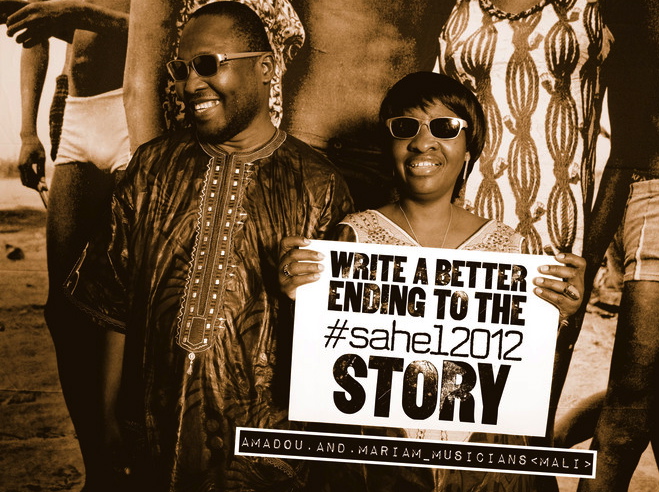 Amadou and Mariam, musicians, Mali, supporting Oxfam, Africans Act for Africa, Avaaz's Sahel2012 campaign at the Back2Black festival, London. Credit: Charlotte Wales/Oxfam
We want to put pressure on our leaders, both in the region and outside, to act urgently to prevent the worst from happening. We also want governments to take preventive measures and think of long term solutions to avoid such crisis from happening time and time again.
Over 30 African personalities have written an open letter. Join them and support us at www.sahel2012.org - Take action and support our work.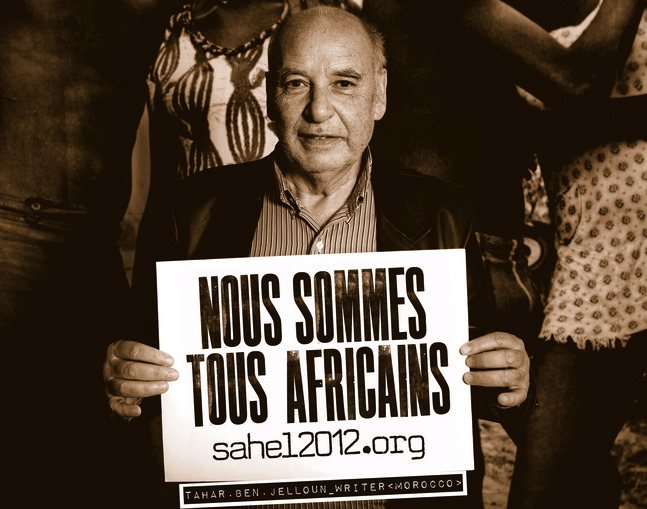 Tahar Ben Jelloun, Writer, Morocco - winner of the prestigious Prix Goncourt in France and recipient of the Cross of Grand Officer of the Legion d'Honneur in 2008.
***
"While we do our good works let us not forget that the real solution lies in a world in which charity will have become unnecessary."

So wrote the great African man of letters, Chinua Achebe, in his 1987 novel Anthills of the Savannah. His words should ring loud in the ears of those attending the Global Hunger Event in London this Sunday.

At the summit 'good works' will no doubt be done, which we will applaud, but for too long the dominant, if well meaning approach, has been the short term fix. We need to lift our ideas and open our eyes towards the new and changing Africa: a future where African children's experience of famine is only from history books.

Let us be clear. Parts of Africa are blighted by poverty, hunger, war, corruption and the vagaries of a harsh and changing climate. Today severe hunger is stalking a huge swathe of Africa from Senegal in the west to Chad, on through Sudan, all the way to Somalia in the east. More than 20 million people are affected.

These parts of this vast continent need our collective support. Immediate aid is needed.

But Africa also needs sustained long-term investment which helps people provide enough food for their families, build their own future, withstand the next challenge and lift their horizons beyond the latest crisis.

Let us also be clear that the solution lies in Africa -- a continent of vibrant, talented, creative, and hardworking people. Africans need a relationship with the rest of the world that treats them as who they are -- equals, with something to offer.

Every one of us on this planet is descended from shared but distant ancestors. Whether from those who stayed, or from those who made those tentative steps out of the continent millennia ago, we are all African. Together we can make an African future where 'charity will have become unnecessary.'

Baaba Maal, musician, Senegal
Angelique Kidjo, musician, Benin
Femi Kuti, musician, Nigeria
Hugh Masekela, musician, South Africa
Oumou Sangare, musician, Mali
Amadou and Mariam, musicians, Mali
Sidi Touré, musician, Mali
Vieux Farka Touré, musician, Mali
Djimon Hounsou, actor, USA/Benin
Chiwetel Ejiofor, actor, UK/Nigeria
Mulatu Astatke, musician, Ethiopia
Jupiter, musician, Democratic Republic of Congo
Muntu Valdo, musician, Cameroon
Fatoumata Diawara, musician, Mali
Ismael Lo, musician, Senegal
2Face, musician, Nigeria
Lami Philips, musician, Nigeria
Soundsultan, musician, Nigeria
Y'en A Marre, activist movement, Senegal
Cheikh Lo, Senegal
Kwame Anthony Appiah, writer, UK/Ghana
Croque Mort, musician, Chad
Didier Awadi, musician, Senegal
Sara Mitaru, musician, Kenya
Nanjira, musician, Kenya
Octopizzo, musician, Kenya
Camp Mulla, musicians, Kenya
Ice Prince Zamani, musician, Nigeria
Jesse Jagz Abaga, musician, Nigeria
Jude MI Abaga, musician, Nigeria
Brymo Ashimi, musician, Nigeria
David 'Blackman' Muthami, producer, Kenya