My colleague Karen Palmer from Oxfam Canada has just returned from Zimbabwe on a two weeks visit. Her thoughts on the dire situation the cuontry now faces.
****
Driving from Zimbabwe's famed Victoria Falls to its sleepy second city of Bulawayo, we passed a young man standing at the road holding a squawking chicken. I'd lived in Africa before and was used to the sight of men and women hastily selling their wares at the checkpoints, bus stops and toll booths, their arms laden with loaves of bread, bags of oranges or bowls of tomatoes. But I'd misinterpreted what this meant in Zimbabwe.

"That means there is no food at home," our humanitarian program officer said, nodding at the young man selling the hen.

Zimbabwe, once the breadbasket of Africa, is no longer a land of surplus. When they've got nothing to eat, the chickens stop producing eggs and become more of an expense. They're better traded for bags of millet or maize, staples that can be stretched.

Before arriving in Zimbabwe, our humanitarian program officer had provided me with a food report showing about 40 per cent of the country's crops had failed. The number hid the imbalance: some of Zimbabwe's provinces saw only a 10 or 20 per cent rate of failed crops. But in other places, in the western Matabeleland area, for example, that figure spikes to 80 or 90 per cent.

The proof was in the landscape. On another day, on another drive, we passed field after field of sickly looking sorghum and sugar cane, the number of wilted and stunted stalks measuring only about an eighth of what there should have been. We were en route to a village near Gwanda, in the country's southwest, where residents are facing a food crisis, unable to do much more than watch their livestock dwindle.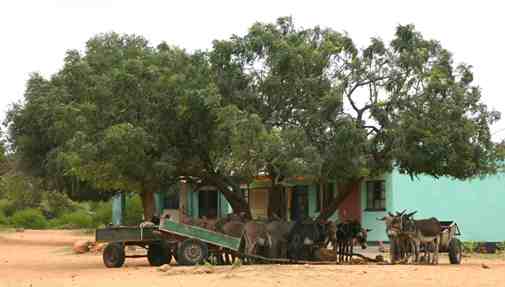 Donkeys wait in the shade of a tree near Hobotwane village on the last day of food aid distribution in the community

The cycle of rain has grown erratic in Zimbabwe and this year the rains barely came at all in Gwanda, falling in a drizzle when they did finally arrive -- too little and too late for the planted seeds. Women in the dusty village of Hobotwane, tucked down a red track lined with acacia bushes, told us they'd already sold all their chickens and were quietly selling off their goats for $15 an animal. The market was flooded with protein and the prices had plummeted.

The women were still hopeful that their families could be spared from selling their cattle: the bigger animals are more expensive, slower to breed and harder to replace. But it's unlikely there will be any cattle left in a few months' time. At what was supposed to be the end of the rainy season, the town's reservoir was nothing but a muddy oval. Although there was barely anything to harvest from the fields, it was the final day of food aid distribution. Trucks carrying life-saving grains won't return until October.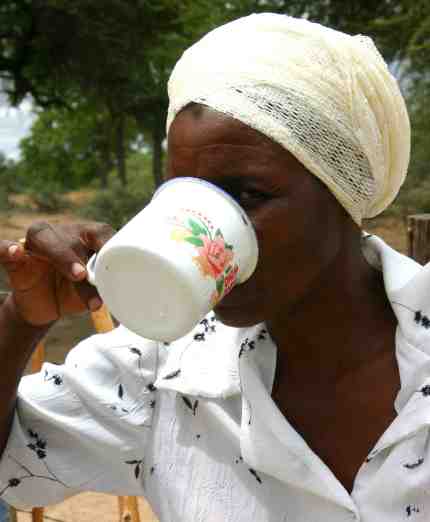 The secretary of Hobotwane's water management committee takes a sip of water from the community's sole borehole
We were in Hobotwane to visit boreholes and water pumps that Oxfam has helped repair -- but the terms of funding donated by the Canadian government means we can only provide the village with enough wells to survive, not thrive. The women have no chance of using the water for community gardens; the number of livestock still has to be kept limited and they must be herded somewhere else to be watered.

The reluctance to support long-term development projects in Zimbabwe springs from its political situation, one that has improved slightly since a power-sharing agreement was signed more than a year ago. After a dark period of hyperinflation, bare shelves and empty pockets, reasons for optimism abound. Constitutional consultations are well underway and the number of reported human rights abuses has dropped. Abandoning the Zimbabwean dollar for the South African rand or U.S. dollar has stabilized the economy. Some schools and businesses have reopened.

But the international community still stubbornly refuses to re-engage with Zimbabwe, leaving it alone to find a way forward.

Starving the unity government will ultimately starve the people. The people of Hobotwane, now locked in a downward spiral, have lost livestock and food aid. Let's not let them lose hope.