The EU is forcing India to act against the health of poor people in developing countries by pushing through a trade deal next week that contains tougher exclusivity rules that will harm India's production of cheaper generic medicines.
The rules will undermine India's role as "pharmacy to the world's poor". Oxfam fears that millions of poor people will find it impossible to access affordable new medicines.
During talks, the EU and major pharmaceutical companies have pressured India to introduce a "data exclusivity" regime for clinical trial data. This will effectively extend monopoly protection and delay Indian firms from introducing generic medicines.
The new rules go beyond India's obligations under global trade rules.

Oxfam says the EU is allowing its trade policy to directly undermine its own aid policies toward health care.
Today, more than 5 million people are getting HIV and AIDS treatment thanks in large part to competition by Indian generics. Without this competition, aid from the EU and other developed countries would not have been able to finance treatment to millions of poor patients.
The EU demands are also in conflict with the Global Health Council conclusions, where the EU committed to ensuring that its trade agreements would support the objective of access to medicines for all.
"Forcing tougher rules that will harm India's generic industry is a double blow, at a time when aid promises from the EU to poor countries are not being kept," said Oxfam's Mohga Kamal-Yanni. " If India agrees to the EU's demands, medicine prices in India and across the developing will increase drastically in the years to come," she said.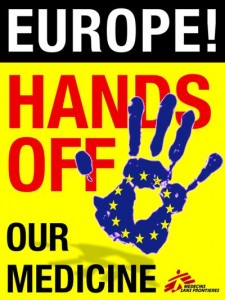 MSF (Doctors Without Borders) has been actively campaigning against the deal.
The EU's move comes at a difficult time when developing countries are being forced to cut rather than increase their health budgets. Oxfam research shows that 56 low-income countries face a $65bn fiscal hole in their budgets as a result of the economic crisis.
***
To learn more about EU's shift in trade policies: GO HERE
Learn more about MSF work on this issue: GO HERE