I met Aydrus last December in Nairobi. He had just come back from Somalia where his organization is doing life-saving work with local communities via preventive work and other great programs. WASDA has been present and operating in Somalia for years and we are proud to call them an Oxfam partner.
He gives us his personal view on the UK-led conference on Somalia taking place today (Thursday) in London where unfortunately, Somali civil society won't have a seat at the table.
------------------
For the seventeenth time in 20 years, politicians from 40 countries are gathering in a foreign city, this time London, to try to solve the troubled state that is Somalia. Very few of the attendees at the conference will have had the opportunity to visit Somalia and speak to the people, but I travel across the border from Kenya every other day, and the people I speak with are asking me: 'What will be different this time?'

Ordinary Somalis are once again absent from the decision-making table, even though the meeting is about their country and their future. They have been silenced for too long by competing international interests: by warring factions restricting the delivery of their much-needed aid; by the failures of past international policies to help bring about peace and stability in Somalia; silenced by hunger, fear and poverty.

The world witnessed the brutal result of two decades of neglect when, in 2011, a severe drought, combined with conflict, plunged millions into famine, starving to death 100,000 Somalis, more than half of them children. At the height of the famine, in August 2011, up to 1500 people a day were crossing into Kenya, bound for Dadaab, the world's largest refugee camp. As many as 2000 more left for Ethiopia.
Drought is natural; famine is not. Somalia's future still hangs in the balance of decades of under-investment, increasing vulnerability to the shock of natural disaster. But to prevent such a catastrophe from repeating, we need international investment to help people remain in Somalia and build their resilience and livelihoods.
I am very proud to lead an organisation that has been able to provide people in areas hardest hit by drought with a constant flow of safe water since 2006. This has saved lives. We have maintained wells, provided water-pumps and irrigation equipment, distributed high-quality seeds to improve harvests, and worked with the community to spread the critical messages of safe hygiene and sanitation. Farmers tell me they were on the brink of abandoning their land, but through our intervention they were able to stay in their homes.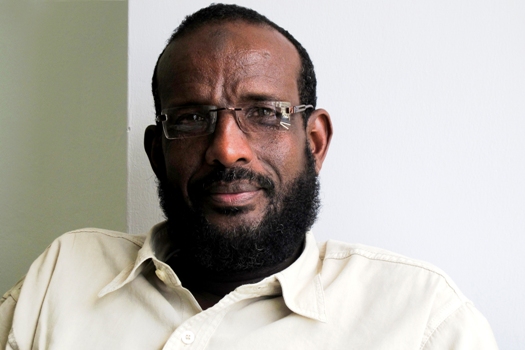 Aydrus Daar, Executive Director of WASDA
Despite the welcome news this month that famine conditions are improving, we are now facing the biggest challenge in the 15 years since my organisation was established. A third of the population still depend on humanitarian assistance, 325,000 children remain acutely malnourished, and increased conflict has the potential to exacerbate the crisis and undo the improvements made by determined local people and the international community over the past eight months. Shifting frontlines are preventing farmers from harvesting their new cereal crops following an above average rainfall since November.
Prolonged conflict is preventing us from reaching those most in need. People continue to flee their homes in search of food and to escape being caught in the crossfire.
A hungry person is an angry person. If we can dispel that anger by providing people, youth in particular, with the opportunity to go to school and university, to access healthcare, to earn an income, then we can end the cycle of violence. I don't want to talk about politics and war, I want to talk about the people; but we must talk about ending war, because it's destroying more lives by distracting attention from the humanitarian issues that fuel it.
Right now in Somalia, people are just trying to survive each day. We must help to restore their hope in a bright future free of war, to help restore their dignity by supporting them in building back their livelihoods so they can provide for their families - without hope, what do you have?

I urge the international community to focus as much attention and investment as it gives to its counter-terrorism and security interests on addressing the immediate needs of Somali people and supporting them to build up their resilience; the continuing failure to do so undermines any real chance of stability and peace for Somalia.
***WASDA (Wajir South Development Association) was established in 1995 by a group of professionals and entrepreneurs from Wajir in north-eastern Kenya to address development challenges in the region. The main focus then was education. However, over time WASDA has grown in its services and scope and in addition to education, is currently addressing sustainable environmental management, water and sanitation, livelihoods, and public health services in northern Kenya and Lower and Middle Juba, Somalia.