Millions of people across the Sahel will be left hungry in the coming months unless multi-million dollar funding shortage for crisis response is filled, aid agencies warn today. Action Against Hunger, Oxfam, Save the Children and World Vision are aiming to provide emergency assistance to nearly 6 million people across the region but say they have so far been able to secure funding for less than a third of this essential work.
Nearly U.S. $250 million is needed by all four agencies, but only $52 million has been raised so far.
World Vision's Amadou Baraze talks about the agency's work with Malian refugees, providing access to much needed clean water for approx. 3,500 people on Niger border.
Action Against Hunger plans to reach 1 million but so far has only managed to raise a third of what it needs. Equally, Oxfam has only raised a third of what it needs to reach 1.2 million people. Save the Children which has plans to help 2.5 million people has only managed to raise 15 per cent of its budget and World Vision plans to help 1.1 million people are only 20 per cent funded.
Collectively, this shortfall is equivalent to over 2 million people being deprived of life-saving assistance and, if it remains, is likely to result in significant cutbacks in the agencies' aid programmes.
Oxfam traveled with Senegalese singer Baaba Maal in Mauritania. Watch this 2min clip.
The United Nations has also been hit by the funding crisis, where less than half of the projected $724 million required to tackle the crisis has been raised. This funding gap is likely to grow further as the situation deteriorates and more money is required.
The aid agencies are seeing increasing malnutrition levels across the Sahel and are calling for a donor pledging conference to rally wealthy governments and donors to generously fund the total aid effort for the food crisis.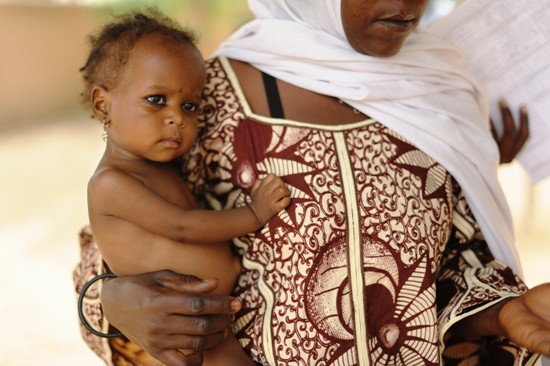 A child in her mother's arms at a Save the Children therapeutic feeding centre in Guindaoua in the Tessaoua region of Niger. Nyani Quarmyne/Save the Children.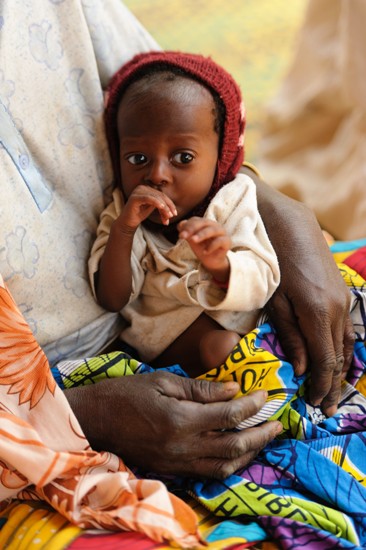 Three month-old Sahinatou Mahamadou, pictured in the arms of her mother, Zoule Moussa (approximately 38), in the village of Yekoua in the Zinder region of Niger. Suffering from severe malnutrition, Sahinatou is now receiving food supplements from a Save the Children outpatient center in the village. Nyani Quarmyne/Save the Children.
Patricia Hoorelbeke, Action Against Hunger's Regional Representative for West Africa, says: "In the Chadian Sahel, the global acute malnutrition rate already exceeds the emergency threshold of 15 percent and admissions to our feeding centres have increased dramatically. More than 2,000 severely malnourished children were admitted for therapeutic nutritional care in Kanem last month alone. We have deployed additional emergency staff and scaled up our programs but further action is needed to prevent the situation from deteriorating."
To find out more about gaps and what agencies are doing on the ground: CLICK HERE.