In May, President Obama signed a piece of legislation requiring the US government to develop within the next six months, a strategy to protect civilians in central Africa and take steps to stop violence from one of Africa's worst rebel groups - the Lord Resistance Arms (LRA).
President Obama sent to Congress the US strategy last Thursday. Oxfam's Scott Stedjan welcomed the new plan as a "step towards dismantling one of the most terrifying armies in the world. It recognizes that hundreds of thousands of civilians live in daily fear of the LRA and need to be protected. It rightly acknowledges that the protection of civilians must be the priority of any action against the LRA, especially if military actions are considered."
To mark the publication, Oxfam is also publishing a couple of short interviews with LRA victims. They were made earlier this fall, and tell of the brutality and utter chaos under which the group operates.
Later this December, Oxfam will also launch a report to mark the anniversary of the infamous "LRA Christmas massacre".
***************************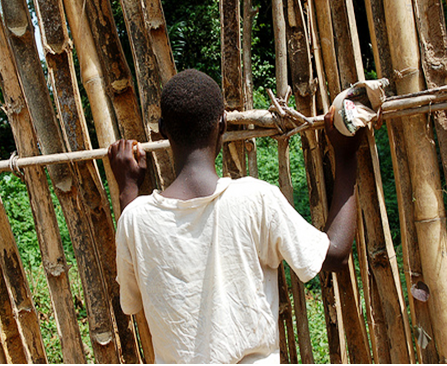 17-year-old Andre was abducted in May 2009 and kept by the LRA for five months before he managed to escape:
"I'm from a very small village where only two families live. One morning the LRA came and took me and a boy from the other family. They gave my mother and father 1,000 Francs each (about $1) and said they needed our help. At first we thought they might be the Ugandan army.
"As we walked, they tied our hands tight with rope. We walked for the whole day and ate raw cassava straight from the ground. When we got to their camp they put oil on our faces, knees and elbows. It was a ritual to "cleanse" us and stop us thinking about home and where we came from. This place was supposed to be our new home.
"Soon after, they attacked a village near Bangadi. A woman there ran away so they shot her dead. There were nine of them in our group and each had a gun, but they didn't have any spare - they told me that they were looking for new guns so they could give me one. If I got a gun they said I could fight with them, not just walk.
"There were long days of walking through endless forest and fields. We walked all the way into south Sudan. It was all about day-to-day survival - we were always looking for food and the next day's meal.
"Sometimes they would attack other villages. In the five months I was with them, they abducted another three children and six women. The women had to cook and were made their wives. Some of them got pregnant. Some had babies with them when they were taken.
"We were chased many times by the Ugandan army (UPDF), but we always managed to escape. Another group of LRA who we sometimes met up with got into a fight with the UPDF and many people were killed.
"Without a gun, my job was mostly as a guard. I had to watch the roads and alert them if I saw soldiers coming. I was left alone a lot and many times I thought of trying to escape, but I was too scared. I always thought they would catch me.
"Eventually, one day I decided to try and escape. I don't know what was different about that day, but I just ran and didn't stop until I reached a village. From there I made my way home. Everyone was so happy to see me - they thought I was dead.
"Before the abduction I was going to school - I was in the Fifth Form. But not now. I would like to go back though. Getting money for school fees is difficult. I make some money through occasional daily labour and collecting thatch for the roofs of people's huts - but it is never enough."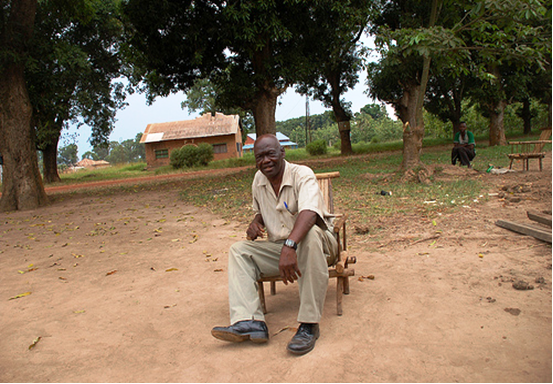 72-year-old Papa Peleke runs an upholstery business in Dungu town, where he lives with his wife of 44 years, their nine children and their "many grandchildren". He and four of his teenage granddaughters were abducted by the LRA in November 2008 and taken deep into the forest. His youngest granddaughter recently escaped after 15 months in captivity. The others remain missing:
"It was early morning, just as the sun had risen, and the LRA came across the bridge and into the town. We hid in the house while they fought for two hours with the FARDC (Congolese army). It was 7.15am - I remember the time exactly - and I was having breakfast with four of my granddaughters, when they broke down my door.
"There were ten of them. I argued, begged and pleaded with them for 45 minutes not to take my girls. Outside there was a dead military officer sprawled on the ground - the LRA chopped the head off the corpse right in front of me.
"In the end they took 12 people from my area, including me and my four young granddaughters, aged 14, 15, 17 and 19. They took us captive into the forest and then disappeared again - a few hours later they returned. They had kidnapped another 280 people, including many young children.
"They forced us to carry the things that they had looted from us - mostly food such as palm oil, rice and salts. We walked for 25kms deep into the forest, to a very dark place. The next day we set off again at 5am, going even deeper. There was not even any path - we had to cut it as we went along.
"After the fourth day of walking there was a 50-year-old man near me who said he was too exhausted to move anymore. The LRA men came over to shut him up, so he attacked one of them with a piece of wood. They grabbed him and shot him dead in front of us all, as a warning to keep quiet. We continued walking and we had to leave his corpse where it fell.
"On the fifth day the commander chose 36 people to release. I don't know why - or why he chose me to be among them. There didn't seem to be any logic to it. I asked the commander not to release me if he was keeping my granddaughters, but he told me not to worry. He said he would keep them another four days - until they got to another base - and then he would release them too.
"I haven't seen three of them since that day - and it was 15 months before I saw the youngest one again.
"She managed to escape after all that time. After they released me they headed to the Central African Republic (CAR). They were on their way back to Congo, with different LRA groups moving through the forest, when she managed to slip between them and run away. She ran a few kilometres then waited for three hours until they passed. She met some nomadic pastoralists from Sudan who gave her food and shelter for a couple of days. Then she stayed with the Ugandan army in Bangui, the capital of CAR. Eventually they brought her home to us.
"We gave her lots of medical tests when she got back. The LRA made her carry their baggage and food all that time. But they didn't treat her too badly. She was not raped like some girls are.
"We were so happy when she came back. She arrived home at 4pm and we stayed up all night celebrating and talking. She is doing ok but it's obviously difficult for her. She has met up with some of her old school-friends again, which is good. She's not gone back to school just yet - maybe next year.
"Now we live in hope that our other granddaughters will also come home soon. I heard a rumour that two of them may have just been found by the UNHCR in Sudan - but it's not confirmed.
"In Dungu town the situation is still the same today. There is still no security and still too many attacks. But I can't leave or run away - this is our home and I have family to look after.
"The world must end this war and this suffering. I don't want to have to hear the name LRA in Congo any more. The Congolese army aren't able to do much - on the day we were abducted there were 10 soldiers nearby but they didn't do anything. I'm grateful to MONUC - if they weren't here the LRA would have come into Dungu by now and could do whatever they want to us."