See below a blog by my colleague Nicole Johnston on the difficulties and challenges that average Zimbabweans face, especially the elderly. Nicole is a native of Zimbabwe herself.
****************
"I am actually seeing myself as a human being again."
When I heard these words at a food distribution point in Bulawayo's Mzilikazi township yesterday, I was jolted as I understood for the first time the impact that Zimbabwe's economic crisis has had on human dignity. While there is much talk about physical suffering like hunger and illness, we often overlook the psychological impact, particularly on the elderly and people with disabilities.
The source of this revelation was 80-year-old Evelyne Mandizvidza, as she queued for her monthly food basket at a Joint Initiative for Urban Zimbabwe project run by Oxfam's partner organization Lead Trust. "Before I joined this scheme last November there were times when I had no food at all for days. Then I would just boil water and drink it while it was warm to fill my stomach. My skin was hanging off me."
She now receives a monthly assistance package that includes maize meal, corn soya blend, cooking oil, peanut butter, soap and cotton wool. "Before, we didn't have soap for a long time so I was just removing sweat with water instead of washing properly."
The cotton wool included in the relief packages is a boon for younger women who have had to face the indignity of coping with menstruation without sanitary towels.
And while there is a sense of cautious optimism among most people about the government of national unity, the most vulnerable Zimbabweans are not yet experiencing any benefits. For them the bickering about the appointment of ambassadors and control of ministries is academic: day-to-day survival continues to be the issue.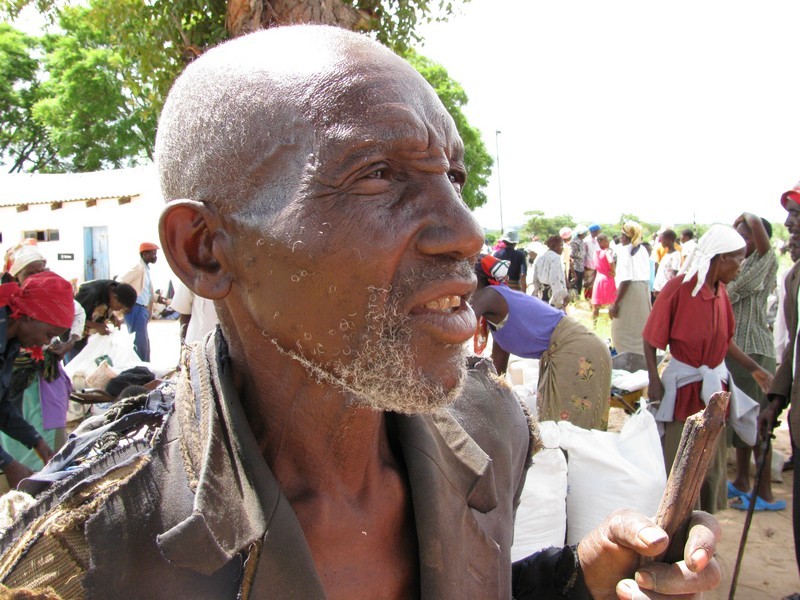 - Sindire Jiri, 84, waiting in line to collect his food rations -

The "dollarization" of the economy - which has seen foreign currencies replace the Zim dollar - has helped to curb inflation and shelves in shops are now full. But for people who have no access to currency particularly orphans, the elderly and people with disabilities, this has actually made life harder.
"Things are now available in shops but the problem is in getting cash to buy those things," explained Mandizvidza. "At my age it is impossible to get a job and earn cash, and I don't have anything to sell." Even those in formal employment such as civil servants are only earning a $100 a month allowance - not a lot in an economy where a newspaper costs $2 and a loaf of bread $1. For the elderly their precarious situation has been exacerbated by the fact that pensions have not been paid out since December.
Many have joined the urban gardening project run by the Joint Initiative which provides seeds, watering cans and training, allowing people to grow vegetables and fruit in their backyards.
Mpanywa Siwela (83) is a member of the food committee in Mzilikazi, growing carrots, garlic and spinach in his yard. He exchanges gardening tips with Mandizvidza, his wizened face wrinkling even further in consternation as he tells her, "I need something to spray those red spiders that are attacking my tomatoes." The success of his crop is not just a matter of pride - it is also about putting food on the table. But there are things he can't grow and can't afford to buy: "I can't tell you when I last drank tea..." he says longingly. "But where can we old people get rands or dollars?"
The lucky few have cash remittances sent home from relatives working abroad, but in a country in which HIV/Aids has decimated the economically active population and where unemployment stands at 90%, they are not in the majority.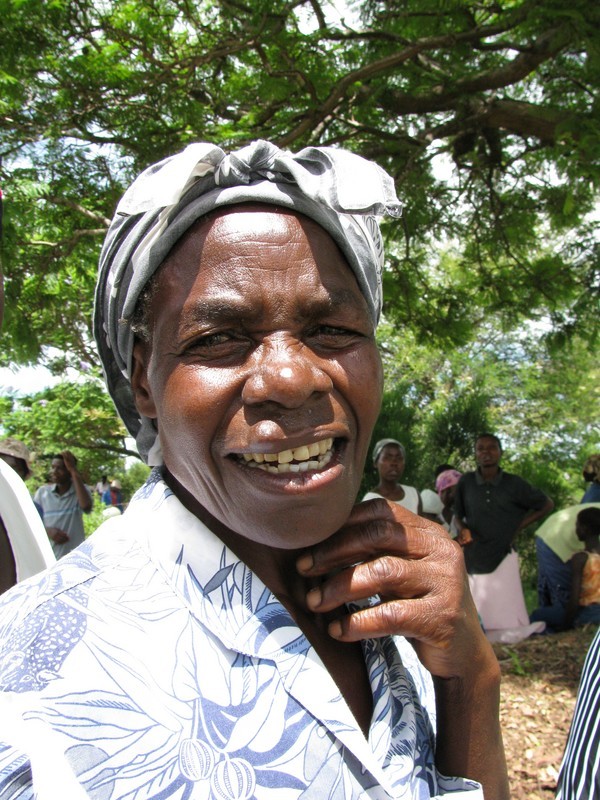 - 62-year-old Eugenia Chahurara -
66-year-old Christopher Ndabambe has signed up for the pilot cash transfer project, an offshoot of the food distribution programme.
Admire Chinjekure of the Lead Trust explains that the cash transfer project in which participants are given $25 a month aims to allow people to access hard currency: "Some people prefer to get the cash so they can pay their rent or for medical services. Some reinvest the money - for instance they buy firewood which they sell."
"I have diabetes, high blood pressure and a heart problem," says Ndabambe. "Dollarization is good because it means there are drugs available now, but it is quite difficult for me if I can't get currency. We need a better health system and to be able to get drugs from our hospitals. I opted out of the food programme and joined the cash transfer project so I can buy my medicines."
Ndabambe is regularly forced to make a choice between buying food and buying medicine. "I have to go into town to buy my heart tablets and that costs a lot of money for transport. So then I can only buy a one-week supply. If there is anything left over I buy some food".
It's a choice no one should have to make.
For more information on Oxfam's work click here