Yesterday Oxfam and Amnesty drove a tank around central London, startling passers-by and even getting stopped by the police for a documentation check. Whilst the vehicle was admittedly unorthodox, it was the perfect way to deliver its message -- that the world needs a strong, uncompromising treaty to regulate the global weapons trade.

Just days away from the start of the United Nations Diplomatic Conference on the Arms Trade Treaty in New York, the tank journey in London was part of a global day of action for the Control Arms campaign.
Thousands of campaigners from around the world took part -- from banana manifestos in Time Square to fake arms sales in Barcelona.
The tank drove to the embassy or high commissions of India, South Africa, the USA, Brazil and Kenya -- countries whose commitment is crucial to the negotiations next week.
At the moment, the sale of bananas and smart phones is more regulated than the sale of semi-automatic weapons and tanks. This is madness and must change.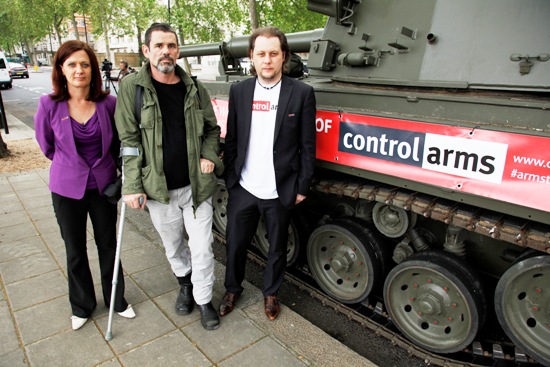 Campaigners from Oxfam and Amnesty were joined by war photographer Paul Conroy in London. He has recently returned from Syria after suffering from serious injuries following the Syrian army offensive on the city of Hom.
At the UN conference, almost 200 governments will meet for most of July where they have the chance to agree a new treaty that could bring the sales of arms under control and will help prevent weapons falling into the wrong hands, which could help to save thousands of lives.
For more information on the Control Arms campaign: Click HERE