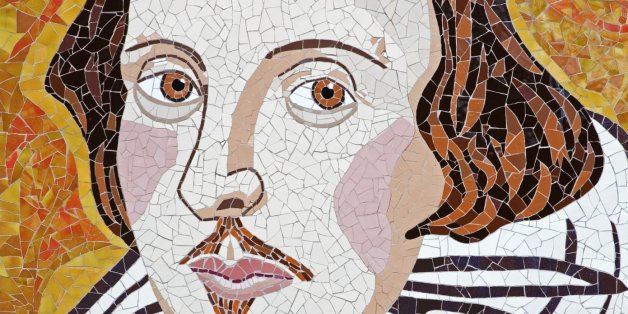 William Shakespeare is 450 years old this coming week, and has there ever been a writer (even if he was Marlowe, Francis Bacon or the Earl of Oxford) with a greater impact on literature worldwide?
Shakespeare (and I do believe William Shakespeare, son of John Shakespeare and Mary Arden of Stratford wrote "Shakespeare's plays) influenced writers and thinkers from Goethe and Victor Hugo, to Julius Nyerere, the founding President of Tanzania, who translated "Julius Caesar" into Swahili, and Nelson Mandela, whose only book during his imprisonment on Robben Island, was the Complete Works of Shakespeare, distributed among the prisoners.
Purcell, Verdi, Salieri and Leonard Bernstein wrote operas and musicals based on Shakespeare's plays. Prokofiev and Mendelssohn wrote music for the ballet and theatre. Library shelves groan with volumes of critical editions and essays, as well as translations in nearly every language on the planet -- and Klingon and classical Latin, too.
Yet how many of us remember our first encounter with Shakespeare at school: could it have been more painful? I flunked Shakespeare as an undergraduate in college -- and I was an English major! I avoided doing his plays in the early part of my career, and only came to Shakespeare by accident, when I was asked to do an English language production in France in the mid-1970s.
That production led, through a series of accidents, to my meeting and working with Sam Wanamaker, who asked me to join his Globe project, long before there was a hole in the ground in South London, and I agreed -- running education programs in the U.S. and actor/director programs in London for nearly twenty years; directing Shakespeare's plays around the Globe, including on the rebuilt London Globe stage, and now heading the Huntington Library's teacher-training institute, "Shakespeare at the Huntington."
For Shakespeare's 450th birthday bash, Britweek -- the week-long celebration of all things British in LA -- has lined up a phenomenal cast of actors, both British and American for an evening of "Shakespeare, Music & Love!"
Actors such as Michael York, Jane Seymour, Malcolm McDowell, Eric Braeden, Harry Hamlin, Joan Van Ark, Mira Furlan and a dozen more (see below for full cast list) will perform scenes and monologues from "A Midsummer Night's Dream", "Antony & Cleopatra," "Twelfth Night", "The Tempest", "As You Like It" and more.
Martin Neary, former music director at Westminster Abby will lead the Millennium Consort Singers not only in Renaissance and Elizabethan music from the time of Shakespeare, but also Shakespeare inspired selections by Franz Schubert, Ralph Vaughn Williams, and SoCal composer (and Pomona professor of music) Tom Flaherty -- whom I have known since high school!
Jazz artist Sherry Williams, and her pianist John Rodby, will grace the evening with three jazz settings of Shakespeare texts by the English composer and saxophonist John Dankworth, which he wrote for his wife, vocalist Cleo Laine.
How lucky we are for to have these fabulous actors and musicians this 450th celebration, where celebrate Shakespeare's infinite variety of characters, plots, stories and verse. And how even luckier we are that we have such great educational programs in Los Angeles as the two we are honoring -- the Hobart Shakespeareans and the Inner City Shakespeare Ensemble -- who bring that passion and drive and impulse to their schools and communities.
I've produced and directed a LOT of Shakespeare over the past 40 years, but I don't think I've ever had quite an ensemble as this, April 25, Moss Theater, Los Angeles. It should be a night to remember for everyone -- even if you believe Sir Walter Raleigh wrote the plays!
Happy Birthday, Bill! And thank you for all you have given us over the past four centuries!