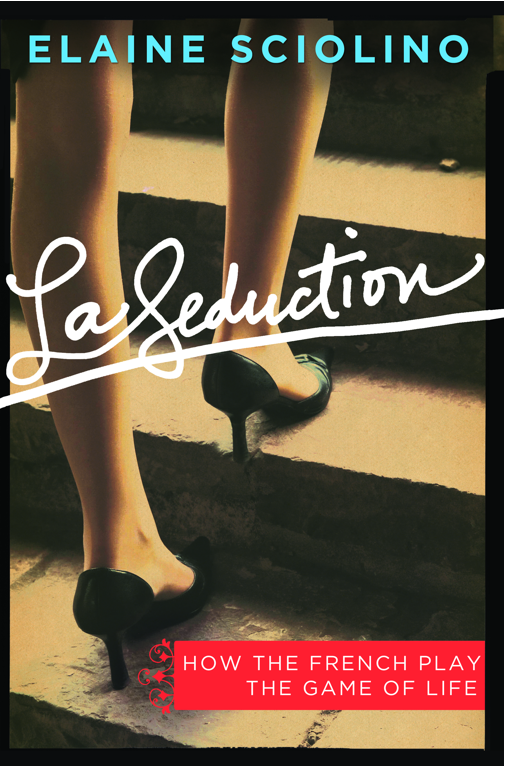 Over a couple glasses of wine, a business acquaintance from France quickly became a close friend as we discussed the differences in dating in France and America. I tried to explain that dating was a game with strict rules (1. Double the amount of time between his response time and your own. 2. Continue to see other people until you are exclusive.) and exactly what "hooking up" could encompass. She voiced her frustration at these unnecessary complications and laughed when I told her how couples become "official" over here. (Here exact words were, "We stopped saying that when we were ten!")
I distinctly remembered a passage from La Séduction:
On issues of who and when, the French seem to be a lot less invested in moralistic codes than Americans. "Dating" with its rules and rituals does not exist. The ground rule my generation grew up with (sleep with a guy on the first date and be branded a slut) was shattered by the 1968 cultural revolution and the pill. That code seems to be back with a vengeance, tormenting many young American women today. The French women I know just don't get it. They say that if they want to have sex, they just do it and enjoy it, but perhaps they are more discriminating and private about it.
Bien sûr. Puritans founded America. France, on the other hand symbolized by virginal, yet sexy Marienne, is almost synonymous with sex, and the appeal of Frenchmen and women is undisputed. American women have long tried to attain an enviable figure by reading Why French Women Don't Get Fat or following the Dukan diet and emulating French style by wearing Chantal Thomass lingerie or Chanel perfume. But it's to no avail. They have a certain je ne sais quoi we won't ever understand. Even Pépé le Pew was charming.
In her new book, La Séduction, former New York Times Paris bureau chief tries to uncover how France and the French succeed at charming the rest of the world -- and each other. From the social bise and baisemain, or traditional kiss of the hand greeting, to the multiple definitions of seduire, and even the overtly sexual commercials, Sciolino covers them all.
As someone who can barely finish a meal before starting to think about the next, I especially loved her experience with Guy Savoy. While none of the meals I last enjoyed in Paris gave me a "gastronomic orgasm," reading about the culinary rapture Sciolino experiences from a carrot are entertaining. It's always worth remembering that wine and cuisine are France's oldest diplomatic weapons, especially when you host or are a guest at a dinner party.
In light of the scandal with Dominiuqe Strauss Kahn, the passages in which she notes the French laissez-faire attitude toward his prolific philandering become prophetic, especially when quoting the journalist Jean Quatremer, who wrote, "Too insistent, he often comes close to harassment." In the US, the land of "Puritan" morals, DSK's frequent forward -- or harassing -- advances would have been met with serious consequences. When I asked Sciolino about the incident, she said, "As I have written and said in interviews since his arrest, seduction is very different from criminality; flirtation is not attempted rape." The French edition of her book, which will be out in January, will expand the section on the different perceptions in the United States and France of what is seduction and what is sexual harassment. Arguing that "France is now having its Anita Hill moment," she continued by saying that, "now many women have begun to speak out about an atmosphere that condones sexual behavior that crosses the line and may even be criminal."
Despite the added significance that this recent incident has added to Sciolino's book, it is by and large a light and entertaining read for the summer -- with two priceless gems of advice: From Ariele Dombasle, "Never let your husband see you nude except for when in his arms." And from Inès de la Fressange? "Find a French lover. "
Vive la France.