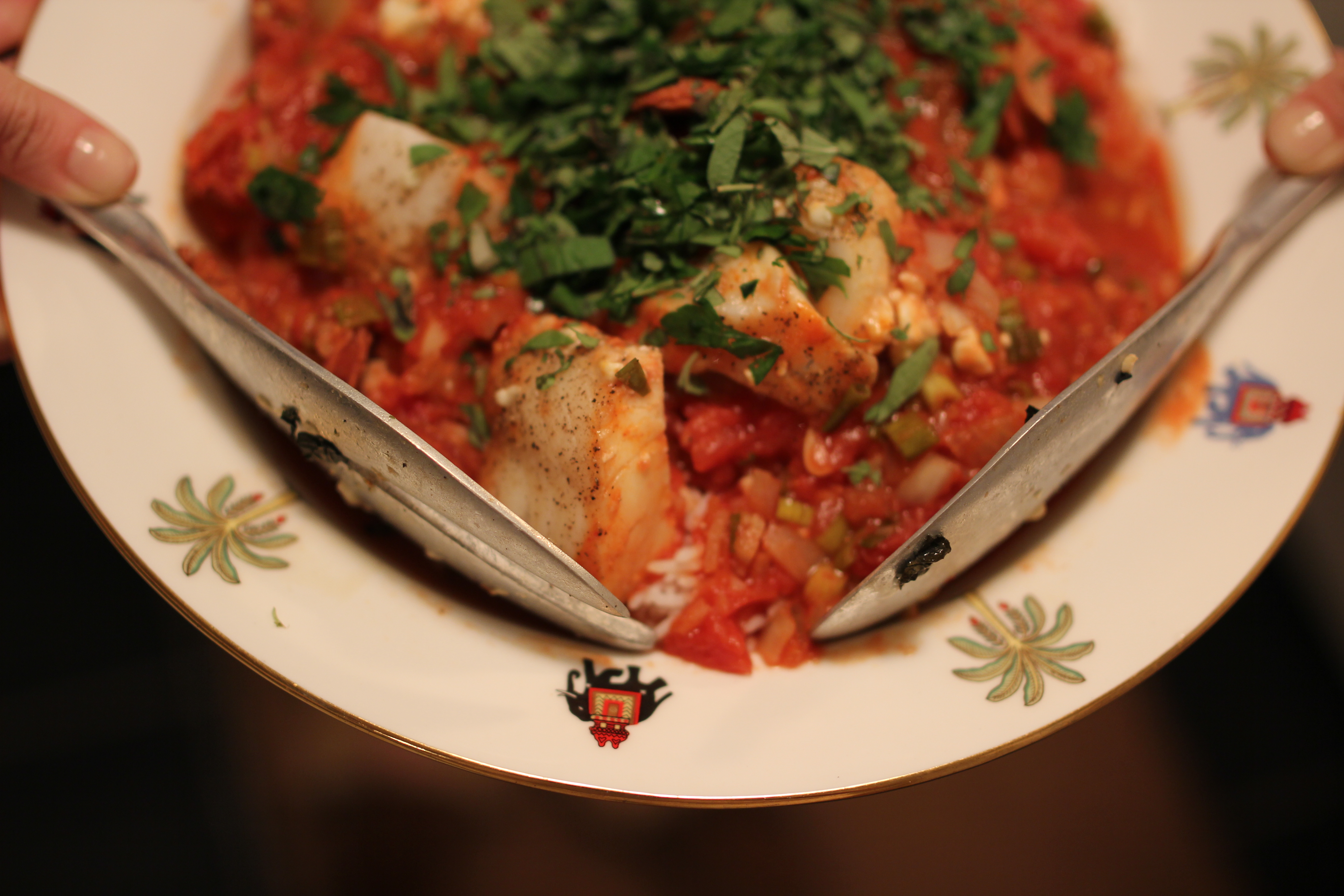 Cooking at home has never been more appealing--everyone knows cooking at home is healthier, less expensive, and infinitely more satisfying than eating out or takeout. But have you tried selecting a recipe online lately? Or felt guilty throwing away a rotting bunch of parsley after using only a couple sprigs?
Within the past year, several companies have decided to tackle the growing segment of the population that wants to cook at home, but needs a little help selecting a recipe and delivering pre-portion-sized groceries. I sampled four and scored them on price, taste, ease, eco-friendliness, nutrition, and vegan-/gluten-free/vegetarian-friendliness.
Read on for the second company I rated.
PLATED: B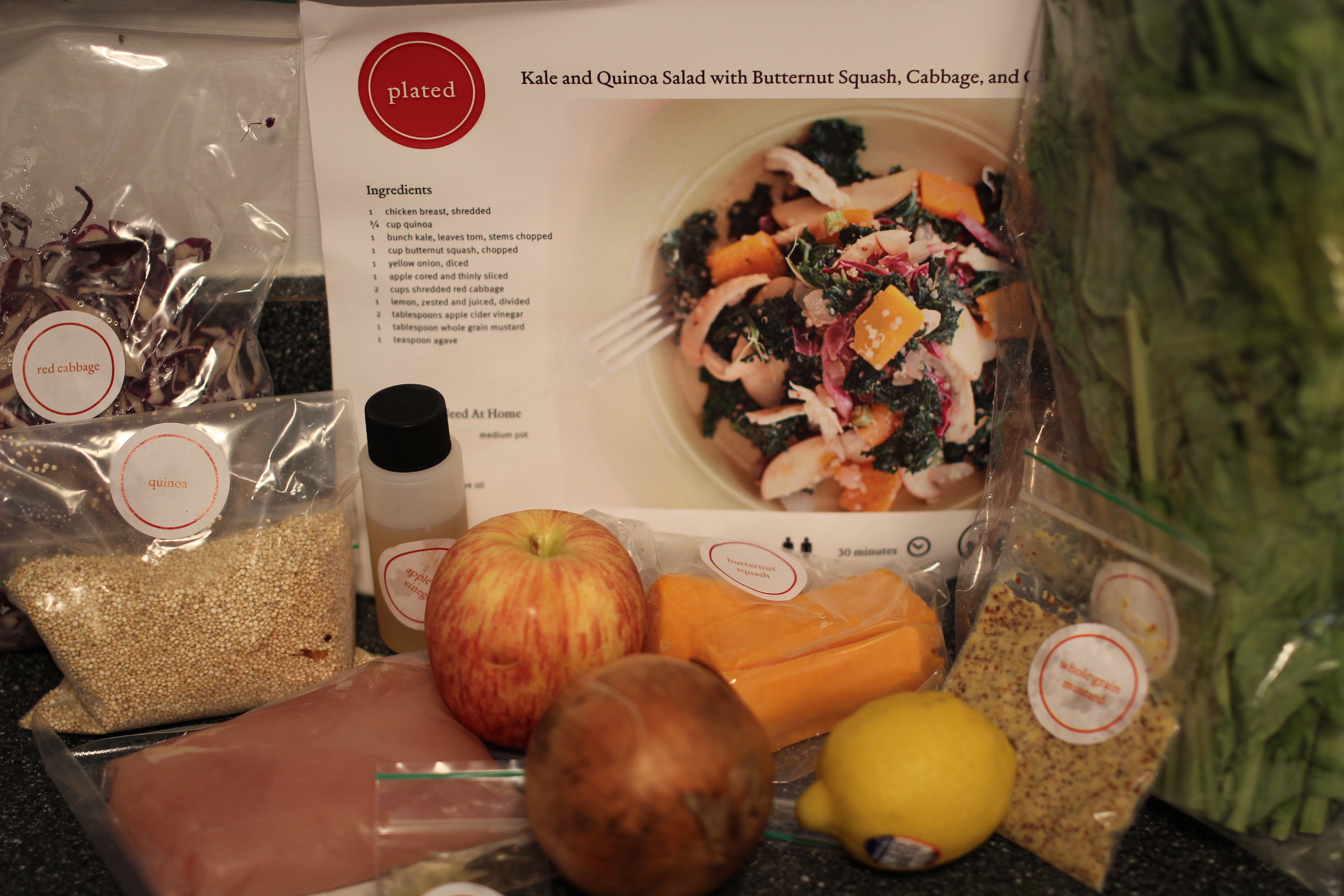 Cost per plate:
4 plates for $15 per plate or 6 or more plates for $14 per plate for non-members; 4 plates for $12 per plate or 6 or more plates for $10 per plate with a $10 monthly membership
Membership:
Customers can order a la carte or through a flexible subscription option. If you choose an "automatic shipment," orders will be created for you each Thursday; you may change or cancel your order any time before Sunday at noon. At any time, if you would like to skip a week, cancel your membership, or turn off automatic shipments, you can do so on your membership page.
Delivery zone:
Currently available in the Northeast and the Midwest, but are expanding nationally over the next year. Use their zip-code-checker-thingy to confirm whether they deliver in your area. If not, create an account and receive an email once they deliver to your neighborhood. Deliveries are made between 12 and 8pm each Tuesday via Periship, a perishable portion of FedEx.
Shelf life:
If you transfer your meals to your refrigerator Tuesday evening, your ingredients will remain fresh for around 5 days.
Selection process:
Order at least four plates (two plates of two meals or four plates of one meal) from the current week's menu before noon Monday for Tuesday delivery; all changes to existing orders must be made before noon Sunday.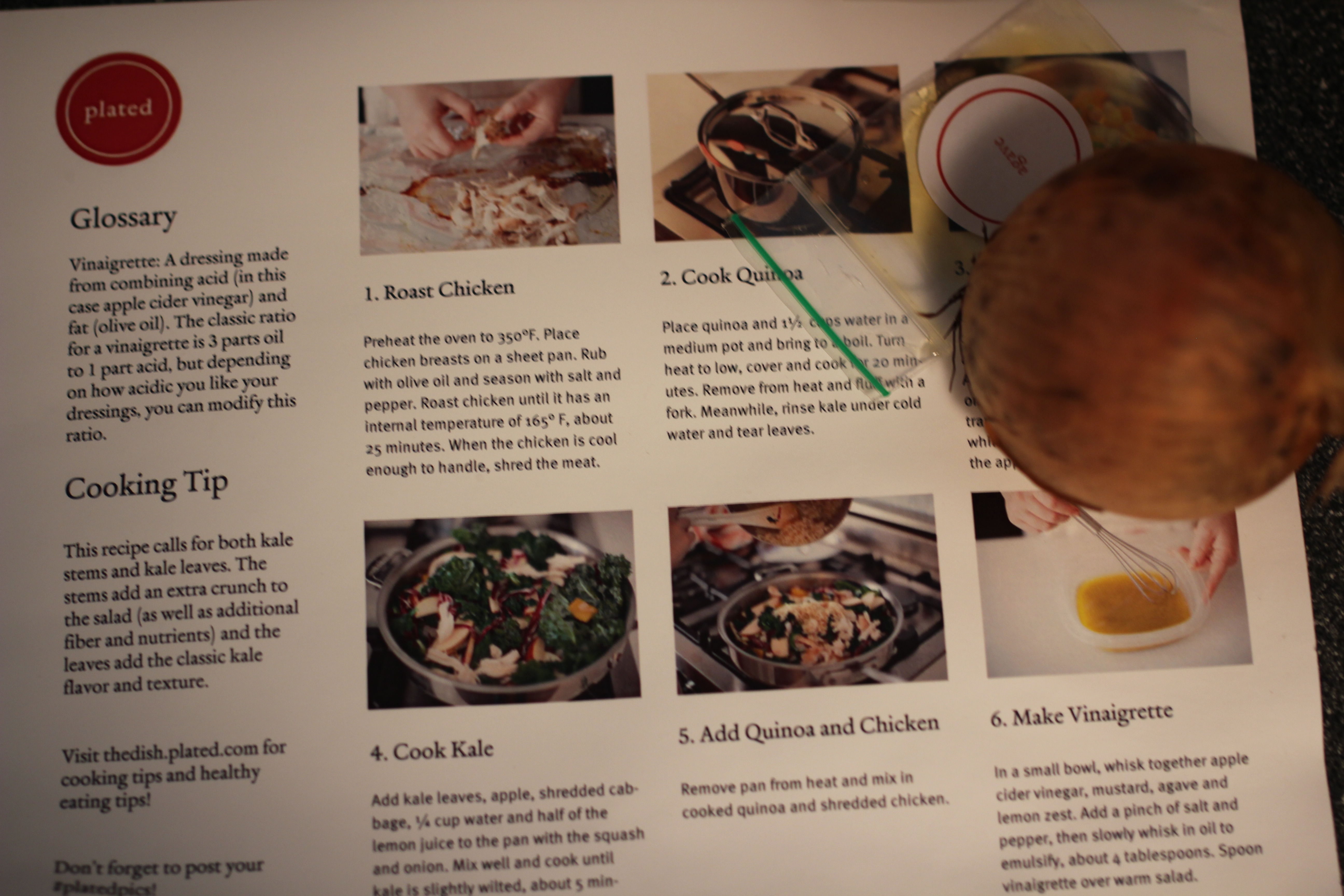 Recipe:
New menu selection from different chefs goes up each Monday at noon. Current selection of five entrees includes two beef, two chicken, and one fish entrée.
Ingredients:
Plated delivers the freshest ingredients they can find, putting a strong emphasis on sourcing locally and using seasonal products. Rather than choosing organic, the seasonal produce is sourced from sustainable farmers.
What You'll Need:
Some pantry staples such as eggs, salt, pepper, olive oil, vegetable oil, and butter and tools, from a baking sheet and large pan to a mixing bowl and medium pot with lid.
Process:
All of the meals should take 30-40 minutes.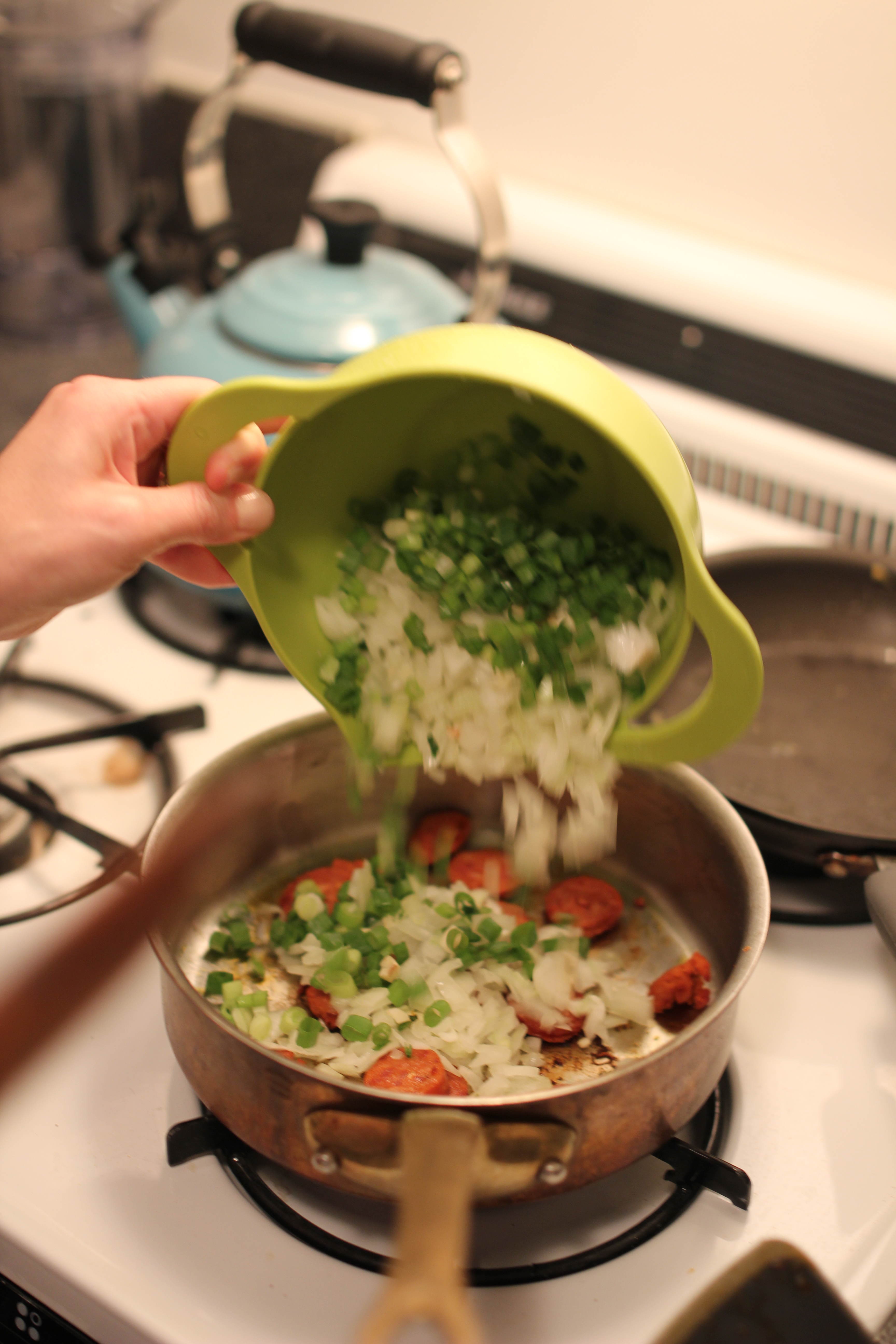 Meals tried:
• Poached Cod with Tomato and Feta: B+. Call me a traditionalist, but I don't love combing fish with meat and cheese.
• Kale and Quinoa Salad with Butternut Squash, Cabbage, and Chicken: C+. This was overly bitter and sour, but then again, I did skip the agave.
Health:
Estimated calorie counts for specific recipes can be found on the menu page, but a typical entrée is usually around 600-800 calories. None of the options are vegetarian or vegan friendly, but they plan to launch this option soon. Gluten-free and dairy-free menu items are regularly offered.
Sustainability:
The items arrive in a large, 100% recyclable & biodegradable box that keeps food cool with icepacks and insulated with recyclable bubble wrap.
Founders:
Founded in late 2012 by Nick Taranto and Josh Hix with the mission to strengthen people's relationship with their food by transforming the dinnertime experience, in the hope that more people would cook across America.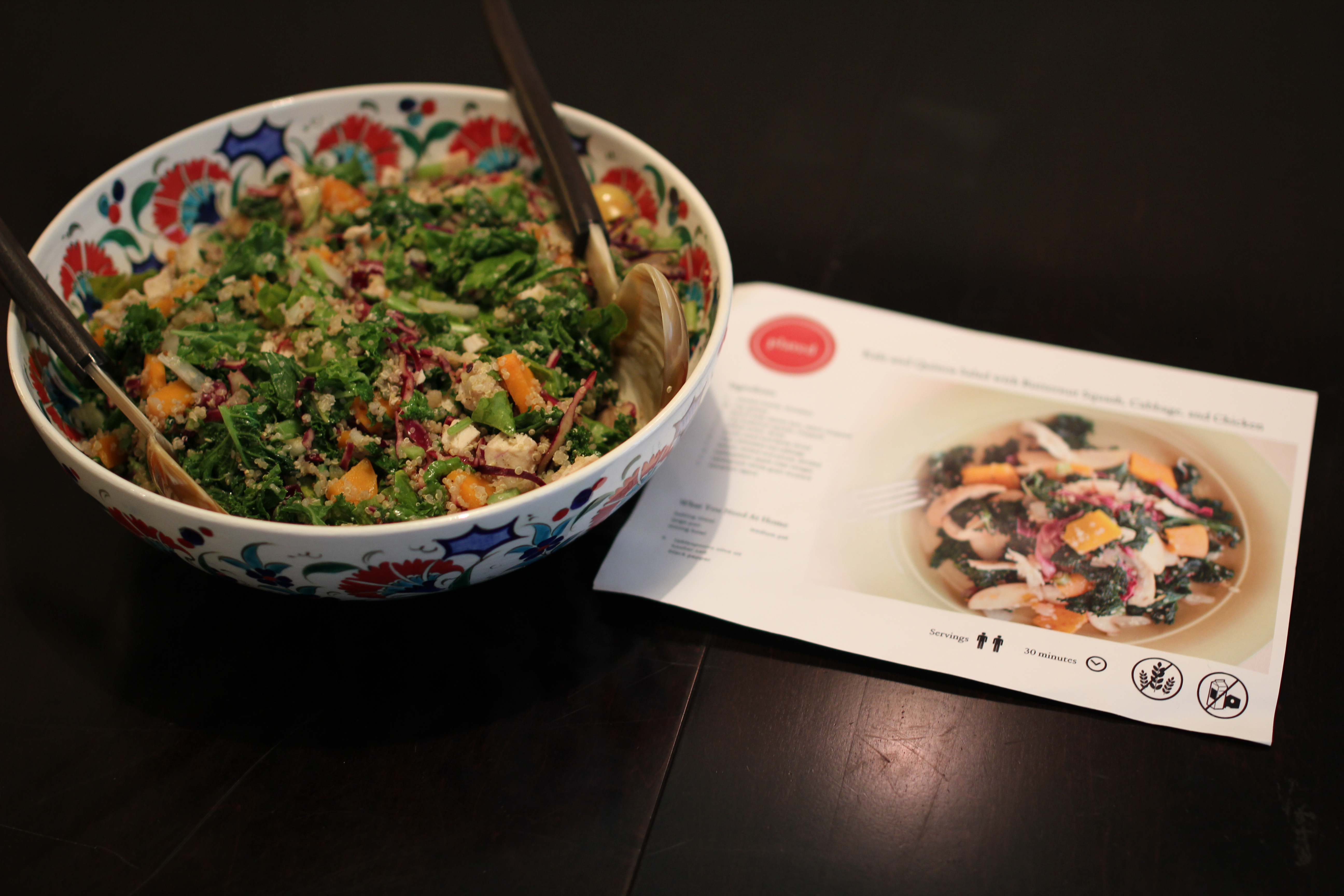 Overall:
Pictures on the recipe card are helpful, and videos on the website are even better. The glossary element (the definition of "vinaigrette" on one and "poach" on the other) on the recipe card is unnecessary as the space could be better utilized.
Would I recommend Plated to a beginning home cook short on time? Yes, but not as highly as the others due to taste of the meals and cost.
Stay tuned to find out how the next highest company scored and why... To read the first review, click here.