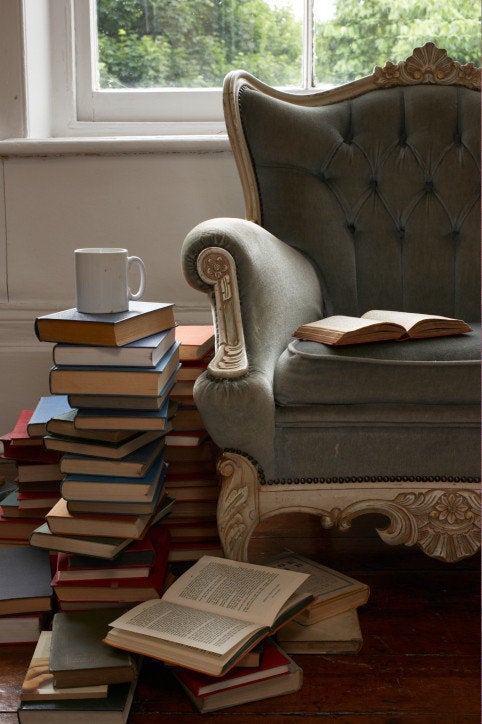 Many independent bookstores are in trouble or have had to shut their doors. Bird and Beckett Bookstore, which opened twelve years ago in Glen Park, has mercifully survived. The bookstore, named for Charlie Parker (aka Bird) and Samuel Beckett, offers a new/old way of life, a comforting space filled with books and records The bookstore has more than survived with Eric Whittingon and his family at the helm. The thriving community of Glen Park is also behind him 1000 percent -- from pancake breakfasts, to fundraising parties -- to helping him set up a special trust. No one wants to see this important community asset fail. People fight for what they love and fight hard. And the community loves Bird and Beckett. The store offers a way of life -- a cultural center -- that reminds all of us of what's important: community, friendships, exchange of ideas, music and of course BOOKS.
The store has an old-time feel from the front window to jazz posters of Miles Davis, Dizzy Gillepsie, Sarah Vaughn and other jazz greats that line the wall over the new-release sections. A child's section, just to the right of the front entrance, has two small chairs where young ones flip through the diverse selection from the old Story of Ferdinand and Pat the Bunny to a number of books in Spanish like Sopa de Frijoles and ones about jazz players -- Charlie Parker played be bop. The unique aspects of the store -- from the selection of children's books is even reflected in the selection of cards -- hand-painted cards -- with poems by Roethke and Robert Creeley.
There are also many spaces in the store (which used to be the old library) where you can get lost. I remember as a young adult spending many "idle" hours in bookstores -- often in my own private world -- and relishing those moments, picking up one book after another. You can do that here, as well -- though most people know Eric and son Nick (whom Eric says "picks up where I leave off and we see eye to eye") and at least say a quick hi as they swing by the front desk area.
As a Glen Park author and recently retired City College of San Francisco Professor -- I've done readings from all of my books at Bird and Beckett. The store has also always generously supported City College of San Francisco, hosting readings by authors included in Forum, the student literary magazine. Bird and Beckett is dedicated to setting up readings and music(on their raised stage) by authors and musicians -- though it has become increasingly more competitive to get a booking these days. However, the overwhelming support for local authors and musicians acts as an antidote to the constant hardships that most artists face. The store is a place where new and old -- famous and emerging -- voices can be heard and celebrated. Recently, the store has become famous in India. Bishu Chatterjee, a musician in Calcutta, has played music in the store and through the Calcutta connection, award-winning filmmaker Choudhury from Tollywood, the Bengali language film industry, shot a scene in the store. So Bird and Beckett travels the world and will be immortalized.
One day, a number of years ago, I walked into the store and told Eric that a piece I wrote was coming out in the Sunday section of the San Francisco Chronicle. "Let's have you read that morning -- and we'll have coffee and donuts." How many authors ever get that kind of immediate and overwhelming support? It turned out to be a great event.
Today in my post-retirement walk around my neighborhood, I stop in the store. In the mere twenty minutes that I'm there -- I notice how grateful everyone is who enters the hallowed doors. "This is our cultural center," a woman says as I overhear her proudly introducing her godson to Eric. He's in a band--perhaps the store will allow him to do a concert? Eric is booked up for a couple of months -- but tells him to email -- something might be arranged. The young man's eyes light up. Another young man, obviously in need of some work, comes by offering to wash the windows. "Tomorrow -- come in at 11 a.m." Eric says and the young man happily walks out.
"It's supposed to be my day off," Eric says to me, "but I have orders to get in." He works hard -- and sometimes it's a grind. But he gets tremendous help from his family -- son Nick, a poet, who co-runs the store, son Jack who does the graphics and his daughter, Rebecca, translator of Bengali and Icelandic literature keeps them in touch with the international literary scene.
The store has no wireless connection -- which is refreshing. If people converse at all, they converse with each other and not with their screens. However, on a few special occasions such as the last presidential election, a T.V. and VCR were hauled into the store. In that way, the "screen" created a community event -- a place where people gathered.
In this digital/screen/cellphone wired-in age -- sometimes I just walk into the store -- not even looking for a particular book -- but knowing that I can at least say a quick hi to Eric or Nick -- and lose myself among the new and old titles.
Glen Park residents will continue to support Bird and Beckett -- to fight for what they love. I remember one Christmas many years ago when Eric sent out a plea for people to buy books that I got most of my holiday presents at the store. I'm sure many in the neighborhood did the same. When the store needs something -- people respond. Now, in my newly retired state, I plan to spend more time in the store -- idling among the titles, buying some books and going to the evening events -- to listen to authors and musicians perform in this cultural center of our Glen Park neighborhood -- Bird and Beckett Bookstore.