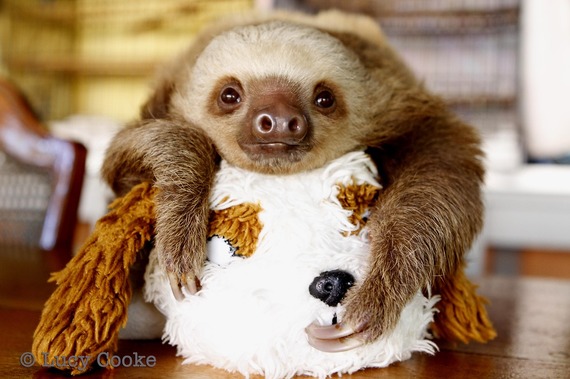 Given the popularity of twerking and of baby sloths, it was only a matter of time before the memes collided to give us twerking baby sloths. It is, after all, what the Internet is for.
Twerking Sloths from Libby Daker on Vimeo.
These particular baby sloths are some of the stars of Animal Planet's new eight-part MEET THE SLOTHS series, which takes us behind-the-scenes of a sloth sanctuary in Costa Rica that's home to more than 150 orphaned and injured sloths.
Storylines in this, the world's first sloth-u-soap, are far from sleepy and include sloth love triangles, teenage pregnancies and heartache. Animal fans will fall in love with a host of adorable characters including Princess Buttercup; Tigger, the hyper-active baby sloth; and Randy, the sanctuary's resident slothario.
The series launches in the States this Saturday, November 9, on Animal Planet at 11 a.m. It represents the latest in a long line of my popular sloth creations that include The Sloth Appreciation Society and the New York Times best-selling A LITTLE BOOK OF SLOTH.
It all started with a viral video I posted in May 2010 called MEET THE SLOTHS. This became an international hit gathering celebrity fans like Ashton Kutcher and Kristen Bell and column inches from Moscow to Melbourne.
I then wrote and produced a special for Animal Planet, TOO CUTE! BABY SLOTHS, which won a string of awards and was such a ratings smash that Discovery commissioned this all new MEET THE SLOTHS series.
I am enormously proud that in just over three years MEET THE SLOTHS has gone from viral video to a major global brand that launches in not just the US, but the UK, Canada, Japan, China, Taiwan, Australia, New Zealand, South East Asia, Poland and Europe.
The sloths are set to take over the world. Not bad going for an animal with a reputation for being lazy.
Lucy is the founder of the Sloth Appreciation Society and author of the New York Times best-seller A LITTLE BOOK OF SLOTH. Find out more about her work with sloths at www.slothville.com