"Those who lead inspire us... Whether they are individuals or organizations, we follow those who lead not because we have to but because we want to." -- Simon Sinek
I started writing this while bearing witness to the latest wave of political protests in Bangkok, Thailand. On Sunday, December 22, between four to six million Thai citizens participated in simultaneous mass protests in nine rally locations throughout the city of Bangkok. To bring matters into perspective, Bangkok has a total population of slightly over nine million. The protesters were demanding, among others, the immediate resignation of caretaker prime minister Yingluck Shinawatra, younger sister of Thaksin Shinawatra, a successful business tycoon who served as prime minister from 2001 until he was deposed in a coup d'etat in 2006. Thaksin is reportedly in Dubai where he has lived in exile after he fled Thailand just before he was to serve a two-year jail term for his conviction of abuse of power and economic crimes.
Among the reasons for the mass protests was the government's recent attempt to issue amnesty to Thaksin, thereby allowing him to return to Thailand scot-free. In addition, there have been accusations that Thaksin still governs Thailand (hence, the label "Thaksinocracy"), albeit from a distance, via his sister who has recently dissolved the Parliament's House of Representatives and called for a general election in February 2014 -- an election the opposition does not intend to contest.
The contemporary history of Thailand is replete with political transitions -- some peaceful, some regrettably violent. Thais have seen 18 coup attempts, 11 of them successful, since 1932. In contrast, some Southeast Asian countries have had a single head of government or ruling party for decades: For example, 28 years in Cambodia under Hun Sen, 62 years in Malaysia under the United Malays National Organization and 59 years in Singapore under the People's Action Party, not to mention the countries under de facto one-party rule (Viet Nam since 1975) or absolute monarchy (Brunei since inception).
Against this background, and as Americans recognize the wisdom and leadership of Presidents George Washington and Abraham Lincoln by celebrating Presidents' Day earlier this week, I would like to share my thoughts about the nature of senior leadership in organizations, especially those facing crisis situations. What do we mean when we say that senior leaders lead the organization? Senior leaders set their organization's vision and values, as well as communicate these values so as to create an environment for a high-performing organization. Senior leaders deploy these visions and values through their leadership system, to their customers and stakeholders, their workforce and their partners. Their personal actions reflect a commitment to their organization's values and the standards of ethical behavior that they wish to see in the members of their organizations.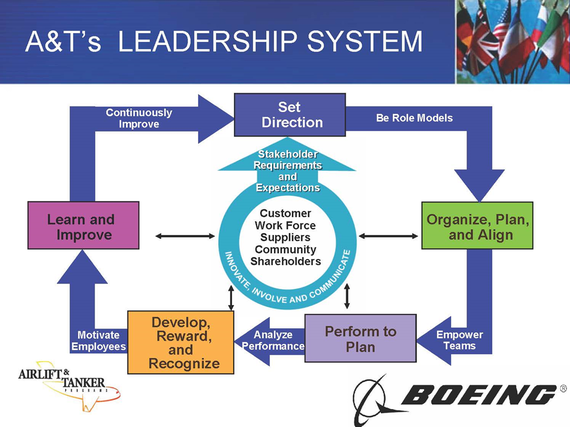 Nowhere are these senior leadership behaviors perhaps more evident that in the lives of Martin Luther King, Jr. and Nelson Mandela. Fifty years ago, at a defining moment of the American Civil Rights Movement, MLK shared with the world his vision for an end to racism in America when he delivered his "I Have a Dream" speech. Note that he declared "I have a dream," neither "I have a plan" nor "I have a strategy." By articulating a shared dream -- not a plan, not a strategy -- he empowered his fellow Americans to participate in a national dialogue as to how to achieve that vision.
An equally important task of senior leaders is to create a sustainable organization. They create an environment for performance improvement in the organization; the accomplishment of the organization's mission, strategy and objectives; innovation and organizational agility. They create a workforce that delivers a consistently positive experience for their customers and fosters the engagement of their customers. They create an environment for personal learning and continuous improvement in their organizations, believing that there is always a better way to do things even if things are not broken. More important, they participate in organizational learning, succession planning and the development of future organizational leaders.
There are three aspects of Nelson Mandela's life that were instrumental in him achieving his lifelong goals of freeing South Africa of apartheid rule and restoring the country to African (indigenous) rule. First, he had a vision that guided him throughout ''the struggle.'' Second, he had the willingness to take risks, which had set him apart for other freedom fighters. Third, his ability to role-model leadership caused others to support him and join the struggle. Nelson Mandela overthrew apartheid and created a nonracial democratic South Africa by knowing precisely when and how to transition between his roles as warrior, martyr, diplomat and statesman. He demonstrated his mastery of the need for leadership succession in building a sustainable organization when he had stepped aside in 1999 to pave the way for Thabo Mbeki's accession to the presidency of the African National Congress and the Republic of South Africa.
As you translate these leadership concepts back to the challenge of leading a country, substitute "the public" or "the citizenry" for "customers" and you will have a rich source of advice to our political leaders. I am sure that, besides George Washington and Abraham Lincoln, Martin Luther King, Jr., and Nelson Mandela, you can identify other role-model leaders who might serve as intellectual mentors for your nation's leaders.
Let me end by reiterating a lesson I first learned from my parents: Leadership is like public service; they are both a public trust. Public leaders are stewards of the public trust. Senior leaders of organizations are stewards of their stakeholders' trust. Leaders continue to enjoy that trust to the extent that they honor their commitments and demonstrate through their personal actions their competence and trustworthiness. Developing future leaders and planning for their succession do not demonstrate weakness or lack of commitment, but rather their willingness to subordinate their own personal interests to the broader interests of the organization and ensure the organization's sustainability.
Who are other leaders who might serve as effective role models for the political leaders in your country?