I stared blankly at the professor, my mind half a world away. Just two months before, I'd been patrolling remote villages in Afghanistan - my brain and body in constant overdrive. Now, at 23, after four years as an active duty U.S. Marine, I was back in college. Instead of a rifle, my hand held a pencil. Books in a backpack had replaced 90 pounds of gear; I felt lost as hell.

The fall of 2007 and most of 2008 passed at a glacial pace. I struggled to make sense of my new life - one that was suddenly devoid of any real challenge or excitement. I made friends, smiled, got a job, volunteered to teach kids how to read, and made the Dean's list, but still I felt directionless. I frequently considered ending my life. I wasn't too interested in sticking around for an empty existence.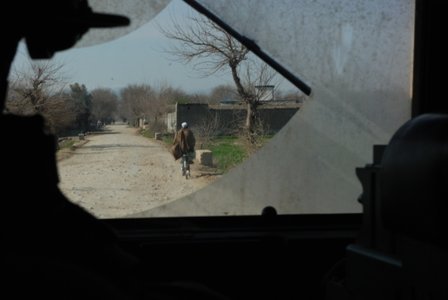 "What kind of woman do you want to become?"
In late 2008, my friend Sarah asked a question that shook me out of the blankness and began to shape my life's purpose. She challenged me to define the type of woman I wanted to become and start working in that direction.

The idea appealed to me. My early adult years had been marked by binge drinking, bad judgment calls, and a thirst for violence. Anything new would require significant character development, but I was ready for a challenge.

I spent several days thinking hard about who I wanted to become, and what I wanted to define me. Wise, gracious, marked by integrity, hospitable, fueled by a strong faith - these traits made the list, along with several others. I began to apply the filter of who I wanted to become to my decisions. Slowly, haltingly, surely, I started to grow in a new direction.

Challenging your heart is an incredibly empowering thing. Life can roll along - mundane or amazing, but if you're growing your inner person, you can be confident that your time is being well spent. And here's the funny thing: what happens in your heart often has a lot to do with what happens in your life.

What kind of business do you want to own?
When I launched my business last year, I spent time defining what success would look like for my company. I knew how important the heart of our work would be to our ultimate satisfaction with external wins or losses.

I promised myself that any work my team and I did would bring life, justice and creativity to the world. If it wasn't meaningful and good, we weren't going to do it.

We've stuck to that. Three months ago I turned down the chance to run public relations around the launch of a horror film. Not into it.
When you're in startup mode, saying no to work feels ridiculously risky. But every time we've turned down jobs like promoting death through movies, it's worked out. Slow times are an opportunity to put your nose in a book and learn more, just as busy times are a chance to bring excellence to the table.

Allowing a clear purpose to guide our work keeps us enthusiastic about our partnerships, and it also seems to attract a specific type of client: highly collaborative, professional, enthusiastic - in short, a joy to work with.

What's YOUR purpose?
Have you defined a direction for your life and business? Do you have your core values hammered out? Or do you feel yourself treading water - checking off accomplishments without making headway you actually feel good about?
I'm always curious about what drives other people. I'd love to hear what you do - personally or as a business - that brings you joy or purpose! Still trying to define a direction? I'd love to hear what's holding you back, and how you plan to overcome it!