Meet Amy. Amy lives in the South Bronx and didn't like that a Google image search of her neighborhood returned overwhelmingly negative images. So she set out to design a mobile app that highlights the beauty found in her borough. Last week at our Bronx Tech Meetup, she demoed her app for dozens of Bronx-based entrepreneurs, designers, technologists, educators, and friends.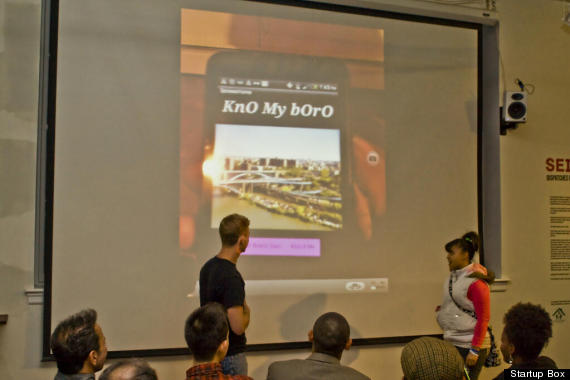 Amy is 15 years old, and had never coded before she began our after-school program in October.
Given its social and economic history, the Bronx carries a well-deserved reputation as New York's underdog borough. Indeed, its harshest images from earlier decades rival those found in some of the world's war zones. In this case, the pictures fail to tell the whole story. Music, art, and businesses born in the Bronx have inspired people and influenced culture all over the world. While the South Bronx remains among the country's poorest congressional districts, it is also a wellspring of world-class creativity, ingenuity, and strength.
Too much of this talent goes unseen. Countless students, artists, entrepreneurs, and educators fight with heroic resilience and imagination each and every day to make the South Bronx a better place to live. The promise and excitement of the Tech industry present an extraordinary opportunity to showcase and leverage their persistent spirit and creative talent.
At Startup Box South Bronx, we are building a model for linking underserved communities to the startup ecosystem. We know that our kids and the folks we work with every day will benefit from exposure to technology and entrepreneurship practices in other parts of NYC. We also embrace the opportunity to share this borough's inspirational power with those who otherwise only know it from an online image search -- starting with showcasing incredibly talented young people like Amy.
Through a partnership with Ennead Architects, [SB]2 is developing a unique campus that will serve as both the gateway and epicenter for tech and entrepreneurship in the Bronx. More than a community center, [SB]2 is a bold experiment in community development. [SB]2 will connect the South Bronx with the NYC startup scene in a way that leverages the community's strengths while also building its infrastructure and capacity to participate and contribute to the larger startup ecosystem.
[SB]2 will house programs geared to develop a pipeline of engineers, designers, and entrepreneurs by delivering STEAM education -- from Digital Fabrication and 3D-Printing to Mobile App Development -- to youth and engaging the broader community in tech and entrepreneurship education programs. We envision a vibrant hub of innovation in the South Bronx that will stir the ambition and imagination of all participants.
The explosive growth of the tech sector has profoundly altered the landscape of New York City's economy, creating over 30,000 high-quality jobs for New Yorkers. However, troubling lack of diversity in tech underscores the importance of investing in innovative models for identifying and developing talent. The need to create real links between the startup ecosystem and underserved communities of is not a charitable proposition -- it is a strategic imperative.