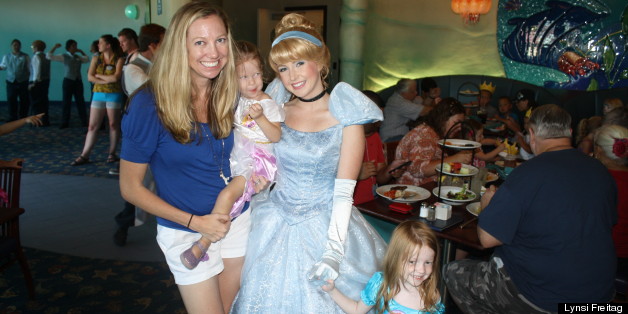 I had the joyful -- and exhausting -- experience last week of taking my two young daughters (ages 2- and 3-years-old) to Disneyland. We spent nine hours at the Magic Kingdom, about seven of those hours dedicated to princess-related activities.
Walking around the streets of Disney, I found myself in an odd juxtaposition between intoxication with the sparkles, jewels and tiaras on the one hand, and disbelief that I was an active participant in what I had so proudly balked at in my former life. My former life being my life before children.
When I first embarked on parenthood and learned that I would be having a daughter, my husband and I were steadfast believers that our daughters would not be into princesses. "No princess purchases unless they begged," we said. My husband disliked all the pink and I touted my feminist handbook that the princess stories removed a girl's agency and replaced it with harmful body images.
But despite our vision of what our girls would be like, they love Disney princesses. It is something that has less to do with our parenting and everything to do with being born with pixie dust in their veins. By the time our first daughter was 18 months old, she was a true princess fanatic and had a keen sense of princess paraphernalia. Even at Home Depot, she could spot the only Disney item in the warehouse and just had to have it. My baby daughter never had a chance.
My husband held out longer than I did, resisting purchases and avoiding Disney books, television and movies. But me, I found myself supporting this horrible habit. When their eyes lit up and smiles grew large, I couldn't help myself. Even as I read totally outdated and horribly-conceived stories about princesses who were pretty, kind and always in trouble, I thought about the message this was sending my girls, but I kept on reading. And the girls ate up every last word. They insisted on being princesses for Halloween and -- to this day -- I call it a good week when I'm able to get my 2-year-old out of that Cinderella Halloween costume once a week to wash it.
So, I found myself last week with two princess groupies about to enter Disneyland. We opted for the character dining experience so we could visit with some of the main princesses without having to stand in line. The girls' joy was palpable as the princesses visited them, took pictures and gave hugs. But then something strange happened.
"Hi Princess Aurora," I heard myself greet Sleeping Beauty. "Thank you, Cinderella," I nearly squealed as she left us to visit the next table. In that moment, I truly thought these teenagers were the real deal. What had happened to all reality?
I reflected on my own experience and behavior as a parent and participant. I personally find it an awesome responsibility raising girls. There is nothing I want more than to do right by them. I thought about Peggy Orenstein's hilarious and insightful New York Times article, "What's Wrong With Cinderella?" where she struggles with her daughter's infatuation with the girlie-girl craze. She states, "There had to be a middle ground between compliant and defiant, between petticoats and paper bags."
The thing is, I think there is a middle ground. I am all too delighted that my girls adore Princess Tiana, who not only is hard-working, but has a happy ending that includes both a prince and being a business owner. My girls are infatuated with Disney's Doc McStuffins and it has inspired valuable and fun creative play. In fact, the other day, my 3-year old asked, "Is medical school hard?"
Parenthood, if nothing else, forces us to be flexible. There are nuggets of positive messages we can point out in nearly all of the Disney heroines and allowing our girls to enjoy just being a kid, dressing up, and playing make believe is sometimes the best we can do.