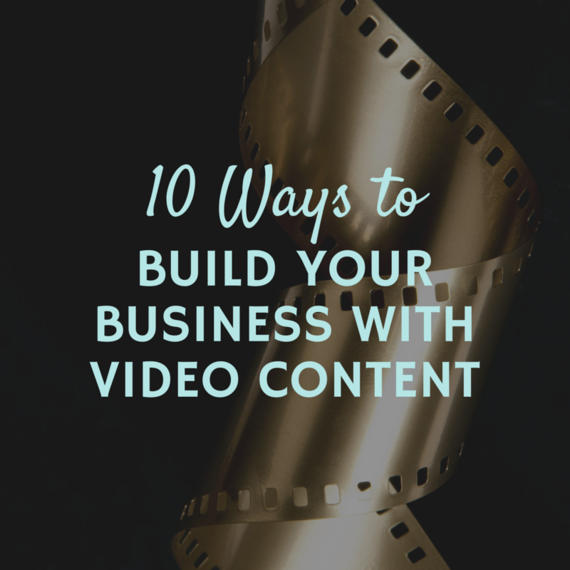 Unless you have been living under a rock, it shouldn't come to a surprise to you that video marketing seems to be all the rage in the content world today. From personal branding videos, to how-to videos, to videos that show your evolution and the clients you work with, video definitely has its perks.
Video marketing allows others to get a glimpse into your personality--in a way that can't be accomplished with blogging or newsletter writing. Why? The viewer is able to hear your tone of voice, see your face, and make a connection with you in a new and exciting way.
How can you use video to increase your brand and build your business?
Create a profile video that shares more about what you do and the clients you help. This video should be about 2-3 minutes in length and show your personality.
Make a video testimonial with one of your clients or customers. A 30 second video would be enough to show new prospects how happy your clients are with your work!
Answer questions from your audience. For my author brand, I have been answering questions as they come in. I give the person who asked the question a shout out in the video--it's fun and engaging!
Teach a skill in a tutorial video. This type of video should last between 1-2 minutes and should teach ONE specific task your viewer can go and do when they are finished watching.
Sneak-peek videos and behind-the-scenes videos are always fan favorites. If you are an event planner for example, show some behind-the-scene shots of you getting ready for your next big event.
Explain a difficult concept--in a motivational way--with video. In this video, I explain how building a business is like running a long-distance race.
Create a video to explain an upcoming class, course, or event you will be holding. People get excited about events and topics they are interested in when they can see the excitement oozing from you too!
Add a professional video to your speaking page if you are looking to book more speaking gigs. The WordCamp NYC video showcases my personality, my knowledge, and my enthusiasm for the subject! These are all positive aspects conferences want to see in action.
You've heard of movie trailers, right? How about putting together a "product trailer" or a "book trailer" for your next launch? In this video, I explain a little bit about my book, and why it was written.
Make spur-of-the-moment fun videos! Record a video when the mood hits you. The mood struck me one day while I was learning to paddle board!
As you can see from this list, there are many ways (and I've only talked about 10 of them!) to create videos that will advance your brand and your business. Not only are they fun to create, they show your viewers the REAL you. Videos help build an emotional connection with you. They help showcase your personality. They are great for SEO. And, you don't need to spend a ton of money or a ton of time creating them.
How are you using videos in your business and to build your brand?